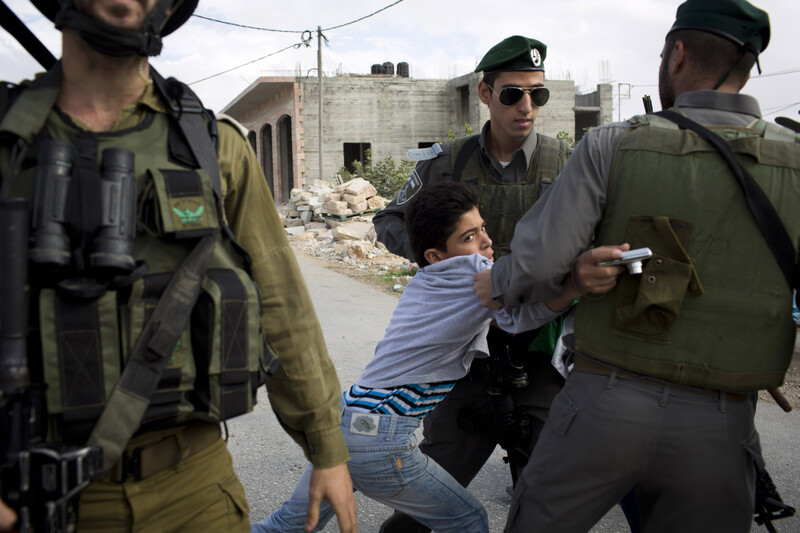 The International Committee of the Red Cross (ICRC) is refusing to call on Israel to immediately and unconditionally release almost two hundred Palestinian children held by the Israeli army.
"ICRC doesn't usually call for the release of detainees in general. We monitor their condition and if we have any concerns we discuss with the authorities issues regarding their treatment," Nadia Dibsy, the organization's spokesperson in Jerusalem, told The Electronic Intifada in relation to these children.
Dibsy's comments came one day after the ICRC released a statement calling for the "unconditional release" of three Israeli settlers, two aged 16 and one aged 19, reportedly abducted from the occupied West Bank by unknown persons on 12 June.
"We are very concerned by the fate of the teenagers. International humanitarian law prohibits abduction as well as the taking of hostages," Robert Mardini, head of ICRC operations in the Middle East, said in the statement. "They must be treated humanely, and their lives and dignity protected and respected."
Children tortured
As of the most recent figures in April, 196 Palestinian children, 27 of whom were under the age of 15, were in Israeli military custody according to the monitoring group Defence for Children International – Palestine Section.
Human Rights groups including B'Tselem, Human Rights Watch and Amnesty International have all recently condemned Israel's routine mistreatment of these children, including the practices of solitary confinement, torture and denial of contact with family.
Last year, for instance, Israel's B'Tselem issued a report that found Palestinian children held by the army are regularly tortured and threatened with rape in order to force confessions.
Double standard favors settlers
"The issue that we're discussing is abduction which is illegal under international law," Dibsy told The Electronic Intifada in relation to the missing settlers.
Asked whether Israeli military raids in which Palestinian children are routinely seized from their beds in the middle of the night did not constitute "abduction," Dibsy insisted that the two cases were completely different.
While acknowledging that military detention, torture and solitary confinement of Palestinian children by Israel are also violations of international humanitarian law, Dibsy insisted that the different treatment was justified.
"We are monitoring where minors are detained in Israeli places of detention," she said.
"We look into persons who are detained and discuss with the authorities issues regarding their treatment." Dibsy said that the content of such discussions was "confidential."
But when asked repeatedly, Dibsy would not call on Israeli occupation forces to release Palestinian children, a position that casts grave doubt on the organization's claimed "neutrality."
ICRC offers obscure justifications rooted in "international humanitarian law" for its apparent double standard.
But Palestinian parents will find it impossible to understand why ICRC appears content for their children to remain in the brutal custody of an occupation army while rushing to the defense of colonial settlers.
Tags