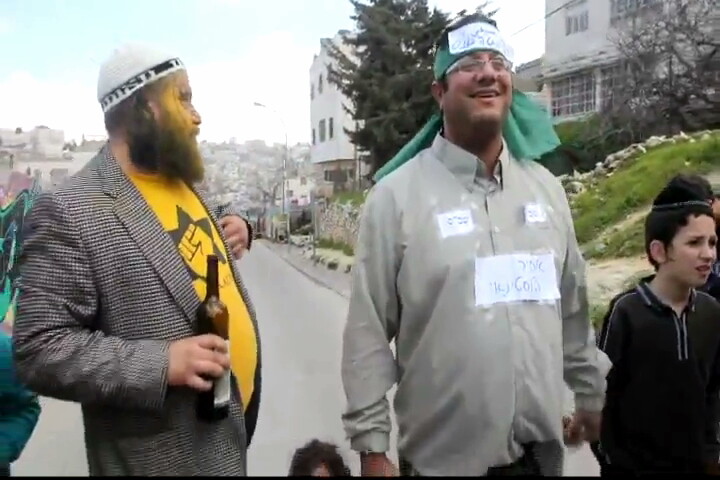 Israeli settlers in the occupied West Bank city of Hebron celebrated the Jewish festival of Purim by mocking Palestinian prisoners on hunger strike for their rights in Israel's jails.
Meanwhile, an Israeli soldier has posted images online of himself and his comrades dressed up as Palestinian resistance fighters and as Gilad Shalit, the occupation soldier captured by Hamas fighters in 2006 and held as a prisoner of war in Gaza for five years.
Hebron parade mocks Palestinian prisoners, glorifies banned violent, racist group
A video of the Purim parade in Hebron was posted on YouTube, as Palestinians across the occupied West Bank and Gaza Strip have intesified protests in solidarity with Palestinian prisoners after the death of Arafat Jaradat in Israeli custody and amid the ongoing struggles of hunger strikers.

In the video, Israeli far-right anti-Arab activist Itamar Ben-Gvir is dressed up as a "Palestinian prisoner" and has this brief exchange of words:
Ben-Gvir: If we don't get more kibbeh, there will be an Intifada. More kibbeh. We want more kibbeh.

Off-screen voice: But how many tires do you have to burn? How many tires?

Ben-Gvir: Don't worry about it. Only kibbeh!
As Ben-Gvir speaks, a man standing next to him is wearing a T-shirt bearing the name and logo of Kach, the violent anti-Arab organization founded by Meir Kahane that is even banned in Israel. Kach and its offshoot Kahane Chai have been designated as "foreign terrorist organizations" by the US State Department since 1997.
Ben-Gvir has been arrested dozens of times by Israeli authorities on charges of rioting, destruction of property, possessing propaganda for a terrorist organization, and with incitement to racism and support of a terrorist organization.
But while Ben-Gvir roams free, many of the Palestinian prisoners he mocks have been held for extended periods without charge or trial.
Ben-Gvir is a former aide to Knesset member Michael Ben-Ari who has led anti-African pogroms in the streets of Tel Aviv.
In the rest of the 10-minute long video, Israeli settlers, some drinking heavily from bottles of wines and spirits, can be seen dancing and reveling through the streets of occupied Hebron, which are devoid of Palestinians, as Israeli occupation soldiers provide an escort.
Israeli soldiers dress up as Palestinian fighters and Gilad Shalit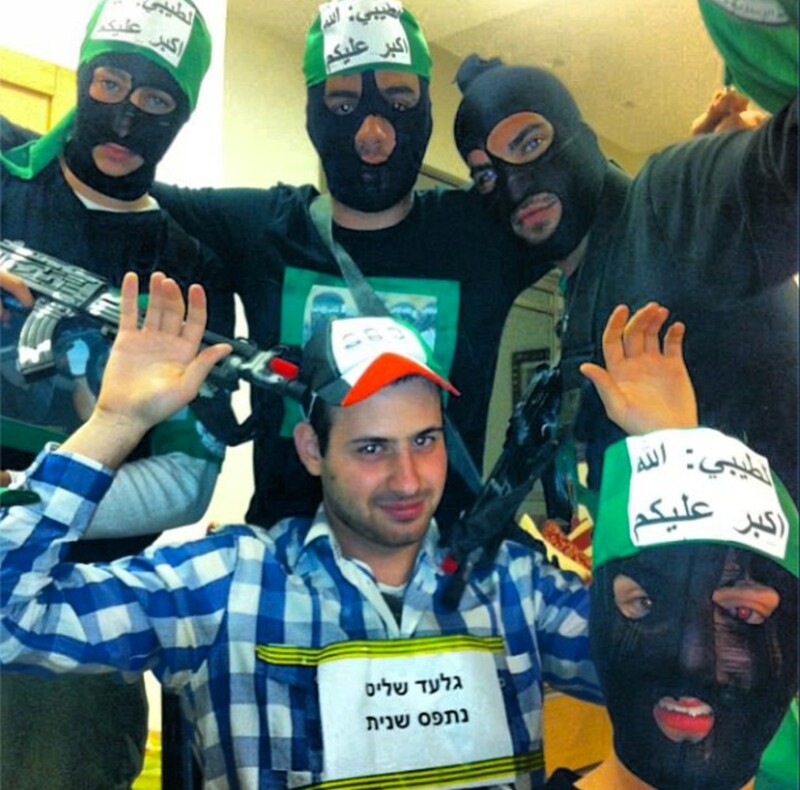 Meanwhile Israeli soldier Idan Levi posted these images to Instagram which show him and members of his unit dressed up as Palestinian resistance fighters. The man in the middle of the photo above has a sign on his chest that says "Gilad Shalit - captured again."
Levi is a member of the 51st Battalion of the Golani brigade. As part of the occupation army, the Golani brigade has invaded Palestinian cities and terrorized Palestinian communities for years, although the unit suffered heavy losses at the hands of the Lebanese resistance during Israel's disastrous 2006 invasion of Lebanon.
In one image, Levi appears in a T-shirt of the football team Beitar Jerusalem whose ultra-racist fans are notorious for violent rampages and chanting "Death to the Arabs."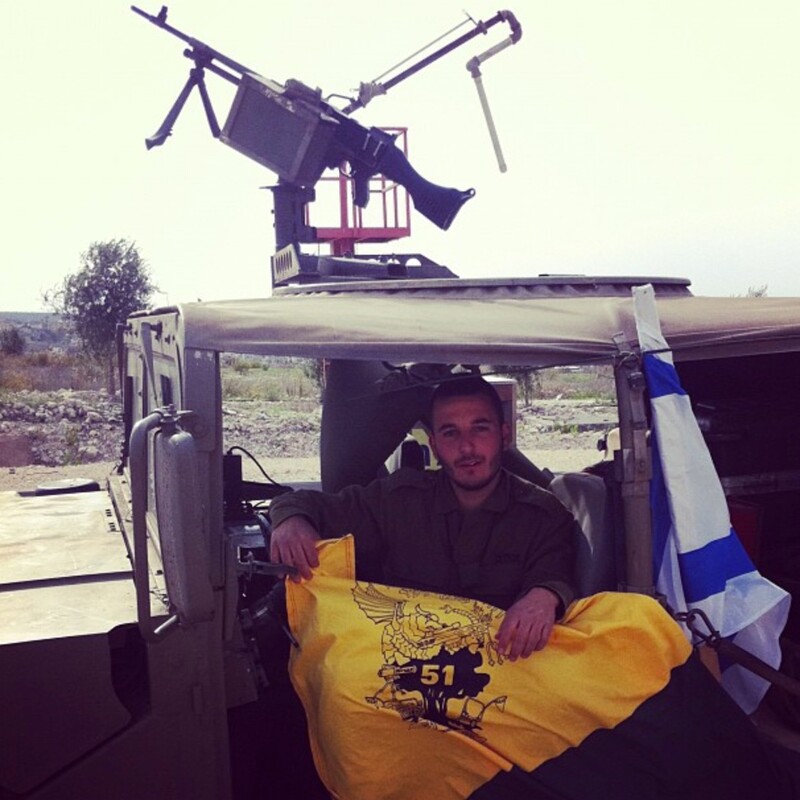 With thanks to Dena Shunra.
Tags