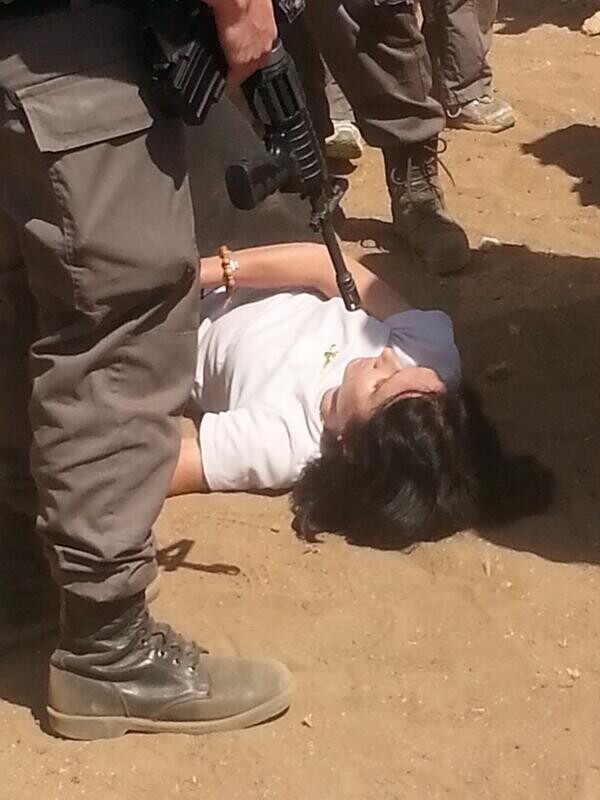 The Electronic Intifada received this photo from a diplomatic source, said to show French diplomat Marion Castaing on the ground as she is manhandled by armed Israeli occupation soldiers.
The incident occurred in the village of Khirbet al-Makhul in the occupied West Bank earlier today when Israeli occupation forces violently prevented European diplomats from delivering humanitarian aid to Palestinians, as Reuters reported:
Israeli soldiers manhandled European diplomats on Friday and seized a truck full of tents and emergency aid they had been trying to deliver to Palestinians whose homes were demolished this week.

A Reuters reporter saw soldiers throw sound grenades at a group of diplomats, aid workers and locals in the occupied West Bank, and yank a French diplomat out of the truck before driving it away.

"They dragged me out of the truck and forced me to the ground with no regard for my diplomatic immunity," French diplomat Marion Castaing said.

"This is how international law is being respected here," she said, covered with dust.

Locals said Khirbet Al-Makhul was home to about 120 people. The army demolished their ramshackle houses, stables and a kindergarten on Monday after Israel's high court ruled that they did not have proper building permits.
Filmmaker Enas Muthaffar posted a video on her YouTube channel on 18 September that shows Israeli soldiers demolishing tents with people still inside.
"Shocking and outrageous"
Israel has made a determined effort to stop aid reaching the Palestinians, as Reuters states:
Israeli soldiers stopped the International Committee of the Red Cross (ICRC) delivering emergency aid on Tuesday and on Wednesday ICRC staff managed to put up some tents but the army forced them to take the shelters down.

Diplomats from France, Britain, Spain, Ireland, Australia and the European Union's political office, turned up on Friday with more supplies. As soon as they arrived, about a dozen Israeli army jeeps converged on them, and soldiers told them not to unload their truck.

"It's shocking and outrageous. We will report these actions to our governments," said one EU diplomat, who declined to be named because he was not authorised to talk to the media. In scuffles between soldiers and locals, several villagers were detained. An elderly Palestinian man fainted and was taken for medical treatment to a nearby ambulance.
The attack on the diplomats comes at a sensitive time, as the United States and Israel lobby groups are currently trying to strong-arm the EU into abandoning new guidelines which prohibit EU funding of projects that operate in the occupied West Bank and Gaza Strip.
The same photograph sent to The Electronic Intifada was also tweeted by journalist Hugh Naylor earlier today:
Journalist live-tweets Israeli attack on aid convoy
Tags