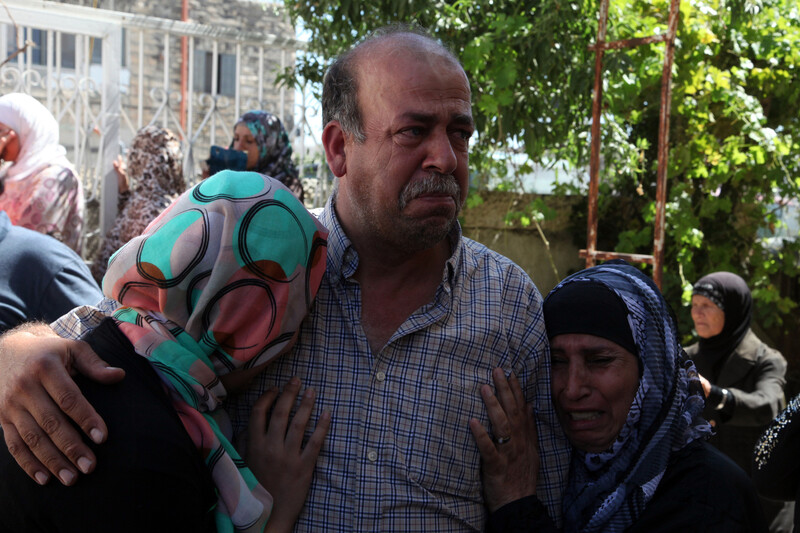 The family of Muhammad Abu Khudair, the Palestinian teenager abducted and brutally murdered in Jerusalem early on Wednesday morning, were still waiting for Israeli authorities to return the boy's body on Thursday night.

"They told us to come and pick him up at 5pm. We went at 5 and then they said come back tomorrow," Dr. Mohsen Abukhudeir, Muhammad's cousin, told The Electronic Intifada by phone from Shuafat in occupied Jerusalem.

"We don't know what's happening," he added.

Abukhudeir said that the family were outraged at Israeli efforts to cover up for Muhammad's murderers by spreading false stories and smears.

In the first hours after his body was found, Israeli police said that they suspected that Muhammad's killing was a reprisal for the killings of three Israeli teenagers whose bodies were found in the occupied West Bank on Monday. But since then, as the blogger Richard Silverstein has reported Israeli police leaked to the media misinformation claiming that Muhammad was killed in an honor crime because he was gay.

As The Electronic Intifada has reported, Israeli leaders and others have engaged in intense campaigns of incitement and calls for "revenge."

Dr. Mohsen Abukhdeir said that Muhammad's father, Hussein Abu Khudair, was questioned at the Russian Compound police station in Jerusalem from 6am to 4pm on Thursday and pressured by police to agree to "lies that the police invented" that Muhammad was killed in a "family dispute."

Dr. Mohsen said the family believed the body was being held as a form of pressure.

Wesam Abukhdeir, 17, another cousin of Muhammad, tweeted at New York Times correspondent Jodi Rudoren out of frustration at Israeli efforts to spin the story and put pressure on the family.

"I posted those tweets because I wanted The New York Times people to see what's happening," Wesam later told The Electronic Intifada contributor Rania Khalek by telephone from his home in Jerusalem's Shuafat neighborhood.

"No one's saying anything about it. Already there are Israelis saying it was a family problem. They're all completely brainwashed into believing whatever their media tells them, unless there's a counterargument from a legitimate source, like The New York Times," Wesam added.

Wesam told Khalek that he hadn't left his home since Muhammad's body was found because Israeli soldiers entered the neighborhood and haven't stopped firing tear gassing and rubber-coated steel bullets at protestors since.
Tags