Following the exposure as false of his claims that he was knocked unconscious in a brutal beating by Arab youths in France, Israeli film director Yariv Horowitz is now concocting new lies perhaps to cover up his earlier fabrications.
Horowitz now states falsely that he did not originate the claim that "Arabs" carried out the attack and that he has tried to calm the "maelstrom" sparked by his fabrications.
Yesterday, The Electronic Intifada reported that the general manager of the Aubagne Film Festival had contradicted the lurid claims by Horowitz and in Israeli media and called on Horowitz to withdraw the inflammatory statements he made about the 21 March incident in the Israeli newspaper Haaretz.
Horowitz was at the festival in southern France to receive an award for his film Rock the Casbah along with Assaf Amdurksy, an Israeli musician who won a prize for the film's score.
Amdursky, who also allegedly witnessed the incident, has not spoken publicly about it and neither he nor Horowitz have responded to repeated requests for comment.
According to film festival manager Gaëlle Rodeville, the minor incident had nothing to do with anti-Semitism or racism. Her statement was prompted by Israeli and Jewish communal media which had blown the incident up into – by several accounts – a "lynching."
There was no "lynching," Horowitz was not severely beaten by a group of youths and, regarding the single youth involved, the statement said, "As far as we are concerned, he was not Arab."
Noting that no aggression is excusable, the film festival said that Horowitz received a single punch from a single person, although the person who threw the punch was present with friends around his own age. Horowitz suffered a minor injury and refused to make a police report or go to the hospital with emergency services.
Rodeville said that witnesses and videos back up the film festival's account, and urged media to refrain from disseminating partial and inflammatory reports that feed communal "hatred."
Horowitz responds … with more lies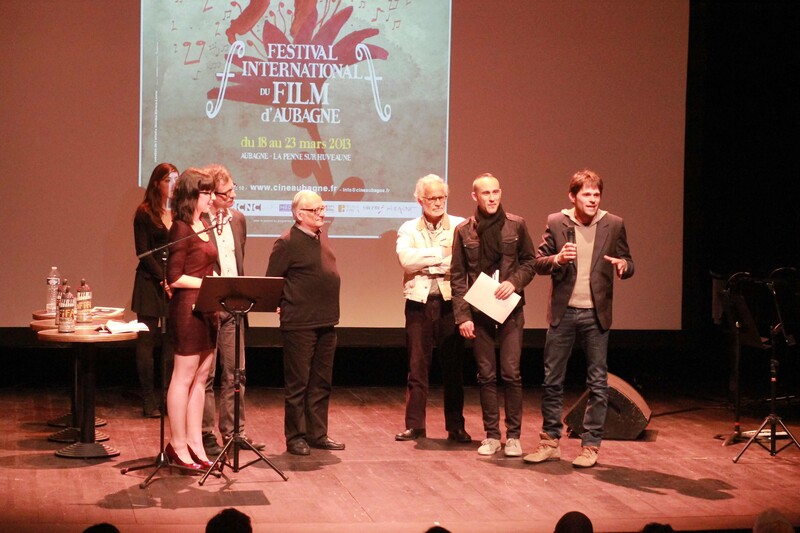 Today, the Israeli news website Walla!, citing The Electronic Intifada, confronted Horowitz with Rodeville's statement and Horowitz replied as follows:
"The festival's general manager was a witness to the attack and she says that I was indeed attacked," Horowitz told Walla! Culture in response to the statement. "And it was not only her, but also Assaf Amdursky was a witness. If they are claiming that the attackers were not Arab then so be it, but they should find them and clarify why they did it." The aim of this film is to bring reconciliation and I'm sorry that it's in the midst of another storm like this. To say that I fabricated this is absurd and I emphasize that the general manager of the festival was a witness."

Horowitz repeated the sequence of events on the evening of the attack. "We exited the venue and they jumped on me and I received blows. At that moment I did not at all think it had anything to do with the film or that the attackers were Arabs. The next day a person of Arab origin approached me at at a festival party and told me that he heard about the attack from friends of his daughter, and that they did this after one of them watched the film. Therefore this is all speculation. In the eyes of the French there's no doubt they are not Arabs, they are French citizens."

"If the film festival general manager thinks that the attackers are not Arabs and she has sources that can lead her to who did it then it seems to me to be worth it to clarify who did it and why. The media claims that I immediately declared that the attack had anti-Semitic motivations but this is not correct. I absolutely did not claim this. There has been a maelstrom and I have been trying to calm it down. You see, at the end of the day, what I've created is a film about reconciliation. The fact that I refused to file a complaint, what more do you need? It is sad how much hatred and tension there is. It's a shame that a film whose aim is to bring people together is in the midst of such a storm."
Unpacking Horowitz's latest lies
In today's Walla! report, Horowitz claims, "We exited the venue and they jumped on me and I received blows. At that moment I did not at all think it had anything to do with the film or that the attackers were Arabs."
But on 29 March he told Haaretz a different story which involved an exchange of words before the attack in which the attackers supposedly addressed him in an "Arabic accent." Horowitz was emphatic about the identity of the attackers:
"They started to shout 'fuck you' at me in an Arabic accent. Assaf told me to ignore them, but I shouted back at them 'Fuck you too' and then they jumped on me. They knocked me down and kicked me, and as a result of a blow to the head I lost consciousness. It was clear that they were Arabs and drunk."
Horowitz also told Ynet on 29 March, "In Israel I was criticized by the right and in France the Arabs beat me up."
Instead of taking responsibility for blaming "Arab" youths as he did unambiguously and repeatedly, Horowitz now blames an "Arab" man who allegedly approached him the next day for attributing the attack to Arab youths! For Horowitz, who apparently doesn't check his earlier claims before issuing new contradictory ones, it seems Arabs are responsible for everything!
Horowitz says that he never attributed the attack to "anti-Semitic" motives and that he had tried to "calm the maelstrom."
It's difficult to think of a more disingenous statement. While Horowitz may not have openly attributed the attack to "anti-Semitism," many others did. I can find no record of Horowitz contradicting the lurid claims of an anti-Semitic "lynching" or trying to "calm the maelstrom."
In fact, some of his friends were reposting the inflammatory reports on his Facebook wall. Many of these friends posted comments expressing their outrage that he had supposedly been the victim of such a horrifyingly brutal attack and praised his courage and fortitude.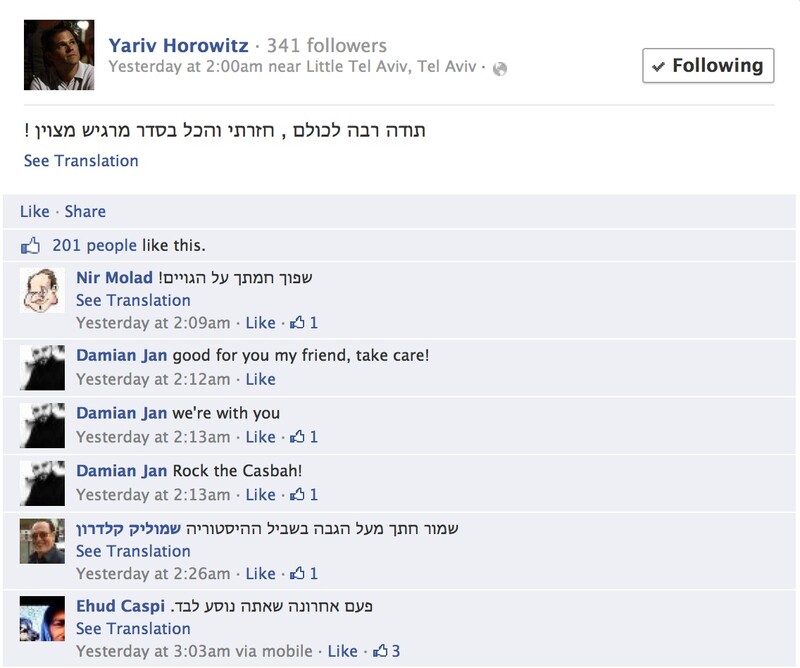 But at no point did Horowitz warn people that some of the claims circulating in the media might be exaggerated or unconfirmed. His only intervention on 30 March was to post a brief status update responding to the outpouring of concern and sympathy: "Thank you very much to everyone. I'm back and everything is fine. I feel excellent."
On top of all this, Horowitz is now placing the onus on the film festival's organizers to find his alleged "attackers" when he had the opportunity to make a police report and refused to do so.
And now he is whining about the "maelstrom" when he's the one who sowed the storm with his patently false claims.
Update: 2 April
Richard Prasquier, the president of the CRIF umbrella organization of French Jewry, told JTA that after looking into the case he found "there is no evidence to suggest the attack was anti-Semitic. Claiming this is irresponsible."
Tags