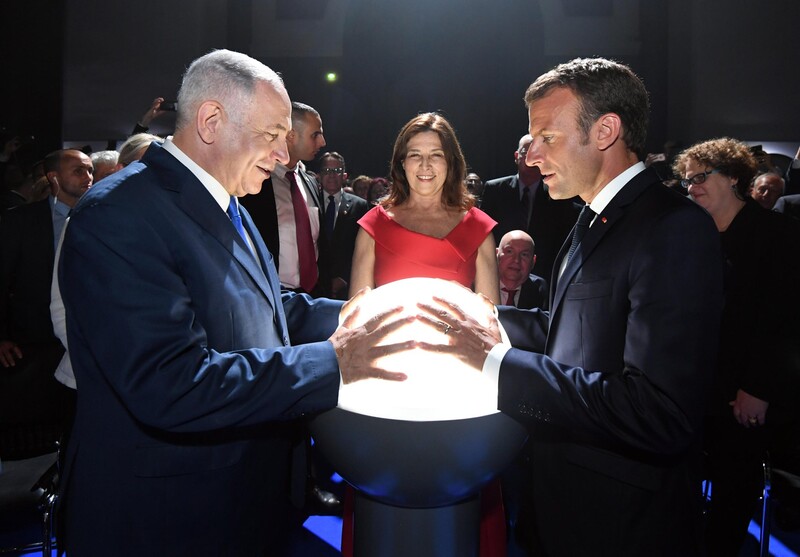 There is a pushback in France against President Emmanuel Macron's speech to a major Israel lobby group last month vowing to criminalize anti-Zionism.
More than 400 intellectuals, artists and activists have signed an open letter to Macron that was published on 28 February in the national newspaper Libération.
"Mr. President, we are French citizens who respect the laws of the republic, but if you adopt a law against anti-Zionism, or if you officially adopt an erroneous definition of anti-Semitism that permits outlawing it, please know that we will break this law with our words, our writing, our art and our acts of solidarity," the letter states.
"And if you decide to pursue us, to silence us, even to imprison us for that, well, you can come and get us."
Among the signatories are academics and educators Ariella Azoulay, Sonia Dayan-Herzbrun and Michèle Sibony; filmmakers Jean-Luc Godard, Simone Bitton and Eyal Sivan; writers Nancy Huston and Abdellatif Laabi; and veteran journalist Alain Gresh.
"Anti-Zionism is an opinion, a current of thought born among European Jews at the moment when Jewish nationalism was taking off. It opposes the Zionist ideology that advocated (and still advocates) the installation of the world's Jews in Palestine, today Israel," the letter adds.
It notes that the essential argument of anti-Zionism is "that Palestine was never an empty territory that a 'people without land' are free to colonize based on a divine promise, but a country populated with real inhabitants for whom Zionism would soon become a synonym for exodus, despoilation and the negation of all their rights."
During his speech to CRIF, a major Jewish communal organization and pro-Israel group, Macron claimed "anti-Zionism is one of the modern forms of anti-Semitism" and pledged that France would formally adopt the so-called IHRA definition of anti-Semitism.
Supported by the Israel lobby, the definition deliberately conflates criticism of Israel and Zionism on the one hand, with hatred of Jews, on the other.
Macron did not promise a change in the penal code to outlaw anti-Zionist speech, but said that instructions would be issued to police, judges and teachers "to permit them to better combat those who hide behind the rejection of Israel and even the negation of its existence."
The French president's move, praised by Israeli Prime Minister Benjamin Netanyahu, is part of a transatlantic campaign to weaponize often false accusations of anti-Semitism to smear and silence critics of Israel.
But while Macron is so far not proposing to change the law, some 30 lawmakers are pushing just such an initiative and said in February that they have been working up proposals for several months.
"What we want to outlaw is denying the existence of Israel," Sylvain Maillard, a lawmaker from Macron's La République en Marche party, said. "Of course one can continue to criticize Israeli governments."
In his speech to CRIF, Macron seemingly sought to allay demands to outlaw anti-Zionism directly by touting French authorities' legal crackdown against BDS – the boycott, divestment and sanctions movement for Palestinian rights.
Macron pointed to convictions against boycott activists, and said there would be more.
The campaign group BDS France took aim at the president's renewed attacks on the boycott movement.
"In reality, the vast majority of complaints against BDS activists do not result in convictions," BDS France stated. "They either are not prosecuted, or are resolved by acquittals."
The group noted that even the staunchly pro-Israel European Union has conceded that boycott activism to pressure Israel and complicit institutions and companies to end abuses of Palestinians is protected free speech.
"Let's recall that boycott is a frequent form of protest against injustice practiced by such historic figures as Gandhi, Martin Luther King, Jr. and Nelson Mandela," the group asserted.
Paraphrasing Macron's own words, BDS France vowed that none of the president's repressive measures would succeed in "erasing from our society the anti-apartheid struggle or the criticism of Israeli policies."
"We will hold on and, in the end, we will win," BDS France stated.
Tags