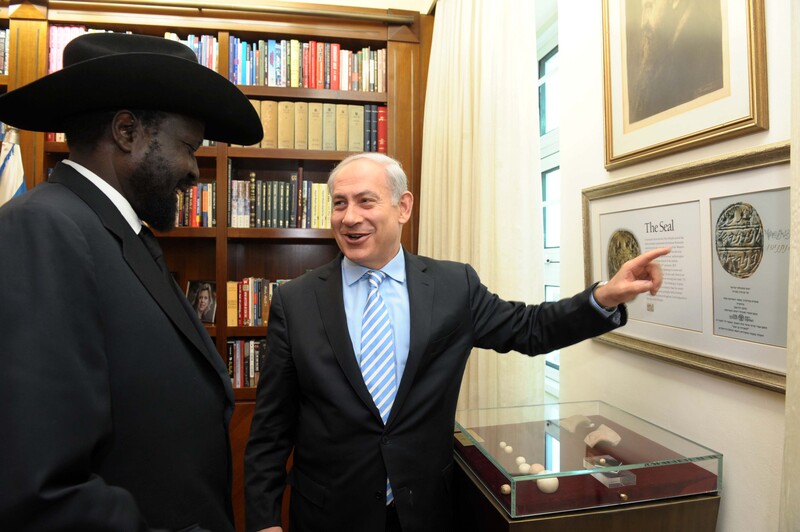 New revelations about an Israeli general accused of arms trafficking cast further doubt on his claims that he is merely helping Africans with agricultural projects.
Last December, the US government imposed sanctions on Israel Ziv, a retired Israeli general whom it accuses of supplying weapons to fuel South Sudan's civil war.
According to the US Treasury Department, Ziv used an agricultural company "as a cover for the sale of approximately $150 million worth of weapons to the government, including rifles, grenade launchers and shoulder-fired rockets."
He also reportedly "planned to organize attacks by mercenaries on South Sudanese oil fields and infrastructure, in an effort to create a problem that only his company and affiliates could solve."
Leaked diplomatic cables have also revealed that US officials were concerned about Ziv's activities in Latin America dating as far back as 2006. He reportedly provided military advice to Colombia and Peru on how to defeat insurgencies.
Money transfers
Up to 400,000 people are estimated to have died in the civil war that has raged since December 2013, two years after South Sudan gained independence from the north.
The country is under a United Nations arms embargo.
Ziv has always strenuously denied the allegations, insisting that his activities, and those of his companies operating under the brand name Global, are purely peaceful, supporting agricultural development.
The US alleges that "Ziv has been paid through the oil industry and has had close collaboration with a major multinational oil firm." But it has not named that firm.
Now an investigative report from the Organized Crime and Corruption Reporting Project identifies the company as likely being Trafigura, one of the world's largest commodity traders.
OCCRP is a media organization funded by private foundations, Google and the governments of the United States, Britain and Sweden.
The investigation uncovered leaked internal documents, emails and other records showing that Trafigura transferred at least $140 million to South Sudan's central bank.
The records "also show that the government then transferred nearly the same amount to Global CST," one of Ziv's three companies that are also subject to US government sanctions.
OCCRP notes that this amount nearly matches the $150 million worth of arms the US alleges Ziv supplied, and far exceeds the $45 million price tag allocated to Ziv's supposed agricultural project, Green Horizon.
Ziv received the contract to run Green Horizon in 2015.
"Special case"
When OCCRP visited one of Green Horizon's four farms in 2017, it found the South Sudanese defense minister there for what was described as a "routine visit."
This was one of several signs that the defense ministry was closely involved in the "agricultural" project – ties that South Sudan's deputy agriculture minister said he could not explain.
One of the Green Horizon farms is supposedly used for training demobilized soldiers to grow crops and $10 million was reportedly allocated for that purpose.
When OCCRP visited that farm, its reporter saw "about two dozen demobilized soldiers, some sitting in the fields, or perched on an idle tractor."
This is one example of the underwhelming reality of Ziv's project compared with its lofty claims: Green Horizon is meant to develop farms that can feed South Sudan's people and even produce a surplus for export.
Yoash Zohar, the managing director of Green Horizon, claimed that Global has produced at least two million kilograms of fruits and vegetables on 1,000 developed hectares.
He claimed that in 2018 the project sold about $500,000 in produce.
But the agriculture ministry, according to OCCRP, "has no detailed reports from the company that could confirm these figures."
Mathew Gordon Udo, a longtime official at the agriculture ministry, refused to sign off on a $44 million additional allocation to Green Horizon just four months after the project started.
"They told me to sign, I said, 'No, I cannot sign because the first $35 million I don't know how it has been used and who was using it,'" Udo told OCCRP. Udo was "sidelined" after this refusal.
Global, it appeared, was being treated as a "special case," Udo said, bypassing all proper procedures.
"A second phase of the farming project was approved in June 2018, according to a parliamentary budget report – this time with an $89.75 million price tag," OCCRP reported.
But again, agriculture officials have no idea what is going on.
"I haven't seen a written request passed through my office for consideration under phase two of the Green Horizon Project, I also haven't seen any document for $89 million, this is the first time I'm hearing about the amount," John Ogoto Kanisio, undersecretary for food security at the agriculture ministry, wrote to OCCRP.
Seeking Netanyahu's help
Ziv, meanwhile, is pressing the Israeli defense ministry to lobby the US government to lift the sanctions against him and his companies.
In March, Israel's arms export agency supplied an undoubtedly helpful letter to Ziv stating that "as of this day, the Ministry of Defense has not found evidence of unlawful activity in regards to defense exports by Israel Ziv or his companies."
Last month, the Israeli business publication Calcalist revealed that no less a figure than South Sudan's President Salva Kiir had written to Benjamin Netanyahu just days after US sanctions were imposed. Kiir urged the Israeli prime minister to intercede on Ziv's behalf.
The South Sudanese leader was perhaps repaying the Israeli general: In 2016, Israeli media revealed that Ziv's firm was helping Kiir repair his reputation after the UN found that his government systematically permitted soldiers to rape women and children.
Netanyahu's office would not tell Calcalist whether it had replied to Kiir's letter or whether it was involved in issuing the letter from the Israeli arms export agency exonerating Ziv.
Arming apartheid and genocide
When Ziv first came to South Sudan he said his goal was to help the country "recover from war," using – as OCCRP puts it – "Israel's experience in agricultural development as a model."
The claim that Israel has expertise in irrigation and cultivation to share with African countries is a major part of the propaganda accompanying its effort to win diplomatic support on the continent.
But as with most Israeli propaganda, it's a sham.
What Israel has really sown across the continent are atrocities and suffering including by arming South Africa's apartheid regime and supplying weapons during the genocide in Rwanda.
Tags