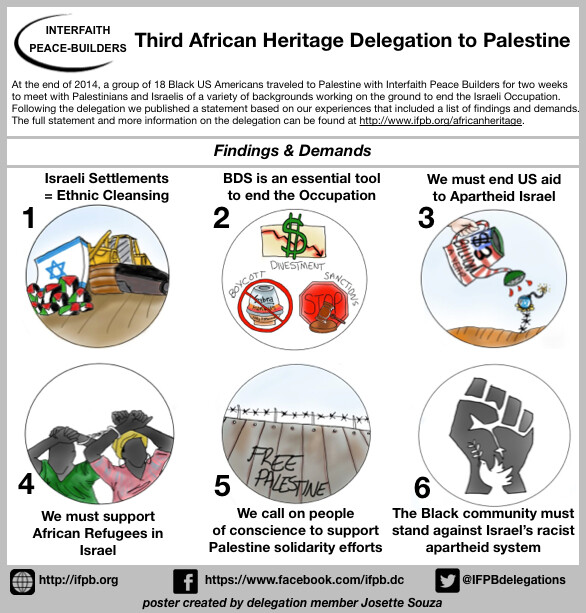 "The parallels between the ongoing racial discrimination experienced by Black people in the US and the treatment of Palestinians and denial of their human rights by the Israeli government can no longer be ignored," says Ajamu Baraka, founding executive director of the US Human Rights Network and an editor and columnist with Black Agenda Report.
Baraka took part in the African Heritage delegation to Palestine last October which this month released its findings and demands (these are summarized in the infographic above).
In the wake of last month's election victory for Israeli Prime Minister Benjamin Netanyahu, members of the delegation are also urging Black US political leaders to take a stronger stance in favor of Palestinian rights.
In a press release from Interfaith Peace-Builders, which organized the delegation, the participants call on the Congressional Black Caucus (CBC) to "support moves to hold Israel accountable to international law," including at the UN and the International Criminal Court.
In an unprecedented step, many members of the CBC were among dozens of lawmakers who boycotted Netanyahu's controversial speech to the US Congress in March.
A recent report in Newsweek quoted a Democratic Party aide observing that as a result of Netanyahu's policies, CBC support for Israel was "gone." A poll by Bloomberg Politics this week also showed that support for Israel is eroding among the party's base.
Support Palestinian liberation
The African Heritage delegation set out its findings and demands in a statement released earlier this month, which builds on the findings of earlier African Heritage delegations in 2011 and 2012.
These include:
Israel's policy of settlement expansion amounts to ethnic cleansing and 21st century colonialism.

The US must end billions of dollars in annual support it gives to "Israel's settler-colonial project."

The delegation condemns "the campaign Israel's government has waged to court Black religious and political support" and calls "on the Black community to give unconditional support and solidarity to Palestinian Liberation."

The Black community in the United States must support the plight of African refugees in Israel.

The global boycott, divestment, and sanctions (BDS) movement "is an essential tool in the struggle for Palestinian liberation."

Activists and non-activists should "join initiatives in their communities that support and work in solidarity with Palestinian resistance movements," including traveling to Palestine on similar delegations.
Common bond
Following their return from Palestine, two delegates, Baraka and Trina Jackson, a longtime social justice organizer based in Boston, spoke to The Electronic Intifada's Nora Barrows-Friedman about their experiences.
Jackson emphasized the situation of African refugees, predominantly from Sudan and Eritrea, held in the Holot internment camp Israel built in the southern Naqab (Negev) desert.
They are "there really for no other reason than they're Black people that Israel does not want in the country," Jackson said. "They are isolated, they have no freedom of movement, no one's communicated to them how long they're going to be there, and again it just spoke to the level of racist ideology that is fueling Israeli policies."
Baraka spoke about the growing recognition of the connections between the struggles of Black people in the United States against entrenched racism – particularly killings of African Americans by police – and the situation of Palestinians under occupation.
"There is a recognition that the common bond for both of us is the struggle against oppression, the struggle against racialized societies in which the humanity of African American people and the humanity of Palestinians are not recognized," Baraka said.
"There's also a recognition that our struggles go beyond just our immediate struggles for our own liberation – but that those forces that are conspiring to deny us our humanity are the same forces that are conspiring to deny the humanity of peoples all over this globe," Baraka added.
Tags