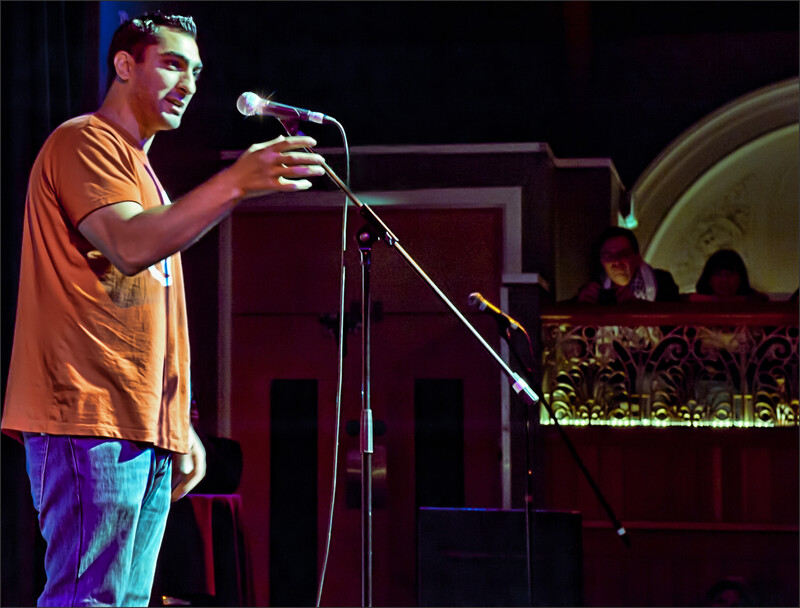 This statement on a disturbing instance of blatant censorship of an event last week about Palestine and boycott, divestment and sanctions (BDS) comes from the St. Louis Palestine Solidarity Committee.
In addition to canceling a planned town hall on BDS, administrators attempted to dictate to poet Remi Kanazi what topics he could address in a campus appearance.
The St. Louis Palestine Solidarity Committee spearheaded the recent successful campaign to end the relationship between occupation profiteer Veolia and the city of St. Louis.
---
St. Louis Palestine Solidarity Committee Condemns Censorship of BDS Debate at Washington University
(17 April) The administration at Washington University in St. Louis is curtailing freedom of speech in the discussion and debate over Palestine/Israel.
The St. Louis Palestine Solidarity Committee condemns the cancelling of a scheduled town hall on boycott, divestment and sanctions (BDS). The censoring of the forum on campus last week is in direct contravention of the University's stated commitment to academic freedom.
In December of 2013, the American Studies Association (ASA) passed a resolution to end "formal collaborations with Israeli academic institutions or with scholars who are expressly serving as representatives or ambassadors of those institutions."
The ASA cited "Israel's violation of international law and UN resolutions; the documented impact of the Israeli occupation on Palestinian scholars and students; [and] the extent to which Israeli institutions of higher education are a party to state policies that violate human rights." The resolution is not binding towards its members.
In response, Washington University Chancellor Mark Wrighton issued a statement condemning the ASA boycott, claiming that it "violates academic freedom, which is not only one of our university's fundamental principles but one of American higher education in general."
In response, Washington University Social Work student Murad Owda wrote an editorial in Student Life, the campus newspaper, detailing how he risked imprisonment and his life to study at the university. He then asked that Wrighton's concern for academic freedom should extend also to Palestinians like himself.
Last month, the Sigma Iota Rho (SIR), the International and Area Studies honorary at Washington University, scheduled a town hall debate on the growing movement for boycott, divestment, and sanctions (BDS) against the state of Israel for 9 April 2014. Featuring Palestinian-American poet and activist [Remi Kanazi] and three tenured Washington University professors, the forum was to include voices for and against BDS.
One week before the event, SIR representatives were informed by the International Area Studies (IAS) program, the body that funds SIR events, that the BDS town hall was cancelled.
In a written statement, department officials said, "[T]he intent of any public event sponsored by SIR/IAS is to ensure an informed, expert, and balanced campus discussion of the topic. In this case, after consultation with student groups, faculty, and community members, we did not believe that the planned town hall format was conducive to that original intent."
IAS informed SIR that they would allow Kanazi to perform only for SIR members. For the first time in the history of the open forum, the event was closed to the general student body and St. Louis community and open only to members of SIR. Kanazi was instructed to speak solely on poetry and art in politics.
Kanazi did appear before SIR members where he condemned the department's limiting of freedom of speech, the hypocrisy of Chancellor Wrighton, and performed his usual set of poetry, which included pieces on BDS, Israeli occupation and apartheid, US militarism, and Islamophobia.
Responding to the developments at Washington University, Kanazi said, "IAS cowered to internal and external pressure from Zionist groups who were afraid to see the topic of BDS debated on a US campus. Why are 'community members' influencing a student-led event to begin with? What about the 'academic freedom' of SIR and the ability to program without being pressured and coerced by the department? The only thing these right-wing, pro-Israel groups want to 'ensure' is domination of the discourse and to stifle growing support for BDS."
"Nonetheless, their actions have been an abject failure, from University of California campuses to Chicago Students for Justice in Palestine chapters to Washington University; BDS is resonating beyond the choir. While IAS was successful in shutting down the town hall, we won the night by bringing together a diverse group of student and community members for an open performance, a reaffirmation of academic freedom, and a robust discussion on BDS," Kanazi added.
In response to the department's decision to cancel the BDS town hall, students angered by the infringement of their academic freedom and censorship, organized an alternative event featuring Kanazi and student poets from Washington University. Students, faculty and community members packed the room to hear Kanazi perform his powerful poetry.
Kanazi warned anti-BDS proponents in the room that his words would make them uncomfortable, but insisted that they should defend his right to speak them. When Kanazi defended the academic boycott of Israeli institutions, the crowd responded with finger snapping, the spoken word equivalent of applause.
Kanazi said, "It doesn't actually stop Israeli academics from traveling, from speaking. The boycott, divestment and sanctions call, particularly the academic and cultural boycott call, is incredibly nuanced because we don't want a witch hunt, we don't want to go after individuals, and we want to have maximum target[ing] of the institutions themselves."
In his statement condemning the academic boycott of Israel, Chancellor Wrighton extolled the importance of academic freedom at American universities. Yet here was an opportunity for an exchange of opinions between distinguished Washington University professors – including voices defending Wrighton's position – and a respected artist and supporter of BDS. It was stopped.
Is not a primary purpose of the university the exchanging and debating of ideas that affect current affairs? Is the stifling of this important debate not a blow to the academic freedoms of both three tenured Washington University professors and Kanazi? It certainly suggests that Israel's supporters are pushing for stifling of debate because they don't believe they can win the argument.
Tags