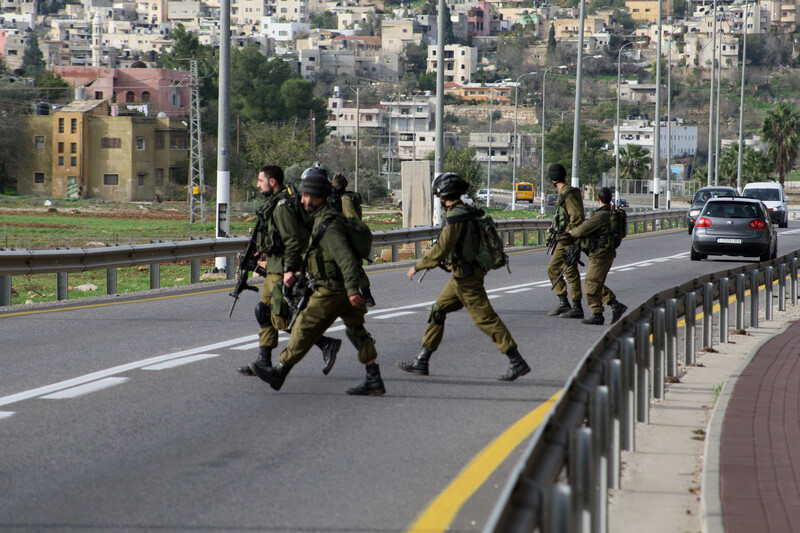 A school near the occupied West Bank city of Nablus has been repeatedly attacked by Israel.
On 4 February, Israeli forces fired sound bombs into a secondary school serving the Palestinian villages of al-Lubban and al-Sawiya. A flimsy excuse was given to justify this assault on the right to education: Israeli settlers had alleged that pupils from the school had thrown stones at them.
Data published by the UN monitoring group OCHA indicates that the attack was by no means isolated. Eight incidents that affected pupils or disrupted classes were recorded at the school, which is located south of Nablus, during 2014.
In one such incident that took place around this time last year, five fully-armed Israeli soldiers entered the school yard. The officer who led that raid — on 24 February 2014 — also claimed that pupils had thrown stones at settlers.
That claim was disputed by the school's vice-principal, Abdelrahim Muhammad Suleiman, who insisted that all pupils had been attending classes.
Tripling of attacks
The school is situated beside the Nablus-Ramallah road. Also known as Route 60, it is one of the main roads used by Israeli settlers. All of Israel's settlements in the West Bank violate international law.
The number of Israeli attacks on Palestinian schools in the West Bank tripled over the past two years, according to OCHA. A total of 152 attacks were recorded in 2014, compared to 46 in 2013.
In October last year, for example, a teacher was physically assaulted by Israeli troops at Haj Ziad Jaber School in Hebron. The teacher had been filming a raid by Israeli troops on the school's premises.
The military also claimed on that occasion that pupils had been throwing stones at Israeli vehicles. The military had arrived at the school to arrest three pupils.
As The Electronic Intifada reported last week, pupils in occupied East Jerusalem regularly encounter harassment by Israeli forces. The Israeli forces have fired tear gas, grenades and a vile-smelling weapon known as "skunk water" at schools and their environs in al-Tur, a Jerusalem neighborhood, on multiple occasions.
Traumatic
Large numbers of children suffer when Israel denies them their right to education. Statistics from UNICEF, the UN's children fund, suggest that 12,000 Palestinian children were affected by the disruption of classes and damage to schools in 2013.
Enormous destruction was inflicted on Gaza's education system by Israel's 2014 offensive against the Strip. Twenty-two schools were completely destroyed. Another 118 were damaged, 75 of them run by UNRWA, the UN agency for Palestine refugees.
Because the attack proved so traumatic for Gaza's children, hundreds of thousands them required counselling afterwards, according to OCHA.
Al-Haq, a Palestinian human rights group, recently argued that the targeting of schools may constitute a war crime, under the Fourth Geneva Convention. International law requires that the right to education must be upheld and that children must be guaranteed protection when military action occurs.
Allegations of stone-throwing do not allow Israel to negate basic rights.
Tags