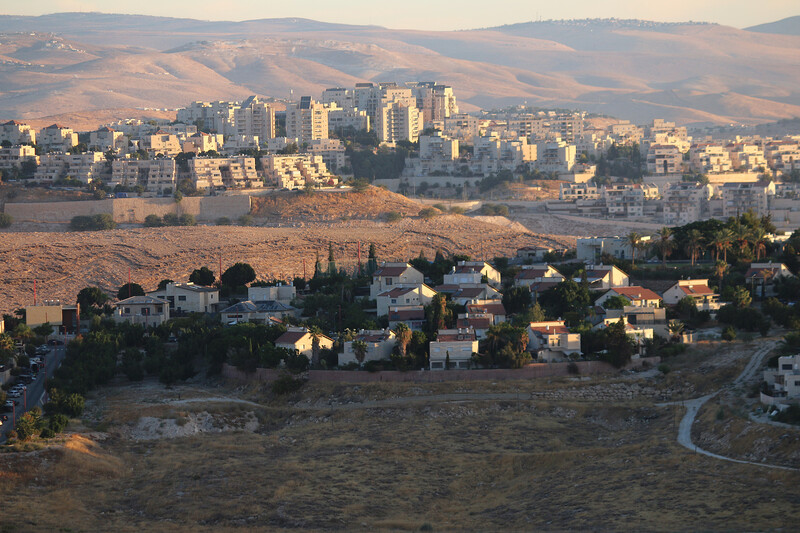 Norway's largest pension fund KLP excluded 16 companies from its holdings over their links to Israeli settlements in the occupied West Bank.
The pension fund dumped the settlement profiteers because there is "an unacceptable risk" that they will contribute to human rights violations.
The divestment is particularly significant not just because of its scale but also because KLP drew on the UN's database of companies involved with Israel's settlements.
KLP said it sold assets worth more than $31 million in the excluded companies.
The firms include Israel's biggest banks, telecoms companies Bezeq, Cellcom Israel and Partner Communications and several construction firms.
Notably, Partner Communications used to be the Israeli affiliate of French multinational Orange.
However Orange cut ties with Partner in 2016 following a campaign by activists in Egypt and other countries because of Partner's involvement in the settlements and its support for Israel's 2014 attack on Gaza.
Earlier, KLP excluded Elbit Systems and German building materials firm HeidelbergCement.
Christy Hoffman, general secretary of UNI Global Union, a transnational trade union representing 20 million workers that has been campaigning on the issue, applauded KLP's action.
"Investors should not be profiting from human rights violations like the illegal confiscation and settlement of Palestinian land," Hoffman said.
The Palestinian Boycott Divestment and Sanctions National Committee urged other investors to follow KLP's example.
"Unacceptable risk"
KLP manages more than $70 billion worth of assets for the public sector.
It is committed to ethical investment principles and respect for human rights.
Israel's colonial settlements on occupied land are illegal under international law and constitute a war crime.
That is why KLP concluded that there was "an unacceptable risk" that it could contribute to Israel's abuses of Palestinian human rights if it remained involved in companies with links to the settlements.
In a statement explaining its process, KLP highlighted the negative impact of the settlements on Palestinians, including "loss of property and livelihoods, restricted access to services and threats to their physical safety."
Israel's complex systems of physical and bureaucratic controls further limits Palestinians' freedom of movement, the fund adds.
KLP compared its investments with the UN database listing 112 companies involved in Israel's settlements in the occupied West Bank, including East Jerusalem.
KLP found it held shares in 26 of those companies.
It then assessed whether settlements could be maintained without the goods or services supplied by those firms.
Ultimately KLP excluded 16 of the 26 companies because their services were found to be essential to maintaining the settlements.
Three are construction and engineering firms, including France's Alstom, which is involved in building the Jerusalem light rail linking the illegal settlements to each other and to Jerusalem.
Israeli banks Hapoalim, Leumi, First International, Israel Discount Bank, Mizrahi Tefahot were excluded for their "direct contribution to the development, expansion or maintenance of the settlements and their activities."
Selling Motorola Solutions was "a very straightforward decision" for KLP as its video security systems and software are used in surveillance of Palestinians, Reuters reported.
In the telecoms sector the fund also dropped Netherlands-based Altice Europe, along with three Israeli firms, as KLP found that the provision of communication services "makes the settlements attractive residential areas."
KLP excluded three Israeli energy companies for supplying power and fuel that support the settlements.
The Norwegian pension fund said that it contacted all the companies, but only one showed "any willingness to engage in dialogue, and none have demonstrated that they have systems in place to reduce the risk of future norm violations."
Norwegian oil fund
In May, the Government Pension Fund Globall also known as the Norwegian oil fund announced the exclusion of Israeli firms Shapir Engineering and Industry, and Mivne Real Estate.
The oil fund said the investments carried an "unacceptable risk that the companies contribute to systematic violations of individuals' rights in situations of war or conflict."
In June, KLP followed the oil fund's example by excluding the two firms.
Mivne owns and lets commercial property in industrial zones linked to settlements in the West Bank.
Shapir does construction in the West Bank including building settlement homes.
Scotland divests
Meanwhile, Scotland's second largest local authority pension fund Lothian sold almost $9 million worth of shares in Bank Hapoalim.
It became the third Scottish pension fund to divest from the settlement financier following Tayside Pension Fund in 2019 and Falkirk Pension Fund in 2018.
Lothian's action came after "Time to Divest," an activist push initiated by the Scottish Palestine Solidarity Campaign and supported by partners including the country's biggest public service trade union Unison Scotland.
A year ago, Dutch pension fund ABP, one of the world's biggest, divested from Bank Hapoalim and Bank Leumi.
The two banks are heavily involved in building settlements on occupied Palestinian land.
ABP requires companies it invests in to have a human rights policy when they operate in areas where there is an increased risk of violations, like the West Bank.
The two Israeli banks lacked such a policy and therefore failed to meet ABP's goal that its investments "contribute to a sustainable world."
Tags