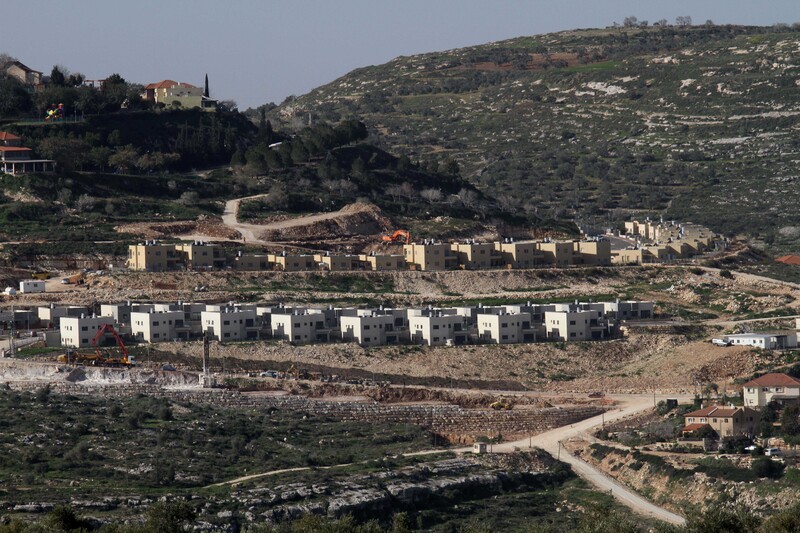 A Mexican firm has tried to justify supplying building materials to Jewish-only settlements in the occupied West Bank by pointing to how those colonies have been authorized by Israel.
While all Israeli settlements in the West Bank violate international law, the corporation Cemex has argued that many of them are legal.
In a letter sent recently to the Business and Human Rights Resource Centre, the Mexican firm admits that its subsidiary Cemex Israel operates concrete production plants in the West Bank.
According to the firm, these plants "are located in legal settlements that have been approved by the Israeli government" and "validated" by Israel's high court.
Cemex claims that it does not deal with "illegal settlements" — which it defines as "settlements not approved by the Israeli government."
The arguments used by the firm mirror those employed by the Israeli authorities in their attempts to explain the theft of Palestinian land. They overlook how all of Israel's settlements breach international law.
"Gross misrepresentation"
I contacted the Palestinian human rights group Al-Haq, asking it for a response to Cemex's claims.
In an email message, the group accused Cemex of "a gross misrepresentation of the law on settlements."
Israel's settlements in the West Bank amount to war crimes. Under the Fourth Geneva Convention, Israel is forbidden from transferring its own civilian population into land it has occupied since 1967.
The illegality of Israel's settlements has been confirmed by a 1979 resolution by the United Nations Security Council and a 2004 ruling by the International Court of Justice.
Referring to Israeli political decisions offers a flimsy pretext for Cemex's activities. The 1969 Vienna Convention on the Law of Treaties forbids states from invoking domestic laws to excuse a refusal to honor their international obligations.
In June, the major Norwegian pension fund KLP announced it would exclude both Cemex and Germany's HeidelbergCement from its investment portfolio because of those firms' activities in the West Bank.
HeidelbergCement has confirmed that its subsidiary Hanson Israel runs a quarry known as Nahal Raba in the West Bank.
Writing to the Business and Human Rights Resource Centre, HeidelbergCement argued that the quarry is on public land.
The firm contended that a thorough check was undertaken before the Australian company Pioneer began to exploit the quarry in 1986. "No private ownership could be determined," according to HeidelbergCement.
Pillage
Al-Haq insisted, however, that Palestinians have "permanent sovereignty over their natural resources, including quarries."
The 1907 Hague Regulations prohibit the exploitation of natural resources on occupied land for the sole benefit of an occupying power.
Such exploitation is known as pillage — a crime that may be prosecuted in the International Criminal Court.
Echoing other profiteers of Israel's occupation — notably the fizzy drinks maker SodaStream — HeidelbergCement contends that its quarrying "produces substantial advantages for the local Palestinian population."
The company boasts that it has provided "attractive jobs in a region that is otherwise characterized by high unemployment and long-term economic stagnation."
The most intriguing aspect of the firm's comments is that implicitly admits to parroting Israel's propaganda.
At HeidelbergCement, Palestinian and Israeli employees work together in "intercultural teams" which open up channels for "cultural exchange that foster mutual understanding," the letter states.
"Contact between the different ethnic groups has become very limited, if not non-existent, throughout the last decade with increasing anti-normalization campaigns worsening the situation," the letter adds.
The choice of words here is instructive.
"Anti-normalization" campaigns oppose initiatives which foster cooperation between Palestinians and Israeli Jews, while ignoring that Israel is an apartheid state.
HeidelbergCement is among many international companies that are helping to normalize injustice. Even worse, it appears proud of that fact.
Tags