Tim Kaine
Josh Ruebner 3 March 2017
As Trump breaks with two-state orthodoxy, politicians should seek inspiration from 1947 State Department memo. Read more about A forgotten US vision for a single democratic state in Palestine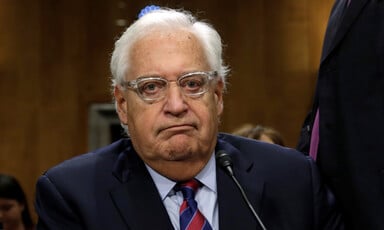 Michael F. Brown 17 February 2017
Key facts avoided as senators grill Donald Trump's pick for Israel ambassador. Read more about Why won't Democrats call out Friedman's crimes?
Ali Abunimah 16 November 2016
Tim Kaine's lauding of Obama official's service to Israeli army highlights similarities with Steve Bannon's racism. Read more about Is Trump bringing "white Zionism" to the White House?