Last Thursday, relatives, friends and local community representatives attended an unusual wedding party in Gaza. The celebration was held in a newly-erected refugee camp, in the northern Gaza Strip town of Jabaliya.

"My wife and I planned to marry at my house, where we furnished an apartment, just shortly before Israel's war on Gaza. Yet, as you see, we were forced to stay at this tent in the al-Rayyan refugee camp," said newly-married Ahmad al-Hersh of Jabaliya refugee camp.

"We had no other option; after the war, there have been so many difficulties to find a house to rent, as the demand is higher than before. My wife Eman initially objected but later on she agreed as we don't have any other choice. And thanks to those who helped furnish this marriage set," recalled Ahmad while sitting at his tent's bedroom.

Ahmad used to live in a three-story house in the al-Khulafa neighborhood inside the town of Jabaliya, before it was bombed by Israeli warplanes during the 22-day siege of Gaza. The tent where the newly married Palestinian couple will live has a bed, table, cupboard and a small bathroom.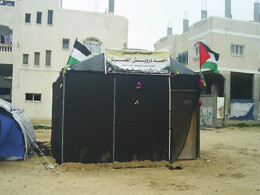 Ahmad explained that "I am not totally pleased but what can I say. But I look forward to the reconstruction of Gaza soon, so I and many others like myself get relief. I am a victim of the Israeli war."

According to the International Committee of the Red Cross and the Palestine Red Crescent Society, Israeli shelling and missiles during the 22-day-long siege destroyed more than 2,800 homes completely and damaged an additional 1,900, leaving tens of thousands homeless. To accommodate the large number of internally displaced Palestinians, a number of small refugee camps have been erected in different parts of the Gaza Strip, mainly in northern Gaza, through assistance by international organizations such as the UN agency for Palestine refuees, UNRWA. Ahmad's special tent was funded by a local charity in Jabaliya, via a Kuwaiti grant.

The reconstruction of Gaza has yet to begin, as donor countries are set to attend an international conference in Egypt next week. The reconstruction is estimated to require at least $2 billion dollars. Among the main obstacles to the reconstruction is the current Israeli blockade of the coastal enclave, which has been in place for more than 20 months. It has caused the lack of basic construction materials in Gaza, helping to impede housing in the tiny territory.

Ahmad's 18-year-old wife Eman Abdelal's house was partially damaged during the Israeli invasion. Ahmad described his wife's reaction toward having her wedding in a tent: " 'Your house was destroyed, my house was damaged, where can we go? We cannot afford an inflated price for rent.'" He added, "Thank God for this tent. For how long will we remain refugees in tents? I look forward to the moment when my wife and I can live in a better home."

UNRWA spokesperson Sami Mshasha, speaking by phone from Jerusalem said that many international bodies have pledged funds to rebuild Gaza. He added that the big challenge for these international bodies is whether they will start rebuilding Gaza amidst a crippling Israeli closure of the Strip.

Mshasha explained, "The internal Palestinian dialogue is going on and after the destruction of the war and the good will of the international community on the eve of the Sharm al-Sheikh donors meeting, will the Israeli authorities comply with all this and allow the entry of building materials and other basic commodities and goods?"

Recently, representatives of some European countries, including Javier Solana, the EU policy and foreign relations chief, have visited Gaza for the first time since the Islamist Hamas party came to power after the 2006 parliamentary elections. During his visit, Solana stated his hope that Hamas and Fatah would agree on a national unity government that would assume the reconstruction of the coastal Strip.

The EU, US and Israel have boycotted Hamas, demanding the party recognize Israel and accept agreements with Israel signed by the Palestine Liberation Organization. In June 2007, Israel imposed a siege on Gaza after Hamas wrested control over the territory amidst factional fighting with the Fatah party of Palestinian President Mahmoud Abbas. Abbas's term legally expired on 9 January, and he remains in power under controversial emergency laws. Representatives of Fatah and Hamas are currently meeting in Cairo in an attempt to resolve their divisions and create a national unity government pending new elections.

In Jabaliya, Ahmad explained that "I am originally a refugee from Jaffa, my family was displaced in 1948. I wonder how long we will remain refugees. I appeal to all Arab and Islamic nations to help us get rid of the Israeli occupation."

Rami Almeghari is contributor to The Electronic Intifada, IMEMC.org and Free Speech Radio News and is a part-time lecturer on media and political translation at the Islamic University of Gaza. Rami is also a former senior English translator at and editor-in-chief of the international press center of the Gaza-based Palestinian Information Service. He can be contacted at rami_almeghari A T hotmail D O T com.

Related Links