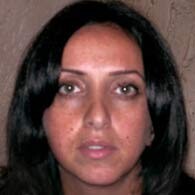 BEIRUT
- What was supposed to be a short visit to her parents' house in south Lebanon soon turned into a nightmare for Maysoon Arbid. Just hours after arriving, the conflict began and she found herself trapped and fearing for her life.
"I left Beirut with my two small nephews, aged six and four, to join my parents in my village Ainata, near Bint Jbeil. Half an hour after we passed the Qasmiye bridge towards our home, it was bombed. Fighting had just started.
"I spent the worst three nights of my life in Ainata.
"The first night was a nightmare as the bombs echoed in our isolated house on top of the hill. The next day, we moved to another house closer to the centre, as we felt safer with people around us. We kept visiting each other's houses to draw comfort from each other. The children never stopped crying.
"The bombing on the second night was even worse. We hid under the staircase all night and could not go to the bathroom.
"We wanted to leave but the story on the television of the people who were encouraged to leave the village of Marwahin and were then killed on the road haunted us. And there was no fuel. More and more people from neighbouring villages were seeking refuge in our houses as their homes were destroyed.
"On the third night, the bombing was so close and intense that my uncle decided to take a risk and leave early the next morning with my two nephews and I. We were told we were crazy, that the road was too dangerous. We siphoned petrol from a friend's car. The journey was frightening. We were all alone. All we saw were destroyed roads, destroyed houses, destroyed cars and Lebanese army vehicles carrying aid. It took us six hours to reach Beirut in what is normally a two-hour journey.
"The next day we learned that our neighbours' house in Ainata was flattened during that fateful third night. It was the Darwiche family - father, mother and two children. They were all killed."
Related Links
This item comes to you via IRIN, a UN humanitarian news and information service, but may not necessarily reflect the views of the United Nations or its agencies. All IRIN material may be reposted or reprinted free-of-charge; refer to the copyright page for conditions of use. IRIN is a project of the UN Office for the Coordination of Humanitarian Affairs.