"At about 2am early this morning, a group of Israeli soldiers broke into my house. They began screaming loudly, smashing everything in front of them, destroying the house completely," Nasir Hejo, 38, said on Monday, with a weary face, uncombed hair and bare feet.

"They shouted at us, forced out of the house. We wanted to move right after they attacked us. They ordered us to move south. Soldiers began shooting at us, killing my 17-old-year," Nasir stated.

After their flight from their one-story house next to the Tawhid mosque, on the outskirts of Gaza City, Nasir Hejo and 20 family members fled to a school run by the United Nations agency for Palestine refugees, UNRWA, in the Nuseirat refugee camp.

Israel claims to have attacked 1,000 of what it calls "Hamas targets." Independent media, UN aid officials and human rights organizations have documented that most of these attacks struck private homes, mosques, universities, schools, government buildings, police stations and charities. As of 6 January, the death toll from the Israeli attack approached 600 with thousands more injured.

Surrounded by his crying children at the elementary school for girls, Hejo added that the Israeli army was heavily deployed around his neighborhood, from the eastern part of Gaza City, close to the Handasiya cement company, a local landmark.

Hejo and the other family members fled after being forced to leave by the Israeli soldiers but his wife and brother remained behind to try to handle the death of his son.

"They killed my brother, they attacked our home, they even messed up the salt and sugar cans," Hejo's 18-year-old daughter said while crying on her father's shoulder.

This is just one of many stories of atrocities Palestinians can recount since Israel began its all-out bombardment of the Gaza Strip on 27 December followed by an ongoing land invasion.

About 600 Palestinian men, women and children were also sheltering the school after fleeing a massive onslaught on their homes in the Moghraqa village in southern Gaza City.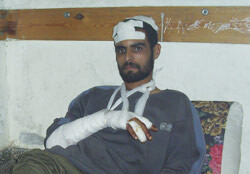 Eisa Abu Sido, 54, who lived in that area, said that his sons Muhammad and Esam were struck a couple of days ago, inside the family's home.

"The 1967 Israeli-Arab war was not as fierce as what is going on nowadays," Abu Sido Said. "That war only lasted six days with no great loss observed, but this is not a war, this is ethnic cleansing."

Standing close to his wife in front of the classroom that is now their shelter, Abu Sido appealed to all the world to save Gaza from the Israeli atrocities.

"For God's sake, I appeal to all nations around the world to save Gaza," he screamed.

The schools' sports field is now full of displaced residents, like the Abu Hwaishel family, who sat in the sun, trying to warm up from the winter weather.

"The situation is so miserable and we are out in the open As you see we are gathering here under sun," said Ibrahim Abu Hwaishel, 45, "when the night falls our flesh creeps from the cold."

UNRWA schools all over Gaza have become shelters for displaced people, but they are by no means safe. On Tuesday, one such school in the Jabaliya refugee camp just east of Gaza City, was hit by Israeli shells, at least 30 civilians who were sheltering there. Another Israeli attack on a school in the same area killed three according to medical officials.

According to UNRWA, thousands of people from various areas of the Gaza Strip have been forced to flee the Israeli shelling day and night. But there are few places to seek shelter in the besieged, densely packed coastal territory.

"The situation in Gaza is deteriorating rapidly, 25 percent of killed are children and women," UNRWA spokesman Adnan Abu Hasna told EI. "The food assistance we have meets the needs of the people for six days only. We provide blankets and other items to these displaced people, but there is no doubt that their conditions are so difficult, and we are currently evaluating the situation as well as their needs."

Rami Almeghari is contributor to The Electronic Intifada, IMEMC.org and Free Speech Radio News and is a part-time lecturer on media and political translation at the Islamic University of Gaza. Rami is also a former senior English translator at and editor-in-chief of the international press center of the Gaza-based Palestinian Information Service. He can be contacted at rami_almeghari A T hotmail D O T com.

Related Links