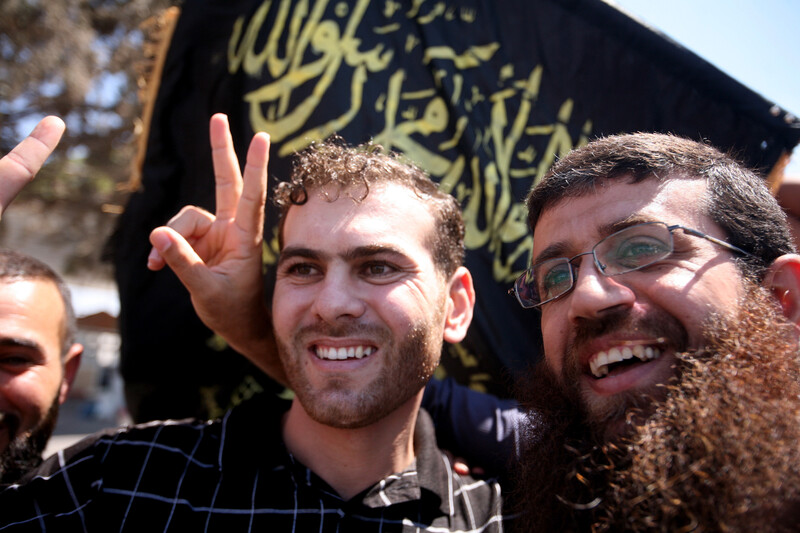 Twenty-seven-year-old Bilal Diab, one of the "Eight Knights" as dubbed by famous hunger striker Khader Adnan, engaged in a prolonged hunger strike inside an Israeli prison that lasted for 77 days.
Since his arrest in August 2011, Diab was held without charge or trial — a practice known as administrative detention. Diab's detention was renewed on 27 February 2012 for an additional six months; immediately following the detention renewal, Diab began an open-ended hunger strike in protest and for the sake of freedom.
A couple of months later, a mass hunger strike began on 17 April, Palestinian Prisoners' Day, and ended on the eve of Nakba Day, 14 May, when Palestinians commemorate the dispossession of their homeland.
Diab's strike was initiated with his close friend and fellow prisoner Thaer Halahleh, who was released on 5 June after also enduring 77 days without food. The pair had previously gone on hunger strike in solidarity with 30-year-old Hana al-Shalabi from the village of Burqin near Jenin in the occupied West Bank, whose own hunger strike back in February lasted for 43 days before she was coerced into accepting a deal that would exile her to the Gaza Strip for three years.
Approximately 1,600 Palestinian prisoners — including Diab, who was on hunger strike for nearly two months already — survived on water and salt for 28 days in protest of the inhumane conditions in which they were held, the denial of their basic rights such as access to education and family visits, and an end to solitary confinement and administrative detention.
Diab's hunger strike ended on 15 May following an agreement between the Israeli Prison Service and the Higher Committee of Prisoners, which stipulated that Diab would be released at the end of his given detention, with the promise of it not being renewed.
Linah Alsaafin spoke to Diab a few days after his release on 9 August, in his home in Kufr RaI village near Jenin in the northern West Bank.
Linah Alsaafin: Your brother Azzam, also imprisoned, went on a two-month hunger strike in solidarity with you. Tell me more about his story, and whether you were able to see him or not during your detention.
Bilal Diab: Azzam was arrested on 16 August 2001 and was sentenced to life in prison. After his sentencing for six months, the Israeli occupying army raided our house and arrested me and my brother Bassam. I was sentenced to seven years, Bassam to six.
During our whole imprisonment Bassam and I kept applying [with] papers to the Israeli Prison Service so we could see Azzam, but we were always refused based on "security reasons." The IPS has this policy of preventing siblings from meeting each other based on that claim. We were considered a threat even while imprisoned!
I told an Israeli Prison Service officer that I hadn't seen my brother for six years, and he replied that as long as I was in jail I was forbidden from meeting with Azzam. This is in violation of an IPS law that allows brothers to meet every six months, but unfortunately that law is not applicable to us.
Azzam is spending life in prison for a charge that is not worth this sentence. A lot of prisoners with the same charge as him got four to six years. Azzam's sentence is born out of the Israeli cycle of revenge. [Azzam Diab was given a life sentence after he was charged in relation to an attempt to undertake a bombing in Haifa in 2001.]
LA: What pushed you and Thaer Halahleh to go on a hunger strike? Why did you hunger strike in solidarity first with Khader Adnan, then with Hana al-Shalabi?
BD: Any Palestinian person would not hesitate for a minute to stand in solidarity with a living legend like Sheikh Khader Adnan, who battled for days and weeks and months with his empty stomach. It was a great honor for me to be among the first people to share in his suffering and to stand by his side.
When Khader Adnan emerged victorious from his hunger strike by securing a deal based on his terms, we were filled with more motivation and steadfastness to embark on a hunger strike ourselves in order to be released.
LA: How did the IPS treatment of you differ once you began your hunger strike?
BD: On 27 February 2012, the first day of [my] and Thaer's hunger strike, we informed the IPS of our action. One of the IPS officials then put me in solitary confinement in a tiny cell for four days.
I was in Naqab prison, in the desert, where the winter is very harsh. I only had one very light blanket. They put me under this condition to pressure me into breaking my hunger strike. Another official told me that another "Khader Adnan hunger strike" was not going to happen. I replied that my trust in God is strong, and that I will be victorious just like Khader Adnan. The official spent four hours trying to convince me to end my strike but I stopped replying.
Two weeks after that, I was moved to the Ramle prison hospital, where the real suffering began. On the first day I arrived, I was transferred to Assaf Harofeh hospital in an ambulance. One of the doctors then informed me that I had up to four hours before my health would deteriorate for the worse, and that I should choose to take in liquids or nutrients.
I told him that if martyrdom was the price for my freedom, then so be it. I refused what they offered me, from liquids to salt to nutrients. The director of the hospital refused to let me stay so I was taken back to Ramle prison hospital. Every day I was subjected to searches and threats, and had my clothes or bedcovers confiscated, as well as any electronic devices such as the radio, walkman, TV, and [they prevented] lawyers from visiting us. All of this, from severing contact with our families and not knowing what was going on in the world, was done to break our spirits.
At one point a committee of doctors were brought in to see me, including psychologist, a neurologist and a sheikh. The sheikh kept telling me that my hunger strike was suicide and therefore haraam, forbidden in religion.
The committee concluded from their own questions and my presence in front of them that I was to be forcefully injected with an IV [intravenous] drip, with my arms tied to the sides of the bed. I totally refused that, and filed a complaint against them.
On the 67th day of my hunger strike, I was transferred again to the Assaf Harofeh hospital where I spent eight days in six handcuffs tied to the bed: three on my left arm, and three on my right leg, all to "maintain security." These eight days were the hardest days of my life. I could not sleep. A hunger striker lives on water only so I needed to use the bathroom every hour. I was prevented from using the bathroom. I was surrounded constantly by four wardens, and their job was to eat in front of me and to talk loudly so I wouldn't be able to go to sleep.
They would eat pizza, shawerma [roasted meat], knafe [a traditional Palestinian sweet] and drink Coke. They would offer me food but I remained steadfast, to the point where it unnerved them as they couldn't grasp how a person on hunger strike [would] not cave in to the pressure and to the food right in front of him.
I refused to stay in the hospital in protest of the handcuffs and the wardens' behaviors. On the seventh day, at 10 pm, I informed one of the officers that I had stopped drinking water. The next day they tried to convince me to go back to drinking water but I was adamant, so the hospital released me back to Ramleh prison hospital because they didn't want to bear the responsibility if I had died.
LA: Was there one point when all of the long-term hunger striking prisoners were put together all in one room at the Ramleh prison hospital?
BD: At the beginning, Thaer Halahleh and I were in one room, and then Hana al-Shalabi was moved in. After that Hasan Safadi, Omar Abu Shalal, and Jafar Ezzedine all came in. Afterwards we were all divided individually then paired together or all brought together, it differed each time. The last two weeks of my hunger strike I was placed in solitary confinement.
LA: Did you communicate with each other?
BD: When we were all together in one room, of course we did. After the IPS separated us, it became difficult to talk to each other, even though we were in opposite rooms. There was no energy, no voice on our part! [laughs]
LA: Were you in contact with Hana al-Shalabi when her deal was made?
BD: On the Wednesday before Hana's deal was struck, the lawyer Jawad Boulos — the only lawyer allowed to visit us until my 50th day of hunger strike — came in to see me and I asked him about her condition.
He told me that Hana's health was very bad and she was feeling very tired and that medically speaking, she only has a few more hours to live. I had previously asked Hana her thoughts on exile in case such an offer arrived and she told me firmly that she completely rejects being exiled. The IPS and prison wardens took advantage of her extremely weak condition and her slipping in and out of consciousness and imposed on her to accept being exiled for three years to Gaza.
LA: What was your reaction to the prisoners' agreement signed very late on 14 May when you saw prisoners Mahmoud Sarsak and Akram Rikhawi refusing to end their hunger strike?
BD: On Sunday, 14 May, Jawad Boulos visited me at 8 in the morning. He hadn't even washed his face. He told me that a meeting in Ashkelon prison between the IPS officials and the Higher Committee of Prisoners was going to take place today, and that there was a big possibility that our suffering would end.
I reminded him that I would reject any agreement that requires me to stay in prison one extra day, or that is based on my exile. He told me that they are working on getting all of the long-term hunger strikers out in one day. At 6pm, I along with the other hunger strikers in Ramle prison hospital were moved to a big room, where we met with the Higher Committee of Prisoners and the IPS, and talked for eight hours about the agreement in detail.
Hasan Safadi, Mahmoud Sarsak and I made our position clear and said that we will continue our hunger strike if the outcome was not our immediate release. Other prisoners from the committee intervened and after much discussion we agreed to accept the term that each would be released by the end of his current administrative detention period. The next morning I told the prison officer that I was still on hunger strike until freedom, and again the prisoners from the committee intervened and talked to me and reassured me in front of the IPS officials that I would be released on 9 August.
My brother Hasan Safadi ended his hunger strike but then announced he would still be on strike, until the director of the IPS and the Higher Committee met with him also to reassure him of his release date on 29 June.
Before the agreement, a member of the Israeli intelligence responsible for the Gaza territory — [the] Shabak — told Mahmoud Sarsak that he would go home on 1 July, before the date his detention was due to finish on 12 August, as per the agreement. Mahmoud obviously didn't want to be released in August — he had already thought he'd be back home in Gaza in time for his brother's wedding, among other reasons.
LA: Were you aware of the media coverage either domestically or internationally, and if so, did you sense that the coverage was inadequate?
BD: During my hunger strike, the connection to the outside world was limited. I only got news from Jawad Boulos. The visits from lawyers would be limited and recorded, so time would be very constrained but Jawad spoke of the international support, the protests taking place in different parts of Palestine, the attention we were getting.
I could sense that from other prisoners and from the IPS officers too. Every time I would be transferred from one place or another a crowd of people would be waiting outside the hospital doors with their cameras and phones. I sensed something new from the solidarity expressed by people around the world, the popular movement at home, and the positive stance of journalists and reporters.
LA: During your hunger strike, did you think you would survive and come back home in good health or did you picture yourself at any moment dead?
BD: No one dies for the sake of dying. No one becomes a martyr for the sake of dying. We love life in its natural form. A hunger strike is a real struggle which the person undertakes and risks his life in order to be released and given freedom.
LA: Is there a message you would like to tell the Palestinian Authority government in Ramallah?
BD: Yes, there's a message that the prisoners passed on to me verbally to carry to both governments, the PA and Hamas: to end the state of division, to give more attention to the prisoners and for that attention not to be tainted in personal or material interests, and to release the 150 prisoners held since before the signing of the Oslo accords in 1993. Without national unity there can never be victory.
LA: What are your plans for the future?
BD: My priority, seeing as how I was imprisoned during the best years of my life [18 to 25, then 26 to 27 years of age] and was forced to spend these years behind bars with other prisoners, is to spend time with my family.
One time in Ashkelon prison I spent three months in solitary confinement, including [during] Ramadan and Eid. I lived through such difficult days and years at a time when I was supposed to live these days in happiness with my family.
Out of loyalty for my brothers and sisters in the occupation prisons, I want to maintain contact with their families and tell their families of their news, good or bad. I want to stay in touch with the media and with human rights organizations to highlight the plight of prisoners even more — it's the least I can do. After the house is soon properly furnished, God willing, I'll get married and resume a "normal life."
LA: Looking back at your hunger strike, do you view it as a victory for yourself, your family, the Palestinian cause, or for the prisoners?
BD: When I took the decision to go on hunger strike, I swear to you it was not for my personal benefit or gain. Primarily, it was for the sake of the over 300 administrative detainees, then the 5,000 prisoners in general. I saw that I have the ability and the strength to enter this battle of empty stomachs and to emerge victorious. I dedicate this victory to all of our people, and my patient mother.
Linah Alsaafin is a graduate of Birzeit University and a writer based in Ramallah, West Bank.
Tags