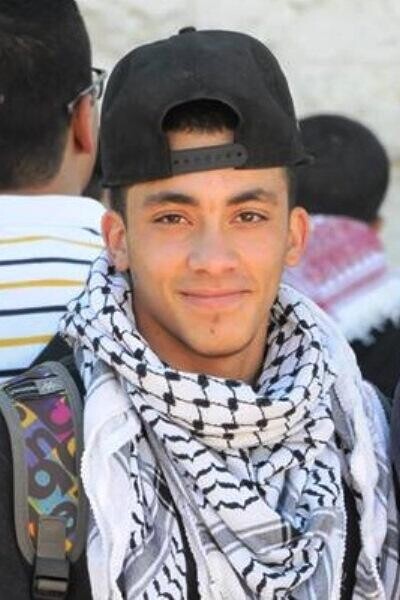 On 15 May 2014, an Israeli Border Police officer took aim at Nadim Nuwara and pulled the trigger of his M16 rifle.
The live bullet struck Nuwara, 17, in the chest and exited through his back, killing him at the scene. CCTV cameras captured the shooting, allowing for detailed forensic video, sound and spatial analysis to be used to identify Nuwara's killer. Despite seemingly clear evidence, systemic impunity for Israeli military violence continues to be an obstacle to justice for Palestinian families living under prolonged military occupation like the Nuwaras.
Nuwara's death appears to be the direct consequence of a de facto policy pursued by the Israeli military that permits the use of live ammunition, even against children, with almost complete impunity. The families of those killed are left to live with this injustice.
In December 2014, the news website NRG published a recording of Brigadier General Tamir Yadai telling residents of Halamish, a Jewish-only settlement in the occupied West Bank, that Israeli soldiers adopted a "tougher approach" of using live ammunition against Palestinian protesters.
"In places where we used to fire tear gas or rubber [coated metal bullets], we now fire Ruger bullets and sometimes live bullets," Yadai said. "We're at around 25 people hit here in the last three weeks. That's a relatively high figure on any scale."
Lethal force as matter of policy
Amnesty International has documented the use of live ammunition by the Israeli military, finding that it is used unnecessarily and arbitrarily, with devastating consequences for Palestinian civilians, including children. The frequency and persistence of such force, it found, suggested that it was carried out "as a matter of policy."
This finding is supported by comments from within the Israeli military itself.
Ben Deri, the Israeli Border Police officer arrested in connection with Nuwara's killing, is under house arrest, awaiting trial on a charge of manslaughter. The fact that Deri has been charged at all is a token, yet positive, development given the systemic impunity.
Israel's track record suggests that any sentence imposed will fail to match the severity of the crime as a plea agreement will likely preclude a trial and result in little, if any, prison time.
Last month, an unnamed Israeli soldier was charged in connection with the 2013 killing of 16-year-old Samir Awad, who was shot in the back as he ran from troops near the West Bank village of Budrus. Israel's State Attorney office found that this act was merely "reckless and negligent," and in its view apparently amounted to only a minor offense.
Even if convicted of the charge, the result would be a negligible sentence that will do little to deliver the justice that the Awad family deserves.
In July 2014, Israeli authorities closed the investigation into the killing of 14-year-old Yousef al-Shawamreh, who was shot in the back by Israeli soldiers near his village in the southern West Bank, which sits alongside Israel's apartheid wall. The chief Israeli military prosecutor found that soldiers "acted in line with rules for opening fire."
That was despite the fact that al-Shawamreh was unarmed and foraging in agricultural land close to his village when he was shot dead.
Undercharged?
Indictments are a rarity when it comes to Israeli military violence or offenses against Palestinians, as only 1.4 percent of complaints result in indictments, according to the Israeli human rights group Yesh Din.
In 2014, Israeli forces shot dead 11 Palestinian children with live ammunition across the West Bank, including occupied East Jerusalem, according to evidence collected by Defense for Children International - Palestine. Incidents involving the killing of Palestinian children generally are only subject to a brief operational review by the Israeli military, which often results in findings that clear soldiers of any wrongdoing, as in the case of al-Shawamreh.
While Ben Deri is the only individual indicted in connection with one of these killings, a strong argument can be made that he was undercharged. Video footage obtained by DCI Palestine following the deaths of Nuwara and another boy, Muhammad Abu al-Thahir, 16, captured the fatal shootings of both boys during a lull in the protest on 15 May last year.
Both had joined demonstrations near Ofer military prison, in the West Bank town of Beitunia, to commemorate Nakba Day, which marks the forced displacement of Palestinians from their homeland in 1948.
The footage unequivocally shows that neither boy posed any lethal threat to Israeli soldiers stationed 90 meters away when they were shot. Neither boy was armed, and Abu al-Thahir was shot in the back as he walked away from soldiers.
Their shooting was in direct contravention of the Israeli military's own regulations, which state that live ammunition must only be used in circumstances in which a soldier or policeman is in direct, mortal danger.
Persistent lack of accountability has led to a situation of systemic impunity where Israeli forces answer to nobody even for the gravest of violations. The lack of indictments and failure of Israeli authorities to conduct impartial and thorough investigations into the other killings from 2014 all but assures the impunity will endure and Palestinian children will continue to be victims of Israeli military and police violence.
The guarantee of impunity to those that injure and kill Palestinian children must end. Because Israeli authorities have shown little interest in changing the status quo, the international community must urgently demand that Israel conduct impartial, thorough and credible investigations to hold all perpetrators accountable.
Failure to do this will mean further child fatalities, and perpetuates the apparent systematic denial of justice to Palestinian families.
Olivia Watson is an advocacy officer with Defense for Children International - Palestine. Twitter: @liv_wats
Tags