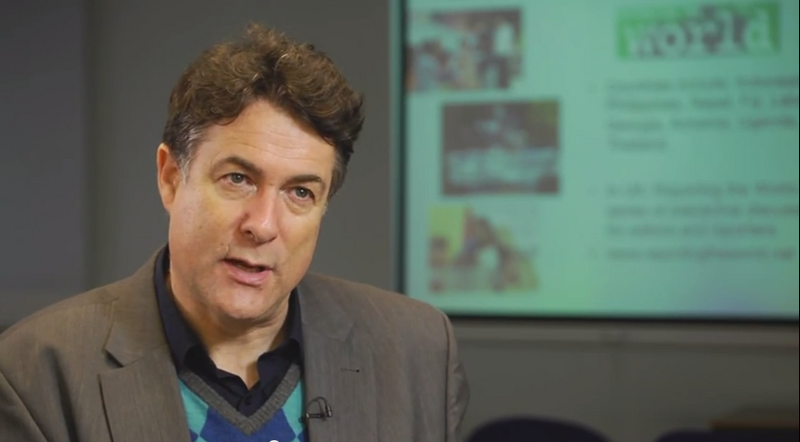 Jake Lynch, an associate professor at Sydney University, has been cleared of any suspicion of anti-Semitic behavior while defending students who disrupted an 11 March talk by pro-Israel lobbyist Richard Kemp.
You'd think that this finding would be good news for the University of Sydney management. It can now come to the defense of its employee and seek to remedy the damage done to his reputation and to its own.
In recent times, the university has been embroiled in a racism scandal surrounding Professor of English Barry Spurr, who referred to Aboriginal Australians as "human rubbish tips." One could assume, then, that its management might be relieved not to have a similar anti-Semitism controversy to deal with.
So far, though, university management has not publicly announced the investigation results, effectively allowing the accusation of anti-Semitism to continue to tarnish the reputation of Lynch and other staff and students who support the Palestinian call for boycott, divestment and sanctions (BDS) against Israel.
It fell to Lynch's union, the National Tertiary Education Union (NTEU), to inform its members that the accusations of anti-Semitism had been dismissed.
Tens of thousands of students and non-union staff, who all received correspondence headlined "Concerns about anti-Semitism on campus" from Michael Spence, the university's vice-chancellor, remain in the dark on this point.
Aspersions left hanging
Why is the university's leadership keeping silent about Lynch's vindication? Surely it would be appropriate, at the very least, for Spence to reassure his institution's Jewish staff and students that troubling rumors of anti-Semitism on campus have been shown to be groundless.
Spence has stated that he wishes to avoid prejudicing the outcome of the ongoing disciplinary processes by making further comment. Yet is it not highly prejudicial to leave aspersions of anti-Semitism hanging in the air, while the university begins prosecuting pro-Palestine activists on entirely different grounds?
The defeat of the anti-Semitism slur will be disappointing for those who raised it so insistently: groups such as the Australasian Union of Jewish Students, who petitioned for Lynch to be sacked for anti-Semitic behavior.
By keeping quiet, the university is allowing these pro-Israel voices to avoid questions about their role in formulating and promoting the evidently false charge of anti-Semitism against Lynch.
Although the main thrust of the attack on Lynch — the accusation of anti-Semitism — has now collapsed, the university has initiated formal proceedings against him for breaches of a staff code of conduct. It also intends to bring disciplinary action against five pro-Palestine students.
The codes of conduct, according to a recent statement from the university, "require all staff, students and affiliates to be tolerant, honest, respectful and ethical at all times." Punitive measures to enforce these codes are necessary, the vice-chancellor has argued, because Sydney University "must remain an institution where discourse is civil."
Affront to civil liberties
These words will be familiar to those following the case of Steven Salaita, who was "un-hired" by the University of Illinois for his supposedly uncivil tweets about Israel's attack on Gaza during the summer of 2014.
Joan W. Scott has recently chronicled the history of "civility" as a concept invoked to silence dissent on campus, a study highly redolent of the situation at Sydney University.
While the specific charges against Lynch and the students remained wrapped up behind confidentiality clauses, the basic facts of the meeting involving Kemp, a former colonel in the British Army, are well known.
Students raised their voices in protest against a notorious apologist for Israeli war crimes. While remonstrating with security guards to stop them from brutalizing these students, Lynch defended himself against abuse and physical assault from other audience members.
The suggestion that these actions warrant disciplinary action, carrying penalties up to and including sacking (for Lynch) and expulsion (for the students), plainly constitutes an affront to civil liberties on campus.
This continuing witch-hunt will be fought with a vigorous political campaign. The open letter calling on Spence to drop charges against pro-Palestine activists has already attracted more than 1,600 signatories, including prominent figures such as Desmond Tutu, Noam Chomsky and John Pilger, along with politicians from the Australian Greens and Australian Labor Party.
The NTEU has taken a strong stance in defense of Lynch, writing to Spence that it "believes the allegations are without substance and solely designed to placate external parties that have pressured the vice-chancellor."
For its part, the Student Representative Council has unanimously endorsed a motion expressing solidarity with the victimized students.
The next step in this campaign will be a joint staff-student forum on the defense of civil liberties on campus, to be held on 29 April. All members of the university community and public are invited.
David Brophy is a lecturer at the University of Sydney. He is a member of Sydney Staff for BDS and National Tertiary Education Union Members for BDS.
Tags