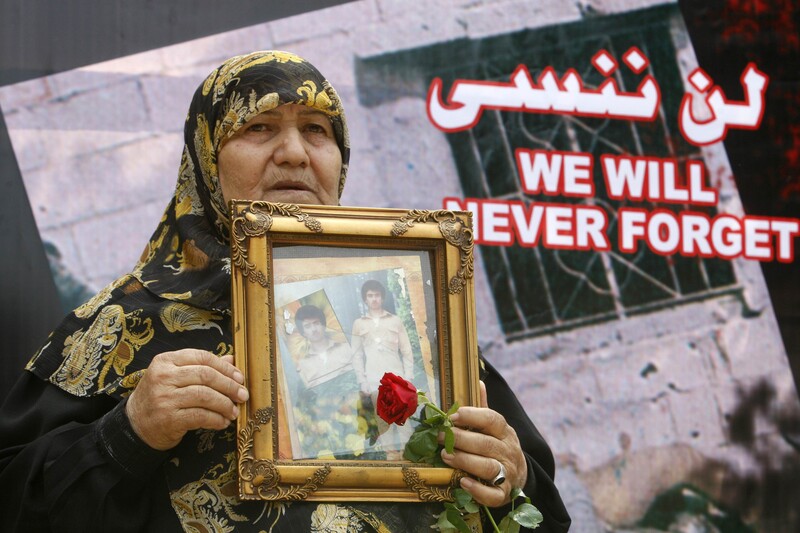 One of Israel's most infamous crimes occurred 33 years ago this week.
In September 1982, the Israeli army surrounded the Sabra neighborhood and adjacent Shatila refugee camp in southern Beirut.
Israel gave its allies in a right-wing Christian militia known as the Phalange free rein to massacre a large number of Palestinian and Lebanese civilians living in the area. Israeli troops even shot flares into the night sky to help the Phalangists find their targets.
Exactly how many were killed between 16 and 18 September 1982 remains unknown. Estimates vary from 800 to 3,500; the real number is hard to determine because bodies were buried quickly in mass graves or never found, and many men were marched out of the camp and "disappeared."
No information has been released about them to this day.
Shortly before the massacres, the Palestine Liberation Organization was evacuated from Lebanon as a result of an agreement reached after the Israeli invasion of the country. That meant the residents of Sabra and Shatila no longer had protection, despite promises made to them by Philip Habib, an envoy for then US President Ronald Reagan, that their security would be guaranteed.
Ellen Siegel, a Jewish American nurse, worked in Shatila at the time of the atrocities. She testified before the Israeli Kahan Commission of Inquiry, which in 1983 found that Israel was indirectly responsible for the massacre. Each year, she returns to Lebanon, taking part in commemorations.
Zeina Azzam: Can you tell us about the commemoration of the Sabra and Shatila massacres, which is held in Beirut each September?
Ellen Siegel: It is heartbreaking to see the survivors, who lost their children, spouses, parents and other family members during the massacre. They come to the commemoration year after year, holding frames that are coming apart and containing old, yellowing photos of their loved ones who died during the massacre 33 years ago.
In their memory, their children remain in their hearts and minds as if no time has passed.
It is so important for the survivors to know that people still remember and care about them — to come and express their solidarity with them. They want the world not to forget the massacre.
I visited a woman who still lives in the camp; she was a child during the massacre. She was lined up during the round-up of camp people by the Phalangists in 1982.
She was either allowed to leave by the militiamen or she escaped. She told me that she had never talked about those days in 32 years. She began to weep.
Because so many people in the camps experienced the same tragedy, they don't talk about it or share stories. They seem to think this would be almost self-indulgent.
There are still those who do not know what happened to loved ones; they are among the "disappeared."
ZA: When the women march with the photos of their slain children, what do you think they want the world to know?
ES: They would say that they remember their loved ones as they were, they have not aged, they are still handsome husbands, beloved children and wonderful family members who will, in their minds, stay as they are in the pictures; they continue and will forever miss them.
ZA: What do you think the survivors of the massacre want from the Lebanese government in terms of accountability for the massacre? What do they want from the West?
ES: They want the Lebanese who participated in this massacre to be punished. They want to know what happened to all of the "disappeared" from 1982.
The Phalangists now have immunity from prosecution by the government — they cannot be tried. Some of those who participated in the massacre are now driving taxis in Beirut, selling perfume, and they shop in Shatila on Saturdays because the produce is cheap.
They also would like Israel to be held accountable — not just so-called indirect responsibility. There was a lot of communication between Lebanon, the United States and Israel right before and during the massacre.
The US needs to be held accountable, too. There are still unclassified documents regarding this.
ZA: What is the experience of the Palestinian refugees from Syria in the camps?
ES: As most of us know, the situation in the refugee camps in Lebanon has become much worse. The camps were severely overcrowded before the Syrian refugee crisis, and now one out of four people in Lebanon are Syrians, many of them poor.
Many refugees from Syria are now hiding out in camps. They cannot leave the camps because they have no papers and fear arrest and/or being deported back.
One can only imagine how bad the situation has become in the camps and on the streets. Beggars litter some of the streets — women holding babies, many refugees squatting in the entrance to the airport, and there are those who approach cars on busy streets selling items such as pens.
Last September, I visited a family from Yarmouk camp near Damascus. They were living in a very small space in Shatila — two tiny rooms, a small bathroom and kitchen, no furniture to speak of, mainly mattresses on the floor.
The father had a good business in Syria; he owned several gas stations. Here he is reduced to someone who is hardly able to survive or care for his family, including a sick child.
I asked him if he brought his house key from Syria with him. He said he did and that he also brought the key to his house in Palestine.
I'm afraid he will not return to either home. It is 1948 all over again.
ZA: Why do you go back every year for the commemoration? What does it mean to you personally?
ES: To show solidarity, to remember the victims, to give hope to the survivors, to let them know it is okay to mourn and to be angry, and mostly to tell them I will continue to fight for justice.
I have so much respect for the survivors. I want to pay tribute to their loved ones and to them.
I am grateful for their friendship; it makes me feel like I am a better person for knowing them and being part of their history. I thank them for the opportunity of having them as part of my life.
Zeina Azzam is executive director of The Jerusalem Fund.
Tags