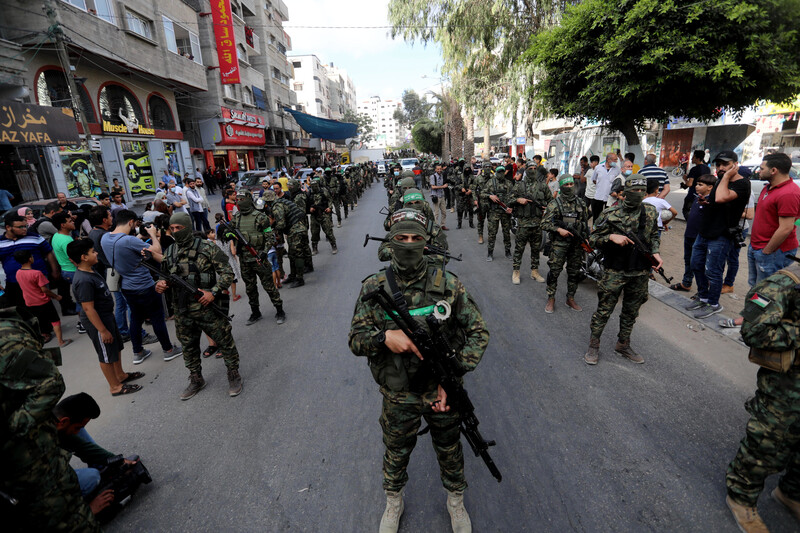 Everyone was exhausted during the summer of 2014.
I was working for the al-Resala newspaper as Israel bombarded Gaza. We documented one massacre after another.
Many of my colleagues felt they could not continue with their work. Many asked to end their contracts.
We had no desire to eat. When we slept, it seemed that our main goal was to escape reality.
But there was no escape.
Our worst shock came on 4 August that year. Khaled Tuayma, then a staff photographer with al-Resala, heard then that his brother Izz had been killed.
Izz was 19 and a fighter with the Qassam Brigades, the armed wing of Hamas. He was killed when Israel fired a missile at him in Jabaliya refugee camp.
We tried to comfort Khaled as soon as the horrible news broke. He was speechless.
After around 30 minutes, he left his gear and went to sit in a far corner of the office.
There, he wept. Most of us also started crying.
It was too dangerous to leave the office at that time. Night had fallen and Israel was bombing Gaza under the cover of darkness.
So we waited until the next morning before accompanying Khaled, as he traveled to Kamal Adwan hospital, where his brother's body had been brought.
Four of us traveled with Khaled to the hospital. Izz was buried hastily in the Beit Lahiya area of Gaza.
It wasn't possible to arrange a proper funeral.
Once the burial had taken place, we left Khaled and his family and returned to the al-Resala offices. It felt like there was a negative energy in the whole building.
Two hours later, the doors burst open. Khaled marched in and shouted: "We have to honor our martyrs' blood. Keep working. If you stop working, you are traitors to the cause."
Turning point
That moment was a turning point for us all.
We promised to keep going. Israel would not defeat us.
I have remained in close contact with Khaled, who now works on a freelance basis.
Khaled called me when Israel began yet another major offensive against Gaza in May this year.
He proposed that we team up on a documentary. Without hesitation, I agreed.
We were in touch again over the next couple of days. And then Khaled could not be reached.
His father-in-law Basim Issa was killed. Issa was the Qassam Brigades' commander in Gaza City.
A few days later, I managed to speak with Khaled once more. Khaled told me that he wanted to continue with the documentary but that he and his wife needed a break first.
Israel's May attack lasted 11 days. Soon after the ceasefire was called, Khaled came around to my home.
His visit took me by surprise.
Khaled informed me that he had drafted a script for the documentary. It would focus on children that Israel had killed in May.
"You have to help me with this film," Khaled said.
I thought about how Khaled had suffered two bereavements because of Israel's aggression towards Palestinians.
Both were horrific but the second one must have been more complicated. Khaled and his wife – he got married in 2017 – now had to take care of two children.
Yet – just as he had been in 2014 – Khaled managed to remain strong.
"When my brother was killed, it was my duty to stand by him and my family," Khaled said. "I remember that my mom asked me to go back to work after we buried my brother. My wife is now grieving for her father. Three days after he was killed, she asked me to go back to work."
"Back to square one"
Alaa al-Shamali is another Palestinian who endured great losses in two Israeli attacks.
In July 2014, Israel carried out a massacre in the Shujaiya neighborhood of Gaza City.
Alaa's home was destroyed by Israeli forces as they laid waste to the neighborhood. He and his family lived in a building, along with four other families.
The building had "been passed down from generation to generation," he said. "It was my grandfather's for more than 60 years."
Now all that remains of the building is the family's memories.
"It was agony to see my mother, my kids, my sisters and my wife running in the street," Alaa said. "I felt like I was in a nightmare."
Two years after that attack, Alaa bought an apartment near Yarmouk football stadium in Gaza City. He tried his best to resume his life but has not been spared from further Israeli violence.
Alaa works as a sports journalist with the Felesteen newspaper. Its offices and those of other media outlets were destroyed in May this year, when Israel bombed the al-Jawhara building.
Four days later, Alaa was taken aback to see people evacuating the area where he lived near Yarmouk stadium. He and his wife Muna hurriedly gathered their five children and ran into the street.
They left the building where the apartment is located just in the nick of time. After 15 minutes, the entire building was leveled in an Israeli airstrike.
Alaa's daughter, Dima, was 5 when the family's home was attacked in 2014.
"I still remember the smell of explosives," she said. "Everyone was crying. I was crying because my toys were destroyed."
In May this year, Dima had to carry her sister Lina, 2, to safety. "What happened to me seven years ago has now happened to my little sister," said Dima. "They have targeted my toys and memories twice. I feel like I am 40, not a kid."
"At times of war, we get older," her father, Alaa, said. "Now we are back to square one. We are suffering and displaced again."
Yet Alaa has already proven that he can move beyond "square one."
Despite losing everything, he insisted on completing his dissertation for a master's degree in journalism. He graduated from the Islamic University of Gaza in July.
Alaa is one of many people in Gaza who have displayed great resilience when faced with Israel's state violence. He is a living testament to why Gaza will not be crushed.
Hamza Abu Eltarabesh is a journalist based in Gaza.
Tags