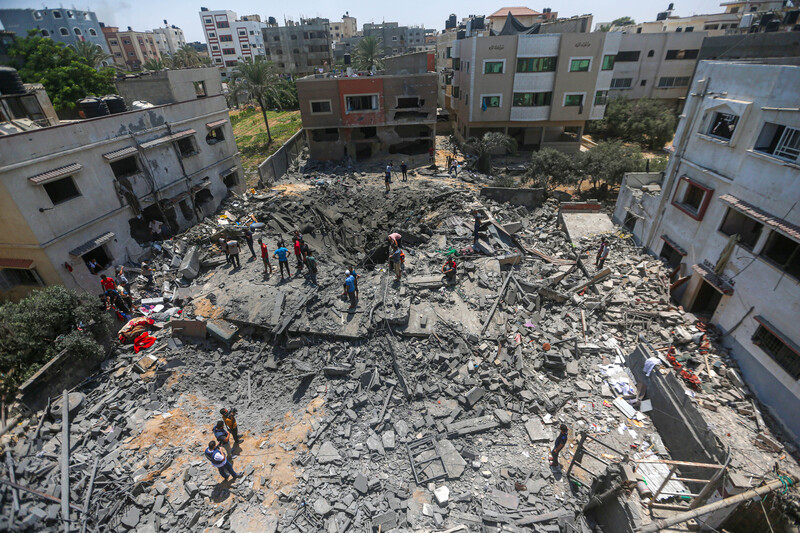 Israeli forces and Palestinian armed groups likely perpetrated war crimes during Tel Aviv's pre-emptive offensive targeting Islamic Jihad in Gaza during August, according to a new report by Amnesty International.
Like Human Rights Watch, Amnesty's analysis suggests a moral parity between the violence used by Israel to subjugate Palestinians, on the one hand, and the violence used by Palestinians to resist foreign domination, on the other.
It is an untenable position borne of a framework that isn't based on an analysis of settler-colonialism.
The London-based human rights group, citing UN figures, states that 49 Palestinians were killed during the offensive. Based on its research, Amnesty determined that "33 Palestinians, including 17 civilians, were killed by Israeli forces."
Of the remaining 16 fatalities, 14 were civilians and "in one case, an attack that killed seven of these civilians … was most likely to have been caused by a rocket launched by a Palestinian armed group that misfired," according to Amnesty.
Amnesty said that two Israeli attacks "must be investigated as possible war crimes because they appear to have deliberately targeted civilians or civilian objects or to have been indiscriminate attacks."
Those attacks include a 5 August artillery strike on a home in Khan Younis, killing 22-year-old artist Duniana al-Amour.
Israel used a "highly accurate" tank round in that strike against the home, where the nearest conceivable military target was well out of range.
"Amnesty International believes that the al-Amour family's house was the intended target of the attack," the group states in its report.
The other attack that Amnesty said should be investigated as a war crime is the 7 August missile strike on al-Falluja cemetery in Jabaliya, killing five children and seriously injuring another.
Like in the case of the strike that killed al-Amour, there was no known military target in the area. Unnamed Israeli military sources told media that an internal probe indicated that Palestinian groups were not firing rockets at the time of the attack.
Benefit of the doubt
Amnesty appears to give Israel the benefit of the doubt in some of its other deadly attacks as the rights group "was unable to ascertain the distance between civilians killed or wounded and fighters or other military objectives that may have been the target of Israeli forces."
This prevented Amnesty "from determining whether [the attacks] violated the principles of proportionality and distinction under international humanitarian law."
The rights group states that separate Israeli airstrikes that killed two children – one in Shujaiyeh, the other in Khan Younis – "require further investigation."
By contrast, Amnesty states unequivocally that the firing of unguided rockets by Palestinian armed groups within areas populated with civilians violates international humanitarian law due to the indiscriminate nature of the weapons.
Amnesty's apparent deference to Israel regarding its deadly strikes in densely populated Palestinian areas, on the one hand, while regarding the firing of unguided rockets from civilian areas as an inherent war crime, on the other, echoes the pro-state bias of Human Rights Watch.
In its reports on the longer and much deadlier Israeli offensive in Gaza in May 2021, Human Rights Watch hedged its language regarding "apparent" Israeli war crimes. And like Amnesty does in its new report, Human Rights Watch stated that the firing of unguided rockets from and toward civilian areas inherently constitutes a war crime.
As this writer put it at the time, the determination of a party's adherence to the laws of war should not depend on whether it can access state-of-the-art weapons manufactured in the US by companies that profit from war.
Such a legal doctrine would be overwhelmingly and irredeemably biased in favor of states with powerful militaries, and against stateless or colonized populations seeking liberation from an oppressive and illegitimate authority, as is the case of Palestinian armed groups in Gaza.
Settler-colonialism
This common sense-defying analysis is not the only way in which Amnesty's framework falls short, the value of its investigations on the ground in Gaza and calls for accountability notwithstanding.
Amnesty states that the blockade on Gaza, imposed since 2007, "is a key tool through which Israel enforces its apartheid system to segregate, dominate, oppress and fragment Palestinians for the benefit of Israel's Jewish population."
By contrast, in her first report as the UN special rapporteur on the human rights situation in the West Bank and Gaza, Francesca Albanese makes clear that the siege on Gaza is part of Israel's "settler-colonial design."
"The containment of the colonial population into heavily controlled reserves is at the core of the settler-colonial goal to ensure the demographic supremacy and prevent Palestinian self-determination," Albanese states.
Ultimately, the special rapporteur explains, Israel's intent is "to colonize the occupied Palestinian territory," a goal which requires the "de-Palestinianization" of the territory under its control.
Albanese meanwhile states that Israel's fragmentation of Palestinian territorial sovereignty and its "heavy control of the Palestinian population, epitomized by today's besieged Gaza, has become a hallmark of Israeli policies of domination."
Israel's various administrative and military regimes have been "the prime vector of this fragmentation," she adds.
This fragmentation, in turn, "has facilitated the construction and 'protection' of Jewish-only colonies in occupied territory."
Israel's "complex system of control," to the exclusive benefit of its settlement colonies, "crushes the possibility for Palestinians to freely pursue their economic development," Albanese states.
"Any display of collective identity and (re)claimed sovereignty" from subjugated Palestinians "represents a threat to the regime itself," according to Albanese.
Israel's attacks on Palestinian culture and collectivity "demonstrate the occupier's intention to permanently strip the land of its indigenous identity," she adds.
In other words, Israel's system of apartheid is a means towards the end of colonizing Palestinian land.
Failing to ground its analysis in this settler-colony reality, Amnesty and groups that take a similar stance come up with some odd positions.
Illegal occupation
For example, in its landmark report on Israeli apartheid published earlier this year, Amnesty takes no position on the legality of the occupation of the West Bank and Gaza since 1967.

Instead, it focuses on Israel's obligations, "as the occupying power, under international law."

By contrast, in its first report to the UN secretary-general, a new permanent commission of inquiry examining Israel's system of oppression as a whole affirmed that the occupation is unlawful "due to its impermanence and the Israeli government's de facto annexation policies."

A settler-colonial analysis is meanwhile critical to avoiding the pitfall of treating all violence in the context of Palestine as morally equivalent. Without it, groups like Amnesty and Human Rights Watch have a tendency to analyze only the technicality of violence, failing to take into account armed actors' disparate aims.

Albanese appears to suggest what others have said before her – that in the context of its prolonged occupation and settler-colonial rule, Israeli "self-defense" against occupied and subjugated Palestinians is logically impossible.

She observes that "within the framework of the law of external self-determination, the very existence of [prolonged] occupation entails an unlawful use of force and therefore can be seen as an act of aggression."

Therefore, Israeli aggression cannot be dismissed by Tel Aviv's frequently invoked claims of " 'preemptive' self-defense," as Albanese states.

Contrast this with the language used by the likes of Human Rights Watch and Amnesty, which merely want Israel's violence to be more "discriminate" and "proportionate" – whatever that means in a context of extreme military power disparity.

Regarding a political solution, Albanese states that any scenario "that does not acknowledge the power asymmetries between the subjugated Palestinian and the occupier … and that does not address once and for all Israeli settler-colonialism, violates the Palestinians' right to self-determination, among other critical provisions of international law."

While Albanese's comments were about a negotiated political settlement, the same principle should apply to any legal analysis of the violence used by Israel to further its aims of subjugating the Palestinians to consolidate its control over Palestinian territory.
No moral equivalence
By implying a moral equivalence between the violence of the colonizing power, on the one hand, and the Indigenous population, on the other, human rights groups obscure this essential relationship and the very different motivations behind their respective violence.

Without recognizing the power relationship between Israel and the Palestinians and the settler-colonial regime that informs Israeli policy, human rights groups suggest a moral parity between the use of force by the two parties where in fact there is none.

Albanese states that the "right to self-determination is the right to live and grow as a people within a political community of its own … This implies the right to resist alien domination, subjugation and exploitation that may impede the fulfillment of this right."

Albanese adds that "liberation and decolonization struggles across history have shown how the right to exist as a people and the right to resist foreign rule and domination are interconnected."

This is the context in which Palestinian rocket fire from Gaza, which has been under a medieval siege since 2007, must be understood. Palestinians in Gaza, hemmed in as they are and their leadership boycotted by Israel and its powerful allies, have little other leverage to influence Israeli policy.

The siege on Gaza is an existential threat against which Palestinians have the right to resist, as they have the right to resist any and all Israeli attempts to push them off and erase their presence from their land.

This is not to say that Palestinian lives lost to misfired rockets are worth less than those taken by Israel's precision-guided missiles and advanced artillery shells. Nor is it to say that Palestinian armed groups have no obligations whatsoever.

But it is to say that Palestinians have the right to resist effacement by a foreign colonizing power by all available means.

As Nelson Mandela put it in his autobiography, "A freedom fighter learns the hard way that it is the oppressor who defines the nature of the struggle."

Armed struggle is imperative in a situation of total impunity, provided by Israel's powerful North Atlantic allies.

Despite differences in their analyses, ending that impunity is where observers of the human rights situation in Palestine – including Amnesty, the UN special rapporteur and commission of inquiry, and Human Rights Watch – find common ground.

Amnesty International is calling on the International Criminal Court to "investigate unlawful attacks committed during Israel's August assault on the Gaza Strip as war crimes."

Francesca Albanese, the UN special rapporteur, calls for accountability at the ICC as well as through universal jurisdiction mechanisms.

And the UN commission of inquiry recommends that the ICC chief prosecutor "prioritize the investigation" in the West Bank and Gaza Strip.

The commission adds that "in addition to identifying direct perpetrators and those exercising command responsibility," the court should "investigate those aiding, abetting or otherwise assisting in the commission of crimes under the Rome Statute, including by providing the means for their commission."

And if all international justice venues prove to be closed to Palestinians, perhaps Amnesty and Human Rights Watch might consider campaigning for the provision of precision weapons to armed groups in Gaza.

Maureen Clare Murphy is senior editor of The Electronic Intifada.
Tags