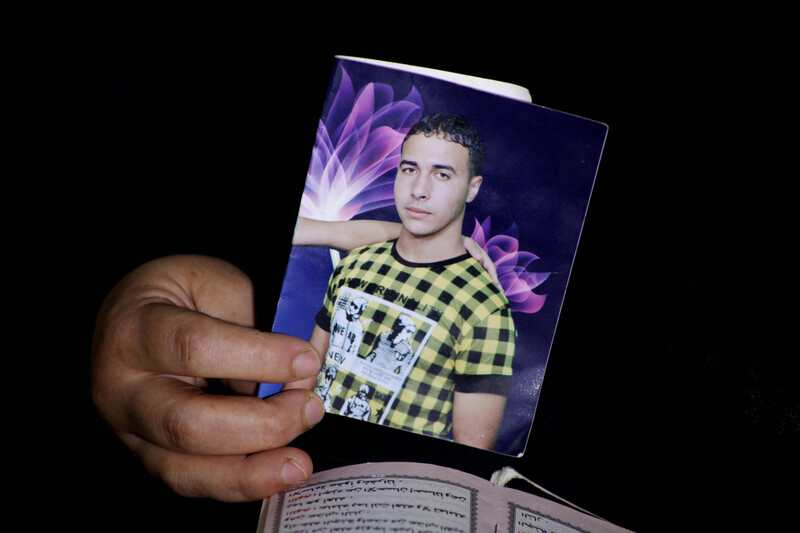 The front door of al-Farouq pharmacy remains damaged by fire. A few weeks ago, its owner Omar al-Zammar witnessed a horrific sight. A young man — engulfed in flames — approached the shop at about 10:30 in the evening. The man was screaming in agony.
Al-Zammar, who had been chatting with some friends, had to make a difficult choice. As his pharmacy contained a number of inflammable goods, he feared the whole premises would burn down if the man ventured any further. So he asked the man to stay outside. The man agreed. "I do wonder how a burning man could have obeyed our request," al-Zammar said.
The pharmacy is located close to the morgue of al-Shifa, Gaza's largest hospital. After being covered in a blanket, the young man was brought to the hospital but it was too late. The young man has been named as Ehab Abu Nada. He was 18 years old.
Perhaps inevitably, the manner of Abu Nada's suicide has drawn comparisons with that of Muhammad Bouazizi, a street vendor in Tunisia who also sent himself on fire in December 2010. Bouazizi's self-immolation — in protest at being harassed by a municipal officer – was a catalyst for an uprising that caused the downfall of the country's long-ruling dictator Zine El Abidine Ben Ali.
While Abu Nada was the first person in Gaza known to have set himself on fire in recent years, there have been some similar acts lately in the West Bank. Young men have made self-immolation attempts in Hebron and Ramallah but have been restrained by onlookers. It is widely assumed that such attempts are linked to the price rises and high unemployment faced by Palestinians, which have led to protests in the West Bank's main towns.
Abeer Odeh, who was released from Israeli prison following last year's prisoner swap, attempted self-immolation this week in what she says was an attempt to highlight hardships faced by former political prisoners.
"Sadness in his eyes"
Abu Nada's family do not appear to be in doubt that Ehab was driven to suicide by the dire economic situation in Gaza.
"Though Ehab always smiled and appeared cheerful, we could often see the sadness in his eyes. For the past ten years, life has been very hard," Ehab's mother, Um Muhammad, explained in the Abu Nada family home in al-Shati refugee camp, western Gaza City.
Ehab lived in this small home with nine other members of the Abu Nada family. He shared one room with a sister and three of his brothers. The other members of his family slept in another room.
"The whole family has to wash in the kitchen for they lack a proper bathroom," Ehab's elderly grandmother, Rasmiya Abu Nada, explained. "Ehab's 14-year-old sister used to often quarrel with Ehab and her other three brothers, apparently because they all sleep in the same bedroom. It is such an abnormal life for them all. That's the only thing their father could offer; only two bedrooms for the entire ten-member family."
Sufian Abu Nada, Ehab's father, is a civil servant. His monthly wage comes to $400. Yet because he has been repaying a bank loan in recent years, he has been left with just $220 a month, part of which was used to pay the rent.
"I have done my best to cope," Sufian said. "At some points, I managed to sell some cookies and potato chips from a market stall. Yet, every time Ehab and I set ourselves up, we were stopped by local authorities. At the beginning of the last school year, Ehab quit the local high school. He started to look for a job but couldn't find one. I don't recall ever putting pressure on him to find a job because I know jobs are very hard to find."
Few prospects
A recent United Nations study confirmed something that everybody here already knows: Palestinians in Gaza are worse off than they were in the 1990s. Unemployment for people in the 20-24 age bracket was at 58 percent during the first few months of this year. Unless this situation improves, prospects look dim for future job-seekers; Gaza has the second highest concentration of children under 14 in the world.
The UN study posed the question if Gaza will be a "liveable place" by the end of this decade. The coastal strip's infrastructure is inadequate to meet the needs of a population that is expected to rise from 1.6 million today to more than 2 million by the end of this decade. The aquifer on which Gaza relies for drinking water may become unusable within the next four years, according to the study ("Gaza in 2020: A liveable place?" August 2012 [PDF]).
Omar Shaban, an economic analyst with the Gaza-based PalThink for Strategic Studies, said Abu Nada's suicide "sends out a clear and strong message of alarm to both Palestinian governments in Gaza and the West Bank that immediate action is necessary."
Shaban argued that the Hamas administration in Gaza and the rival Fatah-led authorities in the West Bank "should be unified in one government that is capable of guaranteeing the welfare of the Palestinian populations in both Gaza and the West Bank."
He also blamed the siege imposed by Israel on Gaza since 2006 for the appalling situation.
"Since Israel imposed a crippling blockade on Gaza, the international community has not moved to lift the blockade," he told The Electronic Intifada.
"In March 2009, the international community pledged billions of dollars in aid to rebuild Gaza, which was subjected to a devastating Israeli war early in January 2009. What is needed is a strong unified Palestinian government, a strong international intervention and genuine rehabilitation programs for the Palestinian economy."
Unusual case
Despite the lack of opportunities in Gaza, suicide is rare. "I think that the most important asset of people here is the faith in religion," said Sami Ewaidi, a psychiatrist with the Gaza Community Mental Health Programme.
"It [Abu Nada's suicide] is an unusual case as the people who live in refugee camps live in the same economic conditions as those of Ehab and his family," Ewaidi added. "I think this guy had reached the lowest point of depression or frustration.
"Maybe Ehab didn't wish to kill himself. It is likely that he wanted to expose his own suffering in a way that would send out a message to those in power that they should pay more attention to many impoverished people like himself and his own family."
The pain and sense of loss is still raw among Abu Nada's loved ones. "I still cannot imagine that Ehab is no longer alive," said Muhammad Jaber, a dear friend.
Jaber had been with Abu Nada on the evening he committed suicide. They had hung out in al-Ayoun park. Just before the self-immolation occurred, Jaber received a text message from his friend. It read: "Muhammad, please forgive me."
Rami Almeghari is a journalist and university lecturer based in the Gaza Strip.
Tags