American pop star Whitney Houston and her husband Bobby Brown are currently in Israel, as Houston searches for inspiration for a coming Christmas album.
Houston is staying in Israel with a polygamous Jewish sect who, decades ago, emigrated to Israel in the footsteps of a Chicago cab driver, to live next to a nuclear reactor.
Songs expected on Houston's upcoming Christmas album include:
O Little Town of Glowing Wife Swoppers
Silent Night (Punctuated By Shell Fire)
All I Want For Christmas Is My Neighbour's Wife
I Saw Three Helicopter Gunships
I Saw My Mommies Kissing Santa Claus
O Come All Ye Unfaithful
Rudolph the Red Nose Reindeer (Stop Drinking From The River)
Whose Child Is This? (We've Lost Track With All The Shagging)
All I Want For Christmas Are My Two Front Teeth (Palestinian Torture Victim Mix)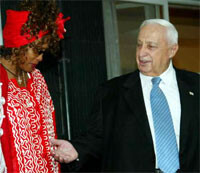 We Wish You A Merry Checkpoint
Let There Be Peace On Earth (Ditch The Stupid Road Map And Make The Miserable Occupying Bastards Withdraw Unilaterally So We Can Get On With Our Lives Please)

During a meeting with Israeli prime minister Ariel Sharon, Whitney Houston declined to shake Sharon's hand.

It was unclear if this was due to an injury or because she knew where it had been.

Reports that Bobby Brown gestured at Sharon and commented, "You can't touch this", are unconfirmed.