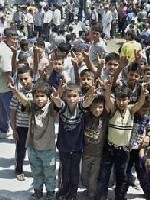 Wednesday night, I went to a concert of Vusi Mahlasela. He was performing in at the Jerusalem festival, a musical festival under the theme of 'songs of freedom'. Vusi Mahlasela was born in Lady Selbourne in Pretoria, during the apartheid regime of South Africa. He grew up in Mamelodi, a township famed as a cradle of culture which has produced many of black South Africa's greatest musicians and writers. The audience, still mourning the loss of life in Gaza, was sitting on stones, the stairs at the Kings Tombs, and kept sitting, eventhough Vusi and his rythms kept people moving inside, though they kept sitting on the stones.

For Vusi, it was an 'honour' to be in Palestine, in particular in these times. 'Keep up the spirit', he said numerous times. It was easy to connect the past of South Africa, the struggle against apartheid, the oppression faced by the black majority, to the current situation in Palestine. Vusi's songs have themes with social and political significance, both for South Africa as well as Palestine. Songs were celebrating the land, the source of livelihood, resistance against oppression, and about children and their future.

'When you come back', one of Vusi's songs and the title of his debut album, described the joy of exiled returning home. He dedicated this song to all those who had sacrificed their lives to the solitude and suffering of political exile.

His songs were also about the 'wisdom of forgiveness' dedicated to the respect of all humanity with music to fight crimes and injustices in this era of hope. He said: 'If they say sorry, we'll forgive them, but if they don't we will expose them'. During the concert, it was hard not to feel and hear parallels. 'No Future without Forgiveness' is Desmund Tutu's account of the Truth and Reconciliation Commission, which was created to reveal the truth about the mentality and atrocities of the apartheid system as told by its victims and by their torturers and tormentors. Will the Palestinians ever see the creation of such a commission? Will they see perpetrators of war crimes standing trial at war crime tribunals in The Hague? Will Israel ever say 'sorry'?

The Truth and Reconciliation Commission was established to investigate the violations that took place between 1960 and 1994, to provide support and reparation to victims' and their families, and to compile a full and objective record of the effects of apartheid on South African society.
This seems to be an illusion. Palestine is still occupied and human rights violations inherent to a colonial occupation are committed every single day. Last week, to make matters worse, the Knesset, the Israeli parliament, passed approved a law which severely infringes the basic rights of persons injured by the Israeli occupation army from obtaining compensation. As a result injured and disabled Palestinians, bereaved families, and Palestinians whose property was demolished will be left without relief.

The failure to punish adequately or effectively those who commit illegal acts, and, in particular, the failure to hold responsible those who order the commission of such acts, has led to the current situation where Israeli soldiers and officers are secure in the knowledge that such actions are effectively condoned at the highest levels and will be treated accordingly.

The consequence of having no effective local remedies is dismal in any situation; for an occupied population governed by the military force of an occupier, it is frightening, and is the most potent symbol of their powerlessness.

When Vusi sang his song 'When you come back' I could not help thinking about the return of those Palestinians who are forced to live in exile. This song gives hope. Talking to South Africans gives hope. It tells you that it is possible, that liberation is necessary, inevitable even.

- 'When You Come Back', When you come back, Vusi Mahlasela, 1992, Harmonia Mundi. The first picture shows Palestinian children flashing victory signs as they stand in the rubble of a destroyed apartment building in Gaza City, Tuesday, July 23, 2002. An Israeli warplane flattened an apartment building in the Gaza Strip early Tuesday (AP Photo/Vadim Ghirda), the second picture shows Vusi Mahlasela.