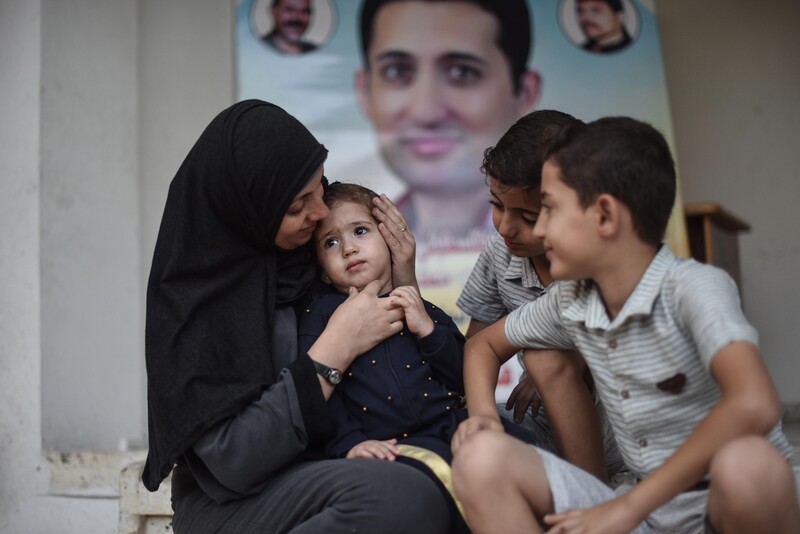 Two-year-old Mira al-Sultan keeps asking when her dad will come home. Sadly, the man is dead but Mira's mother can't yet find a way of explaining that to her.
Tamer – Mira's father – left Gaza in April this year. The pharmacist was hoping to build a new life for his family in Europe.
After traveling by land to Turkey, Tamer boarded a crowded ship bound for Greece. Once he arrived in Greece, he embarked on a circuitous journey to avoid being stopped by border police.
From Greece, Tamer made his way through Albania and Serbia, mainly on foot. His plan was to eventually arrive in Belgium, via the former Yugoslavia and then Italy and France.
On 11 August, Tamer phoned his wife Marwa. "He told me that he would enter the woods of Bosnia and Herzegovina and would need six days to reach Croatia," Marwa said. "That was the last time I heard his voice."
While walking through Bosnian woodland, Tamer injured his arm. Because the wound was not tended to quickly enough, he became seriously ill.
A few days later Tamer's family was notified by a Bosnian hospital that he had died from blood poisoning. He was aged 38.
Tamer owned a pharmacy in Gaza. "But he was forced to sell it because the economic situation has deteriorated," Marwa said. "He decided to emigrate and find a job outside Gaza."
Also a campaigner, Tamer had taken part in appeals to have debts written off in cases where people could not afford to repay them. In March this year, he was arrested by the Gaza police for taking part in protests against electricity shortages.
Tamer was the father of two boys and one girl. His wife Marwa is pregnant with another boy.
"I will name the child Tamer – after his father, who he will never know," she said.
Before leaving, Tamer planted a grapevine. He requested that his children protect it until he returned.
"I'll try to take care of the tree as my father asked," said his 9-year-old son Wisam. "I'm sure Dad will be happy to know that."
Mass departure
Soon after Tamer's death, it was reported that Israel has a deliberate policy of pushing people to leave Gaza en masse. More than 35,000 of Gaza's residents emigrated during 2018.
The mass departure has been facilitated by the blockade that Israel has imposed on Gaza for the past 12 years.
Opportunities within the territory are extremely limited. Approximately 52 percent of Gaza's workforce was jobless in 2018.
The rate of unemployment among people aged between 18 and 29 is especially high. According to the Palestinian Central Bureau of Statistics, it climbed from 53 percent to 69 percent between 2008 and last year.
I conducted a straw poll of 20 young people, mostly university graduates. Eighteen of the 20 replied that they were planning to leave Gaza in the near future.
The respondents were angry when they learned that Israel is pushing Gaza residents to emigrate as a matter of policy.
Despite feeling that they had to leave, they did not wish to be seen as pleasing Israel in any way. As a symbolic gesture, many vowed not to fly from Tel Aviv.
Ahmad al-Hindi, an unemployed musician who graduated from Gaza's al-Azhar University in 2016, is among those preparing to leave. "But I would prefer to die than emigrate through an Israeli airport," he said.
"Big prison"
My brother-in-law Muhammad Abu al-Tarabeesh emigrated from Gaza during September 2018.
Muhammad had been studying accountancy at Gaza's University of Palestine but had to withdraw from his course because his family could not afford its fees.
Now aged 26, Muhammad left for Europe to seek better opportunities there. He traveled through Turkey for one month and then undertook a sea voyage to Greece, which he described as "terrifying."
For most of the past year, Muhammad has been stuck in a caravan on the Greek island of Leros. He lives in a camp run by UNHCR, the United Nations refugee agency.
The camp has been celebrated as a "model" by the agency itself.
Muhammad has a different perspective. "It's like a big prison with two gates, one for entry and another for exit," he said. "There's high security all the time. There are specific times for eating and sleeping and they deal with us as if we are just numbers."
Each caravan is 3 meters wide and 6 meters long and hosts an average of 12 people, according to Muhammad.
He has to wait in Leros until his application for asylum is processed. He has not yet been told whether any progress has been made in dealing with his file.
Our family is worried about Muhammad. But we can take some comfort in knowing he is alive and – at least for the time being – safe.
Drowned
The same cannot be said for many emigrants.
Saleh Hamad – aged 22 – left Gaza with his family in early June this year. They headed for Turkey and, later in the month, sailed to Greece.
In August, Hamad set out on a journey with his friend Moataz Abu Obeid. Their plan was to travel toward Belgium.
The two friends tried to enter Albania on foot repeatedly.
On six of their attempts, they were caught by the Albanian police, who brought them back to that country's border with Greece. On the seventh attempt, according to Abu Obeid, they made it into Albania undetected and started walking in the direction of Serbia.
After making it into Serbia, the men were taken into custody by the police, yet released after seven hours. They made their way across Serbia on foot and following a couple of days decided to try and cross the Drina river into Bosnia.
It was dark when they approached the river, so they agreed to wait until the next morning. That evening, they were attacked by wild animals, yet managed to run away.
The following morning, the two men were on the banks of the river when Hamad lost balance. He fell into the river – which had a strong current – and began to drown.
Meanwhile, Abu Obeid fainted after banging into a tree. When he regained consciousness, he found himself surrounded by Serbian police.
The police were unhelpful. According to Abu Obeid, they refused to arrange a search for Hamad, telling him that many others had drowned while trying to cross the river.
"The police would only take some information about Salah and the clothes he was wearing," said Abu Obeid.
Hamad's body was eventually found in September – a few weeks after he had gone missing.
He was not the first person from Gaza to die while seeking a better life abroad. And he is unlikely to be the last.
Sarah Algherbawi is a freelance writer and translator from Gaza.
Tags