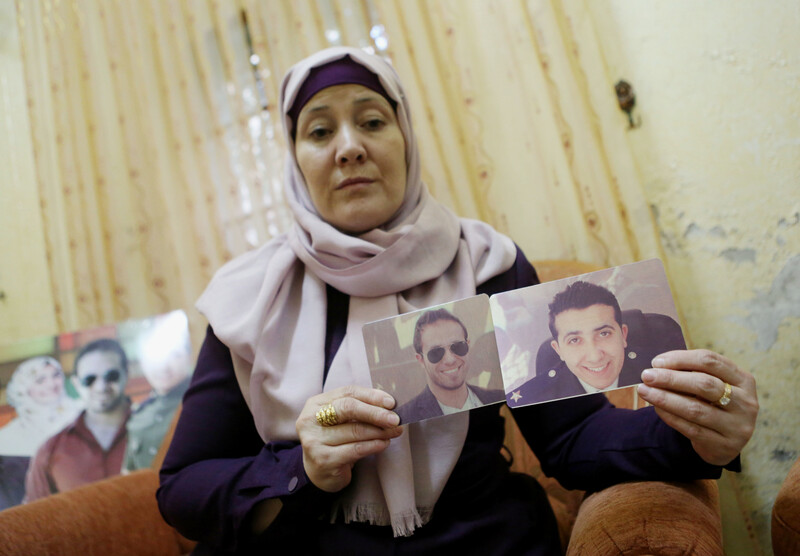 Mariam al-Hih received a distressing phone call from her son Omar last month. Omar was going on hunger strike to protest how Israel had locked him up without charge or trial. As many other parents have done in similar situations, Mariam pleaded with Omar not to proceed with his hunger strike.
"I told him that it would kill me to see him suffer without being able to help him," Mariam said. "But he had already made up his mind and I respected his choice. What else could I do?"
Omar has been placed under administrative detention — imprisonment without charge or trial — twice this year. After spending six months in Israeli custody, he was released in August. He barely spent a month with his family before being arrested again on 15 September — under another six-month administrative detention order issued by a military court.
Palestinians have few means of challenging administrative detention. Israel keeps whatever evidence it may hold against the prisoners secret. The draconian nature of administrative detention is exacerbated by the virtual impossibility of appeal against it.
With other options closed, Omar decided to embark on a hunger strike 10 days after his latest imprisonment. The tactic appears to have been effective.
On Saturday, 1 October, the 21-year-old suspended the fast after winning a concession from Israel. He has been given an assurance that once his administrative detention order expires, it will not be renewed.
A resident of Surif, a West Bank village near Hebron, Omar had been working in the construction industry before his imprisonment.
Although his hunger strike has been called off, two other men from the Hebron area — Anas Shadid and Ahmad Abu Fara — are continuing to refuse food. Both are demanding their release from administrative detention. On Thursday the two were reported to have been transferred to solitary confinement.
A mother's pain
Families of the two men have been visiting a tent erected in Ramallah, the seat of the Palestinian Authority in the West Bank, to demonstrate solidarity with prisoners. Before Omar's fast was suspended, Mariam al-Hih also visited the tent, meeting with the mothers of other hunger strikers.
"Supporting each other makes us stronger," Mariam said. "No one understands your pain like a mother of another prisoner."
Solidarity is particularly important in the case of hunger strikers.
Mariam was unable to visit Omar while he was on hunger strike. Israel frequently bans families from visiting prisoners if they refuse food. As a result, Mariam had to draw strength from other families in a similar situation.
The determination of Palestinian prisoners has also been demonstrated by the struggle of Malik al-Qadi. He was welcomed home to Bethlehem on Sunday, 2 October, after being discharged from hospital following his hunger strike.
Al-Qadi, a journalism student, had been released on 23 September after refusing food for nearly 70 days. He, too, had been under administrative detention.
"The victories achieved by hunger strikers, especially Malik al-Qadi's release, lifted the morale of all prisoners," said Abdel Majid Shadid, a brother of Anas Shadid. Anas began his fast soon after al-Qadi was released.
"Anas called me from jail one day before the start of his hunger strike and said that he was determined to go ahead," Abdel Majid added.
Al-Qadi ended his hunger strike on 21 September. The brothers Mahmoud and Muhammad Balboul called off their hunger strike that same day.
Mahmoud and Muhammad won an agreement that they would be released in December and that the administrative detention orders against them would not be extended.
The past year has involved a great deal of anguish for the Balboul family.
Mahmoud and Muhammad were arrested in June, their family say. Their 15-year-old sister Nuran was in prison at that time.
She was serving a four-month sentence — later reduced to three months. Nuran was arrested for alleged possession of a knife at an Israeli military checkpoint near Bethlehem. Israel has claimed that she pulled a knife out of her bag at the checkpoint. Nuran has insisted the allegations against her are false.
"Her brothers were constantly thinking about her and were preparing a massive celebration for the day of her release," Sanaa Balboul, their mother, said.
They could not go ahead with their plans: Mahmoud and Muhammad were arrested a few weeks before their sister's release.
"The house feels empty"
"They were not there to hug me and without them, the house feels empty," Nuran told The Electronic Intifada. "Now I am the one counting the days until their release."
She has not been counting the days idly. Since her own release, Nuran has taken part in demonstrations demanding that her brothers be set free.
Sanaa, her mother, said it was extremely difficult trying to concentrate on her work as a schoolteacher, while her sons were on hunger strike. "How can I go to school, stand in the classroom and teach other children when my own children are dying?" she told The Electronic Intifada, while Mahmoud and Muhammad were still on hunger strike, their health deteriorating severely.
The Balbouls are aware that their plight has attracted more attention than that of many other Palestinian families. Ahmad Balboul, father of Mahmoud, Muhammad and Nuran, was a leading member of the al-Aqsa Martyrs Brigade, an armed resistance group. He was killed by Israel's occupation forces in 2008.
Amani Sarahneh, a spokesperson for the Palestinian Prisoners Club, said that families of hunger strikers play a vital role in solidarity activities. It can, however, take a considerable length of time before protests in support of prisoners gain momentum.
"Unfortunately, we only start to see protests when the hunger striker is moved to hospital or when they are on the verge of death," Sarahneh said. "And since we are talking about individual hunger strikes, the support for each hunger striker varies depending on their profile and on the conditions surrounding the hunger strike."
Endless cycle
Around 700 Palestinians are now in administrative detention, according to August data from Addameer, a prisoner support group. That means that one-tenth of the 7,000 Palestinian political prisoners now behind bars are being detained without charge or trial.
Ahlam Haddad, a lawyer for Malik al-Qadi, stated that Israel is broadening its use of administrative detention.
"In the past, most of those targeted for administrative detention were former prisoners or people with clear political affiliations," she said. "But in the last year, we are increasingly seeing teenagers, or students in their early twenties, being held under administrative detention."
An additional problem is that Israel can use administrative detention repeatedly. Released prisoners can be arrested and placed under administrative detention again soon after getting out of jail.
"Administrative detention becomes like an endless cycle, leaving the prisoners with no choice but to go on hunger strike," said Haddad.
Thaer Halahleh is one target of this endless cycle.
"Since 2000, he spent a total of 12 years in Israeli jails," Aziz Halahleh, Thaer's father, said. "Almost nine of those years were spent in administrative detention."
Because of his imprisonment, Thaer, who is 36, has been prevented from rearing his own children. His 6-year-old daughter Lamar was born while he was in prison. Thaer's 3-year-old son Aziz has seldom seen his father — except in photographs.
In 2012, Thaer went on a 77-day hunger strike that received considerable attention both in Palestine and internationally. He secured an agreement from Israel that it would not renew his administrative detention. Yet he has been arrested twice since then.
His latest imprisonment dates from August 2014.
An Israeli court recently extended the administrative detention order against him for another three months. This is the sixth time since he was imprisoned in 2014 that the order has been extended, according to his father.
Although the court ordered that Thaer be released early next year, his father is not optimistic. "So they will release him in January, only to arrest him a few weeks or month later," Aziz Halahleh explained.
Aziz has been refused permission to visit his son. Thaer has contracted hepatitis and his family — as well as a lawyer with Addameer — blame the negligence of medical staff working for the Israeli prison authorities for his infection. "I have no idea whether he is receiving proper treatment now," Aziz said.
As Thaer Halahleh's case exemplifies, Palestinian prisoners and their families are realistic about their struggle. While they take heart from the victories achieved by hunger strikers, they are under no illusions that Israel will cease the practice of administrative detention, unless it is placed under massive international pressure to do so.
Israel exercises complete control over Palestinian lives. And Israel can arrest any Palestinian whenever it wants — whether charges are brought or not.
Budour Youssef Hassan is a Palestinian writer and law graduate based in occupied Jerusalem. Blog: budourhassan.wordpress.com. Twitter: @Budour48
Tags