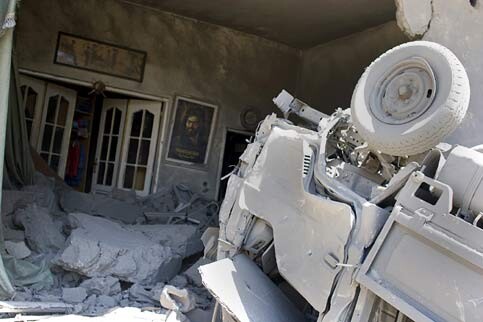 We're still alive, despite last night.
They were busy bombing Gaza, South Lebanon and Baalback, until 3:14 am — that was when they started hitting the outskirts of Beirut.
Twelve, thirteen air strikes? I stopped counting at the twelfth strike and fell asleep. Don't ask me how, I don't know.
My husband and "my refugees" were out on the balcony trying to locate the new targets, but I stayed in bed. I had a terrible migraine and couldn't even open my eyes. I'd open them only with every new explosion, and listen to the correspondent on TV specifying the number and targets of each. They were all falling on Ouzai, south of Beirut.
This morning, it turned they hit fishermens' spots, two or three associations for orphans and people with special needs, and a place where The Rabab Sadr Charity Association keeps donations (clothes, medicine etc …).
I don't know how many people got hurt yet; our reporter is still there.
This morning, they bombed four bridges north of Beirut, killing five and injuring fifteen (this figure is not final because some are still under the rubble), and closing the one remaining road out of this hell to Syria.
The international press headlines this morning are, of course, "Nasrallah threatens to bomb Tel Aviv". Well, maybe one can excuse them, they went to print before 3:14 am. Only, I don't understand why CNN and BBC are still hanging to that headline. The guy said, "if you bomb Beirut, we'll bomb Tel Aviv". That was it. So, what they're doing is bombing the outskirts of Beirut (smart, right?).
Reports say the three coming days will be very harsh. (Harsher?)
Sources: Digital Globe, Space Imaging. Authored by Ken Harper/EI. Large version.
In any case, for the last three days, here in the newspaper, we've been busy with a very complicated matter — among the one million refugees, there are many people with special needs. There is one main reason for that: most of them are from the south and were injured in previous wars or were victims of landmines; and then there are those who were born with special needs.
These people are going through hell in public schools. These schools are not equipped for the disabled, and autistic and epileptic kids are getting worse surrounded by all these people crowded around them. The refugees, on the other hand, are mostly rural, fairly educated people, definitely not ready to handle — on top of their misery — "special" situations.
So whenever one of our "special" friends has a crisis, the others get scared, some even complain, and the parents of the "special" refugees try to keep their kids "hidden". One mother with an autistic child has been living in a bathroom with her kid, refusing to get out, refusing to let the people from the Disabled Association see her kid — for one, she lives in complete denial, refusing to admit that there's anything wrong with her child, and also she's scared to death they might take him away from her.
Yesterday, a very dear friend of mine knew about this. This great person was able (in less than 12 hours), to collect 15,000 dollars from his friends abroad, and he spoke to an international institution who will help to provide trained personnel. Here's what they're planning to do: they will rent a whole building up in the mountains, in a safe area, for three months; they will provide a doctor and nurses, and they will move up there all the people with special needs that we already know about — some 158 people — and take care of them and their families. He just sent me a message saying that some institution offered to host 50 of these, with their families, in Cairo, Egypt.
In the middle of this horror, when a whole state is throwing fire in your face, destroying your country, killing your kids, your elderly, your disabled ones, your women and men, while "the international press" is depicting your enemy as the victim, having someone like Khaled around is all you need to keep faith, faith in the whole race of human beings.
Thank you, Khaled.
Related Links
Hanady Salman is an editor at As-Safir newspaper