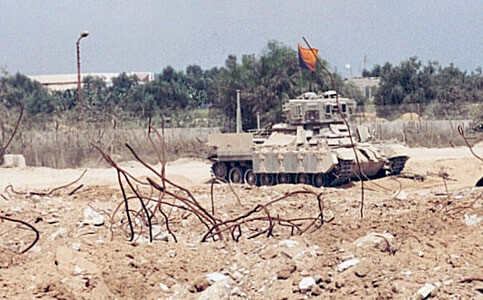 Israeli occupying forces have escalated violations of human rights against Palestinian civilians in the Occupied Palestinian Territories (
OPT
s).  This week, 52 Palestinians, 41 of whom are civilians, including 9 children, were killed by Israeli forces.  45 of the victims were killed during a full scale Israeli offensive on Rafah town and refugee camp in the southern Gaza Strip.  In addition, at least 200 civilians, including about 60 children, were injured; many of them are in serious condition.  Human rights violations perpetrated by Israeli occupying forces included willful and extra-judicial killings, incursions into Palestinian areas, indiscriminate shelling and house demolitions.  Israeli occupying forces have also continued construction of the "Annexation Wall" inside the West Bank and have continued to impose a tight siege on the
OPT
s.  
This week, Rafah town and refugee camp have been subject to a full scale Israeli military offensive unprecedented since the Israeli military "Operation Defensive Shield" in the West Bank in April 2002.  During this offensive, Israeli occupying forces have committed a series of serious violations of human rights:
45 Palestinians, 38 of them are civilians, including 9 children, have been killed.  Four brothers and a man and his son were among the victims.  In addition 134 civilians, including about 50 children, were injured.  Most of the victims were killed by helicopter missiles and tank shells.  On the first day of  "Operation Rainbow", 19 Palestinians were killed, 7 of them were killed inside their houses.  Eight Palestinian civilians were also killed when Israeli helicopter gunships and tanks attacked a peaceful demonstration. 
At least 105 Palestinian houses have been destroyed in Rafah, rendering 1464 civilians (245 families) homeless.  In addition, 23 shops and some civilian properties were destroyed.  Two mosques were also severely damaged by the Israeli shelling.
Rafah has been isolated from its surroundings and medical personnel have been denied access to the wounded. 
Houses have been raided and searched and a number of Palestinians have been arrested.
Electricity and water supplies and telephone communications have been cut from most parts of the town, which has lacked basic services.

Israeli political and military officials stated that the Israeli military operation in Rafah would continue for several days, which would pose serious threats to the lives of Palestinian civilians and cause a disaster to the town.  Israeli occupying forces have used heavy weapons against civilian residential areas in the town.  They attacked a civilian peaceful march with missiles and shells.  These horrific violations of human rights are committed, while the international community remains inactive, which encourages Israel and its occupying forces to perpetrate more war crimes in violation of international humanitarian law. 

In the Gaza Strip, on 15, 16 and 17 May 2004, Israeli helicopter gunships attacked a number of civilian facilities in Gaza City.  These facilities were largely destroyed and a number of Palestinian civilians were injured.  A number of neighboring houses were also damaged. 

In the West Bank, Israeli occupying forces launched a series of attacks against Palestinian civilians, killing 5 of them.  One of the victims was killed in an extra-judicial assassination perpetrated by an undercover unit of Israeli occupying forces.  A number of other civilians were also injured.  Israeli troops also arrested dozens of Palestinians. 

On Wednesday morning, 19 May 2004, Israeli occupying forces shelled an apartment building in 'Aska village, northeast of Nablus, claiming that a number of wanted Palestinians were hiding inside.  The building was largely destroyed, and Israeli troops did not find any wanted Palestinian inside as they had already claimed.  On Friday, 14 May 2004, Israeli troops destroyed a Palestinian house in Ramallah as part of the continuing campaign of retaliation against the families of Palestinians accused of involvement in attacks against Israeli targets. 

Israeli occupying forces have continued construction of the "Annexation Wall" inside the West Bank, especially around Jerusalem.  Israeli occupying forces issued a military order seizing about 380 donums of Palestinian land in Bethlehem, for the purpose of the construction of the wall.  Israeli military bulldozers demolished 3 Palestinian houses in Arab al-Ramadin village, south of Hebron.  Israeli occupying forces also issued a military order closing a fuel station near Barta'a village, southwest of Jenin, which is located near the wall.

For the eighth consecutive week, Israeli occupying forces have continued to impose a tightened siege on the OPTs and imposed severe restrictions on the movement of Palestinian civilians in the Gaza Strip and the West Bank, including Jerusalem.  In the Gaza Strip, Israeli forces isolated Rafah from its surroundings.  They closed all border crossings into the Gaza Strip.  In the West Bank, Israeli occupying forces have continued to impose a strict siege on Palestinian communities.  They have also imposed severe restrictions on the movement of Palestinian civilians.  They have blocked a number of roads using cement blocks, sand barriers and trenches, and imposed curfews on a number of villages.  Israeli forces have also continued to prohibit Palestinians who are under 45 from praying at al-Aqsa Mosque in Jerusalem, and have isolated the city form the rest of the West Bank.

To download the full report click here.

Related Links