29 August - 4 September, 2002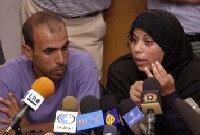 Twenty-four hours after the Israeli High Court of Justice decision to accept the transfer of Kifah and Intissar 'Ajouri, brother and sister of 'Ali 'Ajouri who was assassinated by Israeli forces on 5 August 2002, from the West Bank to the Gaza Strip, the two were dumped in the Gaza Strip near Netzarim settlement. Israeli forces demolished the family home in 'Askar refugee camp in Nablus in July. The two were expected to arrive in the Gaza Strip through Erez crossing, but the Israeli military transported them using settler roads and left them on agricultural land surrounding 'Netzarim' settlement, south of Gaza City. The two deportees went taken in a civilian car to
PCHR
's offices in Gaza City, where they held a press conference before moving to the headquarters of the
ICRC
in Gaza City.
On 3 September, the Israeli High Court rejected an appeal by the two deportees against an Israeli military order to deport them from the West Bank to the Gaza Strip. In a press release issued on Tuesday, 3 September, PCHR strongly condemned the Israeli High Court' decision, asserting that the court's decision effectively legalized a war crime. The unlawful forcible transfer of a protected person is a violation of articles 49 and 147 of the Fourth Geneva Convention, a war crime. In addition, the transfer also constitutes collective punishment.
Israeli occupying forces have perpetrated more human rights violations against Palestinian civilians and their property, including willful killings, shelling of, and incursion into Palestinian areas, assassination, agricultural land leveling and confiscation, destruction of private and public property. This week, 14 Palestinians, including 13 civilians, were killed by Israeli occupying forces.
In a continuation of the policy of assassination officially adopted by the Israeli government against Palestinian activists and political leaders, on Saturday, 31 August, Israeli occupying forces conducted an assassination in which a member of the Palestinian Military Intelligence Service and four children were killed. Six others were wounded. Two Israeli combat helicopters fired three missiles at a civilian car, killing one man accused by Israel of heading the al-Aqsa Martyrs Brigade in Tubas, and two youths who were in the car. Two passing children were also killed. One of those traveling in the car was able to escape when the first missile hit the ground.
In an apparent extrajudicial execution, on Sunday, 1 September, Israeli occupying forces shot dead four alestinian laborers in Bani Na'm village in Hebron. Israeli forces arrested the four laborers at their work in a marble company, took them to an adjacent area and shot them dead.
In the Gaza Strip, the Israeli occupying forces shelled and conducted incursions into Palestinian areas. On 29 August, the Israeli occupying forces moved into a residential area in Rafah. They opened fire at the area, killing a child and wounding eight civilians. They also demolished 21 Palestinian stores. On Tuesday, 3 September, the Israeli occupying forces moved into al-Salam neighborhood in Rafah and began demolishing a family home as its residents were sleeping, without any prior warning. Israeli forces also prevented neighbors from offering help to the wounded. Throughout the week, the Israeli occupying forces shelled Palestinian residential areas in Khan Yunis, wounding at least than eight Palestinian civilians.
The Israeli occupying forces have maintained the total siege imposed on the OPT, collectively punishing the Palestinian people. Israeli forces have partitioned Palestinian areas, transforming them into cantons, violating Palestinian civilians' economic, social and cultural rights. Thousands of Palestinians continue to be subjected to a tight military curfew imposed by Israeli occupying forces. In the Gaza Strip, Israeli occupying forces checked Palestinian civilians and their cars at Abu Houli and al-Matahen military checkpoints, north of Khan Yunis, on 29 August and 2 September. They forced Palestinian civilians out of their cars and checked them.
To download full report click here.