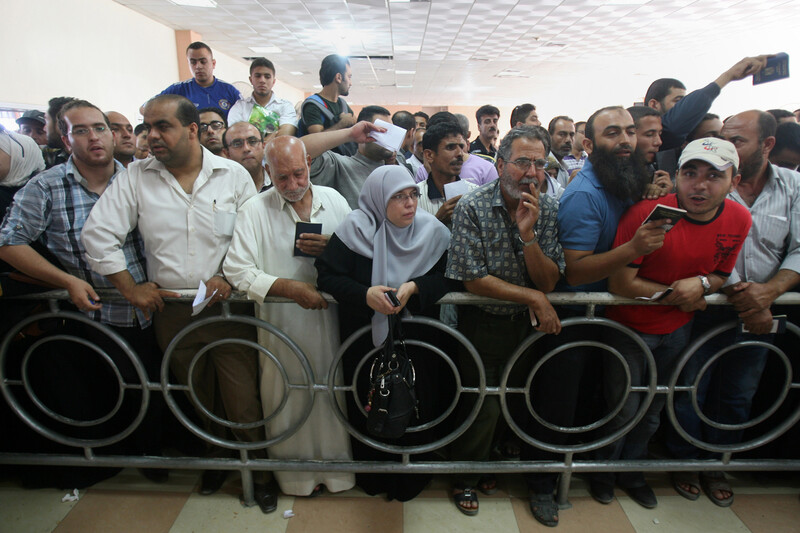 It's 1pm on 18 September at the Rafah crossing at the Gaza-Egypt border.
Hundreds of travelers — mostly students and medical patients — are waiting at the passengers' hall at the Palestinian side of border. All of them are holding their Palestinian Authority travel documents, looking at the officer who calls the names of people who are supposed to travel the next day.
People who have the good fortune to hear their names are congratulated by fellow passengers. Dozens edge closer to the counter where the officer stands, thinking that this might help them.
The hall is getting narrower. Frustration, anger, cries, chants and tears are heard and seen everywhere. "Students! Students! Students!" chants one of the stranded students, demanding that students be given priority to travel, to the dissatisfaction of those in the hall already living and working abroad. "The crossing was open to allow students in particular to travel," says one of the students. "We are about to lose our scholarships."
A woman dressed in black cries, "My residency is about to expire. My boss threatened to fire me if I don't get to my job in the United Arab Emirates in a week. Please, I am the provider for my family, allow me to travel, sir. God bless you, please."
"See all of those people — all of them, all of them want to travel urgently. I wish I could help you," says the officer, his words only increasing the frustration of everyone stuck in the hall.
Dreams vanished
I could have spared myself all of this turmoil if I were able to travel through Erez checkpoint in the north. But Israel has prevented the vast majority of Palestinians in Gaza from entering for years now. And now Egypt is imposing similar measures on Palestinians in Gaza attempting to travel via Rafah, citing security measures.
My plan was to attend a translation conference in Amman, Jordan earlier this month, then fly to my school in Malaysia. Along with two other friends from Gaza, I got my Jordanian permits, but not my Israeli one, which is required to travel via Erez and the Allenby crossing between the occupied West Bank and Jordan. "The reason you are traveling is not a humanitarian urgency," the Israeli officer told the conference coordinators.
The dream of seeing my mother's family in the West Bank, impossible to visit for most Palestinians in Gaza, for the first time in 14 years vanished in the blink of an eye. I was not given a permit, and thus couldn't have the privilege of seeing my relatives at the border even for five minutes — let alone the chance to visit my grandparents' graves in Jericho's cemetery.
Surprise
My West Bank family was denied the element of surprise. I planned to inform them that I'd be in Jericho an hour before my arrival. Surprise should not be the case when visiting a relative who lives just a one or two-hour drive away from my refugee camp in Gaza, but nothing makes sense here.
Back at Rafah crossing, to my surprise, the officer calls my name. It takes me two minutes to get to the counter to get my green travel card so that I can travel the next day. The masses surrounding the officer's desk prevent me from answering him immediately. When I get to him, I tell the officer, "you just called my name." He asks me to wait. I wait. Then he denies that he called my name and refuses to check the list of names that he has.
I can't get my card, my damn card. So I can't travel the next day.
"Come back tomorrow, early in the morning. I will check the list again," the officer says to me.
Lines
It's 4pm at the Rafah crossing that same day.
Nothing makes sense here. The idea of lining up everywhere: Palestinians have to line up to get food stamps from the United Nations. They have to line up to get gas and fuel, the supplies depleted in Gaza because of Israel's siege and now Egypt's campaign to destroy the smuggling tunnels. They have to line up to register their names, so that they might be called upon at some point — and then they might arrive two minutes late. They then lose their chance of getting a card that might allow them to travel the next day.
It's 8am the next day at the Rafah crossing, and the officer is too busy to look at the list. This means spending eight more hours at the border, to no avail.
I line up again for four hours to register my name. A woman falls on the ground. She has fainted. I once again return home along with my luggage.
I have to change my flight. Rafah is shut down again for another week.
Nonsense
It's Wednesday, 25 September, 7:45am, at the Abu Kharda governmental complex which was destroyed by Israel last November. Nothing makes sense here, too. An officer is registering our names again. My name is called at 2pm that day — I finally registered my name on the "urgent list."
Rafah is declared open for three more days for students and urgent cases, starting from 28 September.
It's 7am on 28 September at my family's house in Nuseirat refugee camp. I think of the whole process, trying to make sense of this nonsense. I stay home, waiting for a call from a friend who decided to try his luck at the border. This call never comes.
I call my friend out of curiosity. "The Egyptians allowed only one bus in. The reason they gave is a technical error in the computer system," he tells me on the phone.
I realize that I will not be able to make it today or even tomorrow. I have to change my flight for the second time.
Here in Gaza, the largest open-air prison in the world, I mourn the possibility of losing my scholarship at the University of Malaya in Malaysia. I was not able to arrive by the deadline of 22 September. I've made four failed attempts to cross the border so far. I still don't know when I will be able to leave.
Two patients died in recent days waiting for the border to open. Hundreds of people come every day wishing to cross — usually in vain. But they cling to the hope that a miracle might happen. A miracle that will save hundreds of students, patients and people who have families and business outside Gaza. All of them dream of the day when they can travel without being at the mercy of any country. As the siege on Gaza tightens, eyes are directed at "the big sister" — Egypt — to open its borders with Gaza, 24/7.
Yousef M. Aljamal is a Gaza-based translator and blogger. He co-translated The Prisoners' Diaries: Palestinian Voices from the Israeli Gulag. His website is www.yeljamal.wordpress.com. He can be followed on Twitter: @YousefAljamal.
Tags