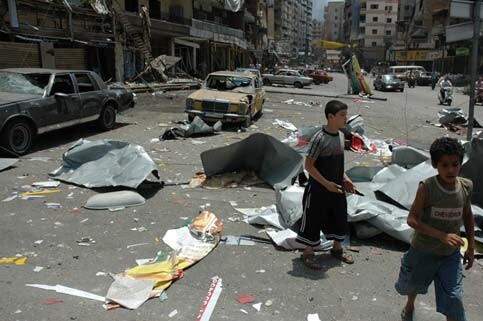 As international attention focuses on the escalating situation between Israel and Lebanon, our partners throughout the Middle East have spoken of their fears and concerns.
Israel
'We are paying the most painful price for this lasting conflict. Every time we hear about another death on the Palestinian side or the Israeli side, it breaks our hearts.
We are calling to both sides to cease fire immediately and unconditionally. Ceasing fire is essential to stop the killing. Rapprochement and agreements are the solution in the long run.'
Boaz Kitain of Parents' Circle: the Bereaved Families Forum
Gaza Strip
'There is no good news to give you from here; the Palestinian people are under siege. We have had years of struggling and we seem to be going backwards. I have been here 20 years and this is the worst it has been.
The shelling, 300 metres away from our home, is very frightening.
Our water supplies are insufficient and we are under pressure from the Israeli occupation. Nutrition levels are very low and daily life for people is very difficult – this is not a life for human beings. In other countries animals are treated better and have organisations to look after them. This is no place for young children at the moment.
The sewage is being thrown in the sea [untreated, due to the lack of power] and rubbish is piling up everywhere as the municipality say there is no fuel to run rubbish collection trucks.
Meat and yoghurt in supermarkets is [rotting] because the generators are going on and off. People in Gaza are at risk and they are now becoming afraid to buy food because it is bad. Disease will strike soon.
My family are better off than most but even then my daughter is sick because of the water supply. I come from Ramallah [in the West Bank] but am unable to get a permit to go there and get medicines for her. We have been to hospital three nights in a row and it is full of people.
Our borders are closed and we feel trapped. What kind of future do we have?'
Naila Ayesh, director of the Women's Affairs Centre
Lebanon
'The current military operations take Lebanon back to war times, bringing with it bitter memories of 1994 and 1996 with all its massive displacement and destruction of infrastructure.
Since yesterday, Israel conducted bloody attacks and raids targeting infrastructure all over Lebanon in response to Hezbollah's action. Israel has bombarded the Damascus International Road, most of the major bridges linking the south to other regions, and villages in the Beqa' and south. All three airports in the country were bombed, especially Beirut International Airport which is now closed. Israel has instigated a strict sea blockade off the coast of Lebanon.
Earlier this morning, the Jieh electricity plant was bombarded and burnt.
NGOs are preparing reception centres to receive people fleeing the Israeli shelling. It is expected that displacement might be massive in the coming days…'
Guirgis Saleh of the Middle East Council of Churches
Gaza Strip
'My three year old daughter Nesma feels a lot of fear when she hears planes flying in the skies of Gaza. Whenever she hears them her body shakes and she starts crying. We, the old people, are suffering psychologically – we do not know how to calm our children.
Nesma has spoken some words I didn't want to hear as a father, not ever wanting my children to face such a situation. These words are 'shelling, planes, tanks, missiles, firing, occupation…'
Gazan children are enquiring what self-defence Israel is talking about when it uses this massive military machine against them. What self-defence causes the destruction of important vital structures, prevents patients from having their right to proper medical care without any obstructions, and cuts the electricity power from 750,000 citizens in the Gaza Strip?
Nesma is one of thousands of children in the same situation.'
Khalil Abu Shammala from the Al-Dameer Association for Human Rights
Related Links