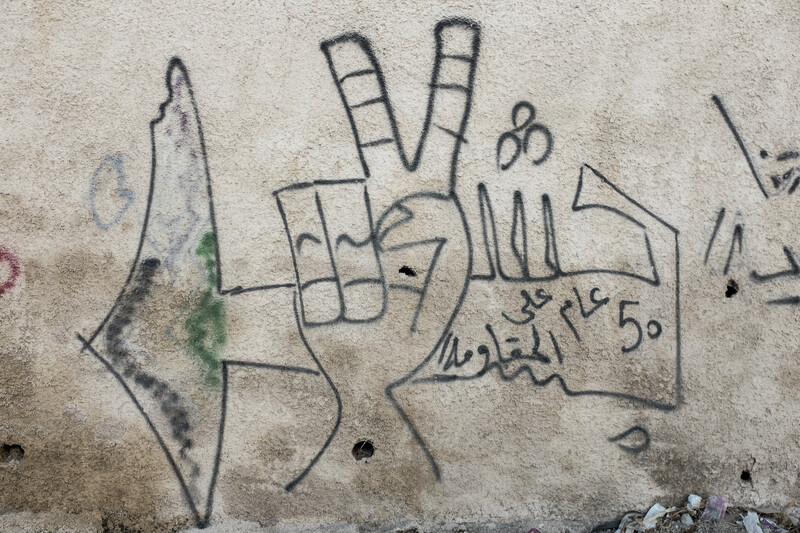 For the residents of Issawiyeh, a Palestinian village of some 20,000, surveillance, military raids and building demolitions are a daily reality.
Nestled in the hills of East Jerusalem, the village is plagued by poor infrastructure, residents are constantly harassed by the Israeli Border Police and anyone, including children, run the risk of arbitrary arrest.
The village has seen its lands gradually disappear. Before Israel occupied the area in 1967, the village included some 12,500 dunams (1 dunam = 1,000 square meters) of land.
Since then, and due to a combination of Israeli settlements, illegal under international law, the nearby Hebrew University and, more recently, Israel's West Bank wall, village land has been reduced to around 9,400 dunams, according to Muhammad Abu al-Hummus, a local council member.
Stagnation
Abu al-Hummus cited Israel's occupation as the key reason for Issawiyeh's underdevelopment and said the village council had tried to work with the Jerusalem municipality to improve infrastructure and secure building permits.
"Twenty years ago we worked with the Jerusalem municipality to organize building permits for sewer systems, streets and houses. Now there is almost no infrastructure and the occupation is the reason. The village infrastructure fits the population from 20 years ago but today it doesn't."
Despite constant promises from the municipality to alleviate the economic deprivation, Abu al-Hummus said, redevelopment has been stagnant.
"We pay taxes but we get no services."
With the municipality denying requests for building permits, home demolitions have become a commonplace consequence. Residents still need to cater to growing numbers and are forced to build without permits.
"Demolitions happen when the Israeli courts decide. Sometimes it's twice a month, sometimes it's once a year," said Abu al-Hummus. With the village growing in population local residents continue to build knowing that demolition of the structure may be imminent.
"Back to zero"
"It took five years to build the apartment and we lived there for five years," said Jamal Elayan, who with his wife Fatma were residents of an apartment building that was demolished last year. The demolition started with no warning and from six in the morning, they said.
"They stormed in like monsters, and kicked us out in our pajamas. In one day we went back to zero."
Ali Aleyeh – who carries a Jerusalem ID and therefore is not subject to the military court system that a West Bank ID holder would face – was arrested in April 2016 for throwing stones at a nearby settlement. He was 15. After being held for seven months without charge or trial under administrative detention orders, he was imprisoned for 10 months.
After serving his sentence, Ali was placed under house arrest for six months, during which time Israeli Border Police would check on him every two days, according to his parents.
"It was unreal suffering inside [jail] and for my family," Ali told The Electronic Intifada.
Israel arrests between 500 and 700 Palestinian children in the West Bank, some as young as 12, per year and processes them through a military court system. Israel is the only country in the world that systematically prosecutes so many children every year in military courts.
However children in occupied East Jerusalem – which Israel has annexed in violation of international law – including Ali in Issawiyeh are processed through municipal courts. But like the military court system, in this apparatus the rights of Palestinian children are still systematically denied.
Seth Herald is a photojournalist.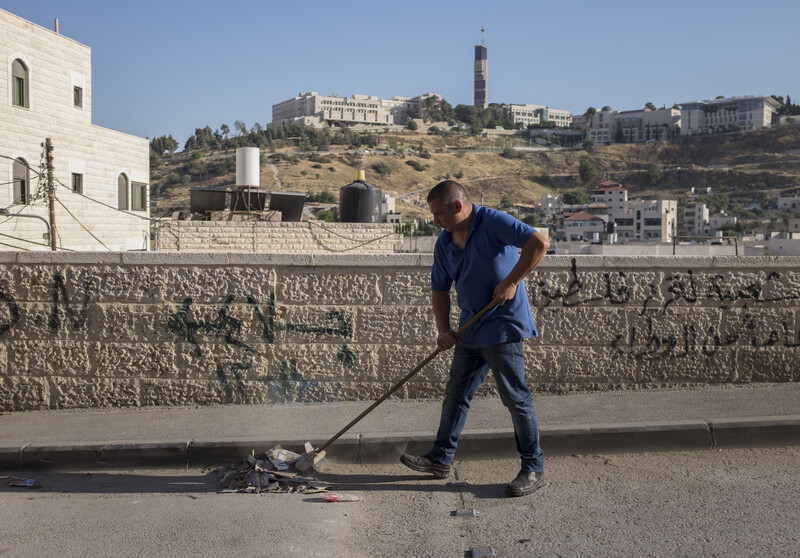 Shop owners are in charge of keeping the street in front of their stores clean. With little proper infrastructure, Issawiyeh's residents do what they can for the upkeep of their village.
The village of Issawiyeh is under constant watch by Israeli Border Police and surveillance equipment.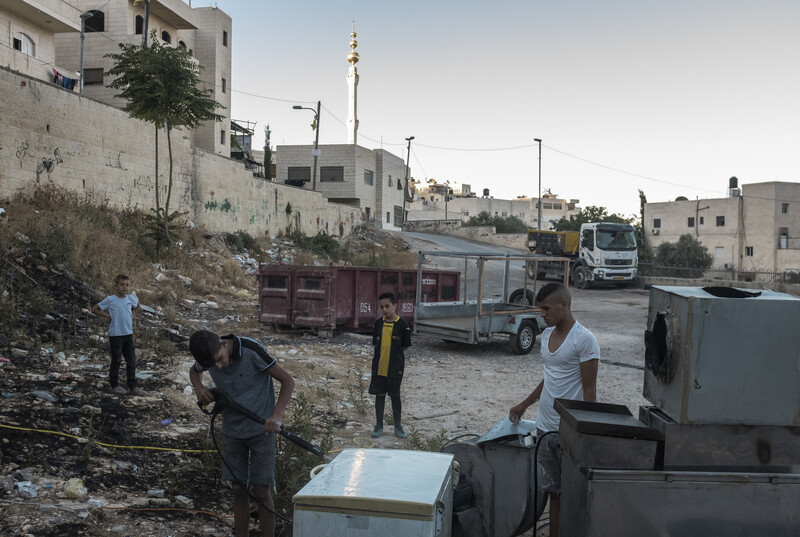 Youths clean supplies salvaged from a pizzeria where they used to work. The building was demolished on 1 May 2018.
Issawiyeh lacks proper infrastructure but a plan drawn up by the village committee to improve the situation there was turned down by the Israeli-run Jerusalem municipality, which promised to draw up its own plans for the village.
Almost 10 years later, nothing has materialized. As a result, the village suffers in different ways. There is no proper garbage collection, for instance, so rubbish is often disposed of simply by being burned in dumpsters.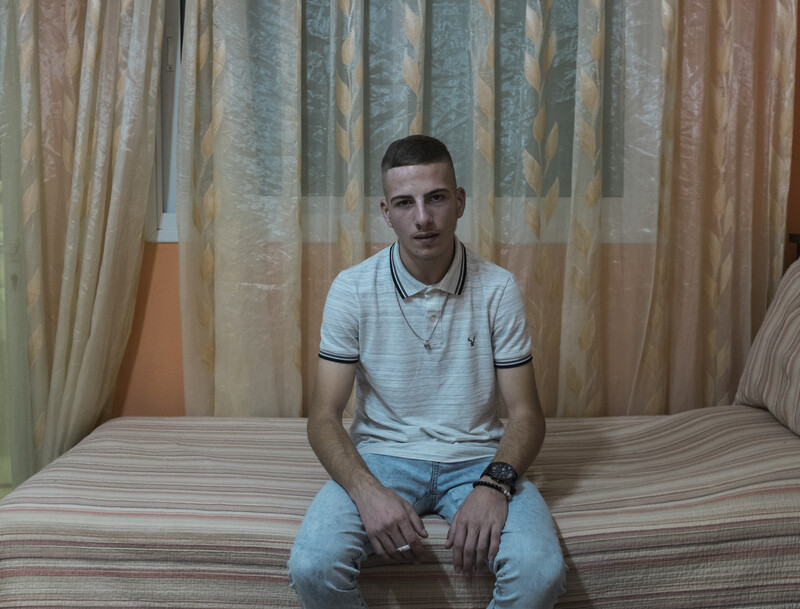 Ali Aleyeh was 15 when he was arrested for throwing stones at settlements. After seven months in administrative detention, he was eventually sentenced to 10 months in prison.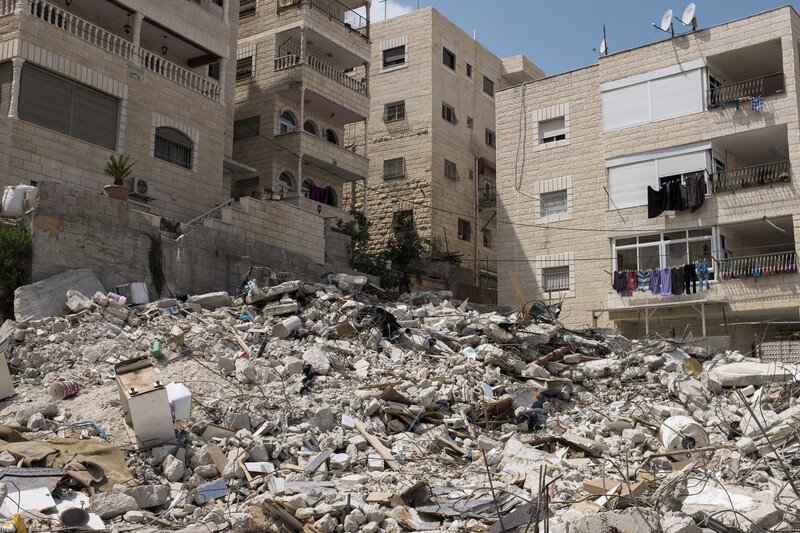 The home of Jamal and Fatma Elayan a week after it was demolished in May 2018. "They didn't give me any warning, they kicked the main door in during a sudden raid at six in the morning," Jamal told The Electronic Intifada.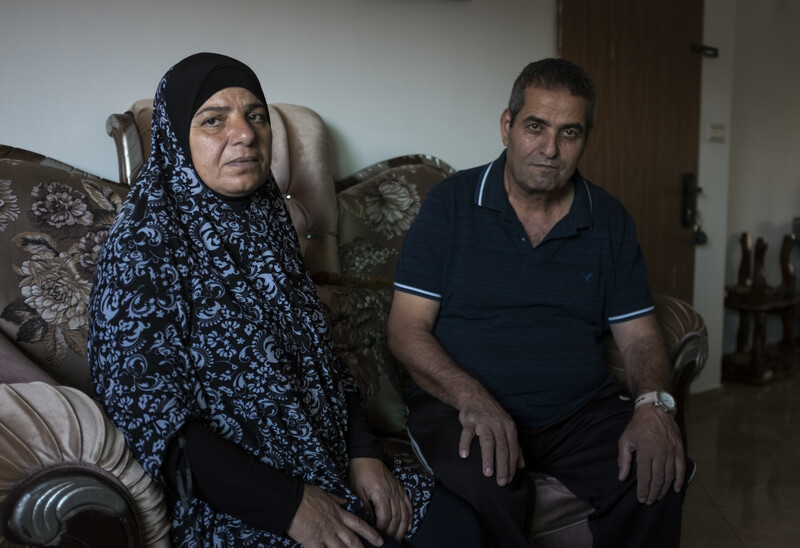 Fatma and Jamal Elayan in their temporary housing. Jamal said: "I don't know what's next. Maybe I'll build there again?"
Tags