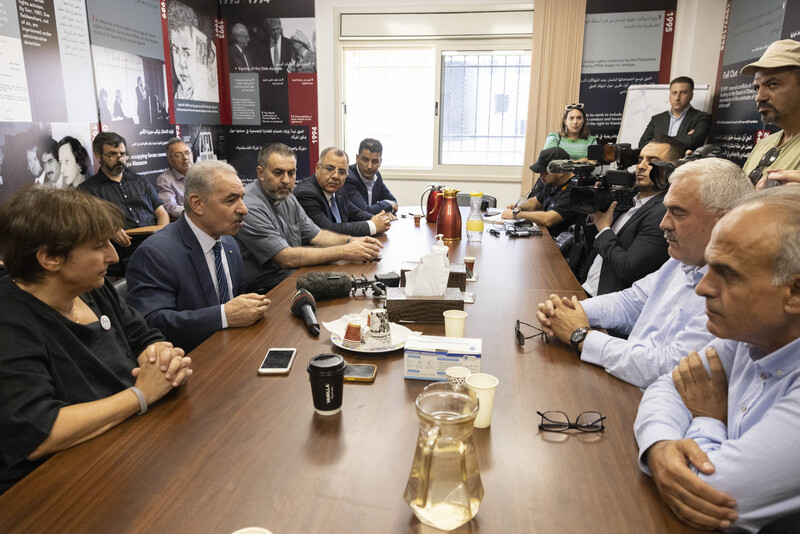 The Biden administration's wait-and-see stance on Israel's escalated attacks against several prominent Palestinian organizations puts their staff at risk of arbitrary detention and torture, those groups and observers warn.
Israel raided seven organizations in the Ramallah area of the occupied West Bank last week, shortly after an Israeli military commander rejected an appeal lodged by some of the organizations challenging an order designating them as "terrorist groups" late last year.
Tel Aviv claims that the organizations are front groups for the Popular Front for the Liberation of Palestine, a leftist political party with an armed resistance wing that is outlawed by Israel, the US and EU.
All seven organizations – Addameer, Al-Haq, the Bisan Center for Research & Development, Defense for Children International-Palestine, the Union of Palestinian Women's Committees, the Union of Agricultural Work Committees and the Union of Health Work Committees – were sealed shut and issued orders declaring their groups unlawful.
Israeli soldiers confiscated equipment, and in the case of some of the groups, files from the raided and sealed offices. Defense for Children International-Palestine and the Union of Palestinian Women's Committees say that Israeli troops seized files containing sensitive information regarding child clients and women receiving psychological support.
The targeted groups have been working in Palestine for decades and receive international funding to support their work.
That work includes providing legal representation to Palestinians held without charge or trial by Israel, international human rights advocacy, providing jobs and social services to Palestinian women and farmers, providing health care to rural communities, promoting women's and workers' rights, and representing children who are tried in Israeli military courts.
Put more simply, the organizations are either dedicated to challenging Israeli impunity or strengthening Palestinian steadfastness and resiliency under the extreme pressures of perpetual military dictatorship.
Because they are a point of friction for the occupation, they have been subjected to harassment and smear campaigns by Israel and its proxies for years, including raids and the arrest and detention of their staff, in a bid to hamper their work and dry up their international funding.
Threats
"In the past they used to work in order to silence us, and now they are working in order to eliminate us, eliminate our work and even the organization," Khaled Quzmar, the director of Defense for Children International-Palestine, said during a webinar hosted by Democracy for the Arab World Now, a US-based organization founded by the murdered writer Jamal Khashoggi, on Thursday.
Quzmar was summoned by the Shin Bet, Israel's secret police, for an interview on the Sunday following the raids. The officer made clear that he knew detailed information about Quzmar's family members in order to intimidate him.
"They haven't faced ever, ever any real accountability," Shawan Jabarin, the director of Al-Haq, said of Israel during the same webinar.
"They failed in the last 15 years to silence us, to push us back, to get us down and dry our resources," he said, leaving Israel with the final tactic "to declare us as a terrorist organization. We are not ready to accept this; we challenge them to prove what they say."
Like Quzmar, someone claiming to be an agent with the Shin Bet, Israel's secret police, called Jabarin on Sunday and summoned him to a nearby military base. Jabarin, who said that the phone call was of a threatening nature, refused to comply.
"If they have a problem with Shawan Jabarin," he added, "the only thing I ask for … is due process and a fair trial. Let them take me today," he said, pledging to continue his organization's human rights work despite the personal threats.
If there's one person who should be behind bars, Jabarin said, it's "Mr. Gantz and his commanders, those who are responsible for committing war crimes in occupied territory, including Gaza, East Jerusalem and the West Bank."
Jabarin was referring to Benny Gantz, Israel's defense minister who issued the terror designations against Al-Haq and the other groups. Gantz is likely a person of interest in the International Criminal Court's investigation into war crimes in the West Bank and Gaza, which was opened last year.
The US and Israel, as well as many of Tel Aviv's European allies, some of whom fund the organizations targeted by Gantz, oppose the ICC's investigation in Palestine.
Three of the targeted groups – Al-Haq, Addameer and Defense for Children International-Palestine – have provided evidence for the ICC investigation.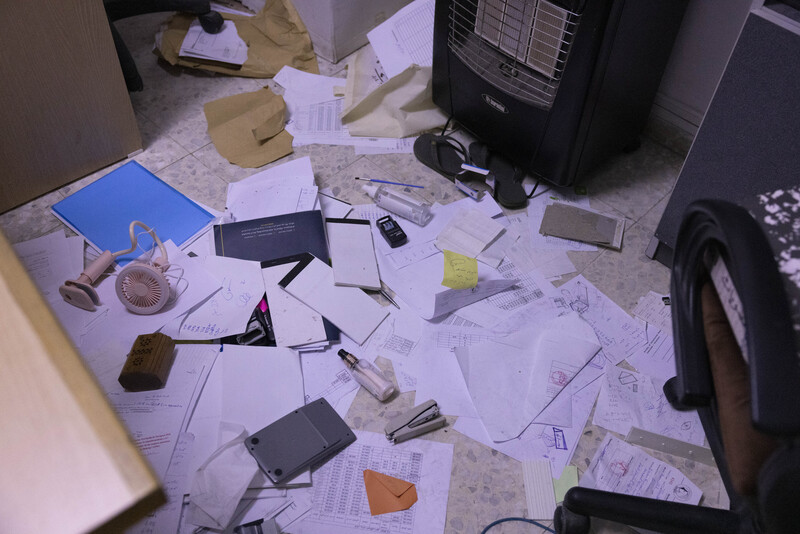 During his visit to Jerusalem last month, Joe Biden pledged to shield Israel from accountability, including at the UN and International Criminal Court.
Earlier this week, The Guardian reported that a classified CIA report "shows the agency was unable to find any evidence to support Israel's decision" to designate the Palestinian groups as terrorist organizations.
The US agency received intelligence from Israel regarding the designations but, like multiple European countries, "did not find any evidence to support the claim," The Guardian reported, citing "two sources familiar with the study."
Despite not buying Israel's claims, Washington has so far refused to publicly challenge Israel over the designations and other measures taken against the Palestinian groups.
State Department spokesperson Ned Price said this week that "we continue to seek additional information from our Israeli partners."
He added that "we remain concerned about the impacts of the closure of the offices of these Palestinian NGOs [nongovernmental organizations] in and around Ramallah, and we've made clear to our Israeli and to our Palestinian counterparts that independent civil society organizations in the West Bank and Israel must be able to continue their important work."
But when asked why the US wouldn't forthrightly condemn Israel's actions, Price said, "the Israelis have told us that they have information in their possession" that would justify taking action against the groups.
US permits crackdown
Price was admitting that the US is giving Israel indefinite time to retroactively justify the designations, potentially putting the organizations' staff and wider networks at risk of arbitrary detention and torture.
"I found the most troubling element of the US response to what happened last week to be the statement about waiting for more evidence," Lara Friedman of the Foundation for Middle East Peace said during the DAWN webinar.
"Because waiting for more evidence is not a passive statement. It is an active green light and encouragement for Israel to crack down further on these groups in order to try to manufacture more circumstantial evidence," she added.
Friedman pointed to the discredited secret dossier on the groups that was given by Israel to European diplomats in May 2021 and supposedly contained information that justified the terror designations.
"That dossier consisted virtually entirely of circumstantial evidence in the form of statements made by Palestinians under interrogation after they had been arrested by Israelis for similar charges," Friedman said.
"This is coercive interrogation," on top of an already coercive military court system that leaves Palestinians with no due process.
In another recent event, Friedman noted that Israel operates a "plea bargain factory" in its military courts.
Juana Rishmawi, a Spanish aid worker in her 60s, took a plea deal that saw her sentenced to 13 months in prison for her work with the Health Work Committees, which was declared illegal by Israel in early 2020.
The Health Work Committees was not informed of the designation until Israel began an escalated campaign against it, arresting its director, Shatha Odeh, and closing its headquarters in Ramallah, the seat of the Palestinian Authority in the West Bank.
"What [Rishmawi] pled guilty to effectively was unknowingly providing aid to an organization that Israel defines as a terrorist group," Friedman told the DAWN webinar.
Israel held up Rishmawi's plea agreement, made in a highly coercive context in which Rishmawi had no hope of actual justice, as proof against the targeted organizations.
"This is what your silence means"
During a separate webinar hosted by the Arab Center in Washington, on Wednesday, Susan Power, the head of Al-Haq's legal research and advocacy department, pointed to the "astounding" US position giving Israel more time to come up with new evidence.

"We're looking at potential imprisonment of people on secret evidence and confidential files and this lack of due process and this reliance on secret evidence goes all the way up to the Israeli high court of justice, the supreme court of Israel," Power said.

"We're really looking at a system that is rotten from the inside out," she added. "When I hear Ned Price giving more time to Israel to dredge up more evidence, there's very, very serious repercussions."

"Let's not forget that the accountants from the Health Work Committees who were interrogated were interrogated under torture," Power said. "That is universally prohibited and it's prohibited also by the United States of America."

Staff who work in accounting and in administration for the targeted groups "could be rounded up, interrogated, tortured, prosecuted on secret evidence and facing decades in jail and sham trials. This is what we're looking at, this is what your silence means."

"It's absolutely imperative that the designations are rescinded and political pressure is brought to bear," Power said.

There has been an outpouring of international support for Al-Haq and the other proscribed organizations.

Two dozen independent UN experts "condemned Israel's escalating attacks" on the Palestinian groups and urged the five permanent members of the UN Security Council, which includes the US, to "protect the Palestinian organizations and staff whose offices were raided and closed."

The experts also called on "the EU and its member states in particular" to "use their leverage to stop these aggressive attacks."

So far, European diplomats have only managed to muster up photo ops and toothless statements of concern, even though the European Union is implicated in the designations.

Even the European states that issued a rare rebuke against Israel last month by rejecting the designations effectively invited Israel to manufacture evidence to support its claims. The statement from nine European foreign ministers said that "should evidence be made available to the contrary, we would act accordingly."

Both the outgoing and two former UN high commissioners for human rights have also spoken out against the designations, as have several prominent civil liberties groups, including the ACLU. Even Zionist groups such as Americans for Peace Now, J Street and the New Israel Fund are urging Antony Blinken, the US secretary of state, to "address Israel's persecution of Palestinian civil society."

Challenging the complicity of the US – which subsidizes Israel's military occupation and provides Tel Aviv with the missiles used to bomb residential towers in Gaza, and shields Israel from accountability through its veto at the UN Security Council – remains key.

"It would only take one phone call from Secretary Blinken," Al-Haq's Susan Power said. "One phone call."

Maureen Clare Murphy is senior editor of The Electronic Intifada and worked for Al-Haq between 2004-2006.
Tags