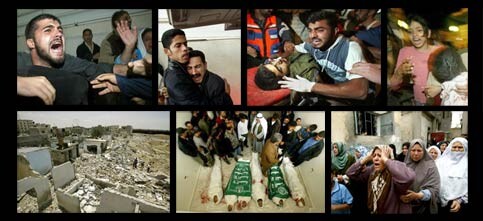 The Electronic Intifada urges all concerned people to contact international and government officials to demand immediate action to halt Israel's assault on Rafah refugee camp in Gaza. Israel is in the process of committing major war crimes with total impunity.
In the first 10 days of May 2004, Israel's demolition of 131 residential buildings in Gaza left 1,100 Palestinians homeless.
Five days later, continued Israeli demolition operations doubled the number of homeless since the beginning of May 2004 to 2,197 Palestinians.
The total number of people to lose their homes in the Gaza Strip is 18,382 since the start of the Second Intifada in September 2000.
The majority of the demolitions this month have taken place in Rafah in the south of the Gaza Strip, where 12,600 people had already been made homeless by demolitions since the Intifada began.
On 11 May 2004, Israel killed 15 Palestinians in the al-Zaytoun neighborhood of Gaza City, including 4 children, and injured at least 200 others, including 35 children.
On 13 May 2004, Israel killed 12 Palestinians in Rafah, including a child, and injured at least 20 others.
By 15 May 2004, two days after the 13 May invasion began, a total of 14 Palestinian civilians had been killed and 30 injured in Rafah, with 80 homes destroyed, leaving 880 Palestinians homeless.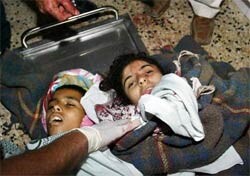 On 18 May 2004, ongoing Israeli raids in Rafah resulted in the death of 19 more Palestinians, including 2 children. Ahmad Mughayaer, 13, and his sister Asma, 16 (see photo right), were shot in the heads by Israeli snipers located on the 6th floor of a building as they hung washing out on the 3rd story roof of their neighbouring apartment building.
Rafah continues to experience ongoing Israeli military operations at the time of publishing this alert.

ISRAELI WAR CRIMES

The United States continues to give a green light to Israeli war crimes. In recent days, Secretary of State Colin Powell half-heartedly criticized the destruction in Gaza. Today, however, as the atrocities continue in Rafah, President Bush declared in a major address to the pro-Israel lobby AIPAC that Israel "has every right to defend itself from terror." Bush made no criticism whatsoever of the Israeli attack on Rafah.

The Palestinian Centre for Human Rights has said that, "The extensive destruction of civilian property, carried out wantonly and unlawfully, and without military necessity constitutes a grave breach of the Fourth Geneva Convention as defined in article 147, and a war crime as clarified in article 85.5 of the First Additional Protocol to the Geneva Conventions."

Amnesty International reported today that: "More than 3,000 homes, vast areas of agricultural land and hundreds of other properties have been destroyed by the Israeli army and security forces in Israel and the Occupied Territories in the past three and a half years," and said that "some of these acts of destruction amount to grave breaches of the Fourth Geneva Convention and are war crimes."

INTERNATIONAL WORDS, NOT ACTION

Governments and international organizations have strongly criticized the Israeli action:

UN Secretary-General Kofi Annan condemned the Israeli attack on Rafah and stated that Israel, "as the occupying power … must cease such acts of collective punishment immediately, and … refrain from further grave violations of international law."

European Union foreign policy chief Javier Solana said that, "what is taking place now in Gaza is something that we have to condemn and to condemn very strongly."

However none of these statements has had any impact on Israel, because Israel knows that it can act with impunity and has the full backing of the US government. For years, Israel has been able to flout UN Security Council Resolutions and the Geneva Conventions without any real consequences. The result is escalating, unrestrained violence.

Israel is now even brazen enough to announce its war crimes in advance, knowing full well that international action will be limited to a few statements. On 18 May 2004, Ha'aretz reported Israeli army radio as quoting Israel's Ambassador to the UN Dan Gillerman as saying that there was a "very, very strong chance" that the United States would veto any such condemnation of Israel's actions in Gaza.

UN Secretary-General Kofi Annan, in particular, has failed to exercise his responsibility. Under the UN Charter, the Secretary-General has a duty to inform the Security Council of grave breaches of international law and security. Annan has restricted himself to statements "urging" Israel not to violate international law. As Israel has repeatedly ignored his pleas, he has effectively done nothing.

The EU, as Israel's largest trading partner, has enormous influence with Israel, but has so far been reluctant to use it.

TAKE ACTION

We believe that a large mobilization of international public opinion on behalf of the people of Rafah demanding that those with power and responsibility act to end these war crimes can make a difference.

Key points should include:
Immediate intervention to demand the protection of Palestinian civilians and Palestinian homes in Gaza — particularly in Rafah refugee camp, which is the focus of the current Israeli military operations.
A call for governments to unequivocally condemn Israel's recent actions against Palestinian civilians and homes in Gaza.
Tell

US

representatives not to veto the coming Security Council resolution about the situation in Gaza.

We urge you to act now and contact the following US, UN, UK, and European Union representatives (Readers outside the United States are encouraged to contact their national political representatives. Contact information can typically be tracked down quickly by searching with Google.com):

United States Representatives
US

President George W. Bush — Tel: (202) 456-1111; Fax: (202) 456-2461.
US

Secretary of State Colin Powell — Tel: (202) 647-6575; Fax: (202) 261-8577.
US

Ambassador to Israel Daniel Kurtzer — Tel: (+972-3) 519-7575; E-mail: webmaster@usembassy-israel.org.il
Your member of Congress — Call the Capitol switchboard toll-free on 1-800-839-5276 and ask to be connected to your member of Congress.

United Nations
General Telephone: (212) 963-1234; Fax for Kofi Annan's office: (212) 963-7055; E-mail: inquiries@un.org
Permanent Missions to the United Nations
European Union Representatives
EU

Presidency, Bertie Ahern, T.D., Prime Minister of Ireland — Tel: 353 1-6194123, Fax: 353 1-6621899; E-mail: eu@taoiseach.gov.ie
High Representative for the Common Foreign and Security Policy (

CFSP

) for the European Union Javier Solana — Tel: +32 (0)2-285-6467 or +32 (0)476-93-6426; E-mail: presse.cabinet@consilium.eu.int

UK Representatives
UK

Prime Minister Tony Blair — E-mail or Fax via Downing Street website

Related Links