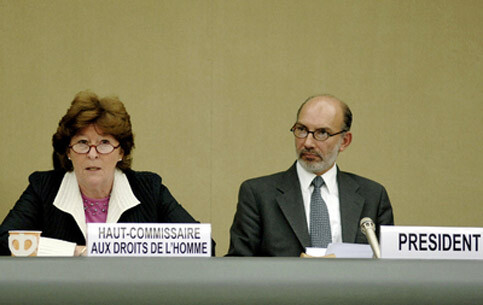 There is a "clear and urgent need" to investigate attacks against civilians in Lebanon and northern Israel, the top United Nations rights official stressed at a special session of the Human Rights Council today, emphasizing that the crisis demands a meaningful response from the
UN
body and repeating the need for an immediate cessation of hostilities.
"Civilians must never be the object of a direct intentional attack…And yet, almost on a daily basis, information from the field indicates an alarming pattern in the scale and choice of targets by all sides in the conflict," UN High Commissioner for Human Rights Louise Arbour told the 47-member Council meeting in Geneva.
"The deaths of hundreds of civilians in documented and corroborated incidents, involving either random or targeted attacks on civilian vehicles or buildings, strongly suggest the indiscriminate use of force," she added, highlighting both the effect on civilians of Israeli attacks and Hizbollah's indiscriminate shelling of northern Israel.
"There is a clear and urgent need to bring clarity to a situation in which facts and allegations are now given the same credit but without the benefit of systematic, independent, thorough and credible scrutiny."
She drew attention to the Israeli attack on 30 July in Qana, southern Lebanon, which killed scores of civilians, including a large number of children, who had sought shelter there, and also spoke of the "repeated allegations of Hizbollah's systematic use of civilians as human shields."
"The independence, impartiality and objectivity of such an inquiry must be guaranteed not only by the credibility of the panel members, but also by the scope and methodology of their mandate…It should address all violations by all parties, and lay the foundation for possible measures of reparation and accountability."
Ms. Arbour said she was "particularly concerned" about the humanitarian situation of the population remaining in the south of Lebanon, especially following the destruction of the last bridge over the Litani River.
"They are in dire need of food, water, and medical assistance, which humanitarian workers are no longer able to deliver… The plight of displaced persons in the war zone and of refugees in neighbouring countries is also of grave concern. Their right to food, to health, to adequate housing, the right of their children to education must be respected."
"Nearly a month from its beginning and worsening by the day, this crisis demands a firm and meaningful response from this Council," she said, of the body that was set up to replaced the much-criticized Human Rights Commission.
Today's special session was called in response to a request from Tunisia on behalf of the Group of Arab States and the Organization of the Islamic Conference, which was supported in total by 16 Member States.
Related Links