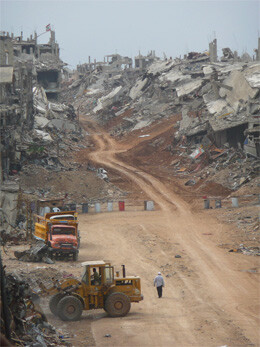 BEIRUT (IRIN) - As the UN's agency for Palestine refugees UNRWA appeals for US$445 million for three years of reconstruction and recovery in and around Lebanon's Nahr al-Bared refugee camp, a mixed picture of aid agency coordination has emerged from interviews with key players.
Speaking to IRIN ahead of the 23 June donor conference in Vienna, the director of UNRWA affairs in Lebanon, Richard Cook, expressed satisfaction with his agency's emergency response operation, though admitted the pace of reconstruction was too slow and that coordination with other agencies "could improve."
A key issue raised by a number of actors interviewed by IRIN was the level of participation of local Palestinian non-governmental organizations (NGOs) in the cluster meetings established to coordinate aid agencies' response to the Nahr al-Bared crisis.
"Cluster meetings are held in a hotel in Tripoli [northern Lebanon], but all our directors are based in Beirut, so only local staff in Tripoli can attend the meetings," said Leila al-Ali, director of Najdeh, a local NGO that works in and around the Palestinian refugee camps in Lebanon, targeting primarily women and children.
"Our Tripoli staff do not all speak English, so have limited access to the meetings. The meetings should be organized in a place accessible to all."
Separate appeal
While expressing satisfaction with the master plan for Nahr al-Bared's reconstruction, Najdeh said UNRWA's donor appeal left some gaps unfilled, prompting the local agency to launch its own appeal to donors on 19 June for $2.5m to cover health, education, economic and rights needs.
Some international agencies criticized the absence of key non-UN actors from the UNRWA appeal.
"It is a shame that all the organizations and actors working in Nahr al-Bared were not able to put together a consolidated appeal to give donors an overall picture," said Ulla Backlund, country director for the Norwegian Refugee Council (NRC) in Lebanon, which has been aiding reconstruction in the camp.
"All the actors should have been given the chance to see where their experience could be best put to use for the good of the beneficiaries."
Responding to the criticism, Pablo Ruiz, a recovery adviser at the UN Development Program (UNDP), attending the Vienna conference, said: "The entire process for planning and reconstruction has been very participatory and very inclusive, and we see this document being presented to donors as a consolidated appeal."
All interviewees expressed concern that the level of complexity in terms of political, security, social and legal issues around the status of Palestinian refugees in Lebanon and rebuilding the currently accessible areas of Nahr al-Bared, in which UNRWA has no legal remit to operate, was hampering coordination.
"Confusion" over status of new camp
"The status of the new camp creates a lot of confusion and has an impact on coordination," said Bassem Chit of Lebanon Support, an information service aimed at supporting humanitarian efforts, which is directly involved with Nahr al-Bared.
"There is general coordination and information is good, but there are still lots of gaps. The participation of local NGOs in cluster meetings is quite low and decisions are taken outside the meetings; the same problem as in Iraq," he said.
Chit warned of the dangers of the plethora of agencies operating in and around Nahr al-Bared not coordinating on a comprehensive strategy.
"The issue is not to create more inequality by having one NGO fix only 20 percent of the camp to a high standard, but leave the rest at a low standard," he said. "It is much better to raise standards across the board as a collective process across the clusters. This is not happening."
OCHA
Several actors highlighted the absence of the UN's Office for the Coordination of Humanitarian Affairs (OCHA) from Lebanon since its short deployment to the country during the July War in 2006.
Jamie McGoldrick, head of OCHA's Humanitarian Reform Support Unit in Geneva, told IRIN he agreed that cooperation between agencies could always be improved. "Basically when faced with a new emergency, it is very difficult to implement clusters, which are a new approach. This has been adapted and brought to Lebanon. It is a new culture, a new way of collaborating and responding and it will take time for those agencies to understand roles and responsibilities," he said.
McGoldrick also said some of the issues raised by local NGOs were of a longstanding nature. "The issue of language, for example: We have faced this since the first time clusters were used in the Pakistan earthquake. But we are working on them and over time we will overcome them. The most important thing is that we expect those NGOs who feel excluded and have issues to bring this to the attention of cluster leads."
Challenges
The UN Resident Coordinator's Office has been supporting UNRWA's coordination efforts from the onset of the crisis.
"The reconstruction of Nahr al-Bared raises a number of challenges, legally, politically and in terms of mandate … Though coordination has improved, more can be done," said Fernando Hiraldo, adviser to the UN resident coordinator in Lebanon.
"We hope the Vienna donor conference opens a new phase where the financial resources needed for the reconstruction of the camp and the implementation of the different components submitted to donors are clearly explained."
This item comes to you via IRIN, a UN humanitarian news and information service, but may not necessarily reflect the views of the United Nations or its agencies. All IRIN material may be reposted or reprinted free-of-charge; refer to the copyright page for conditions of use. IRIN is a project of the UN Office for the Coordination of Humanitarian Affairs.
Related Links