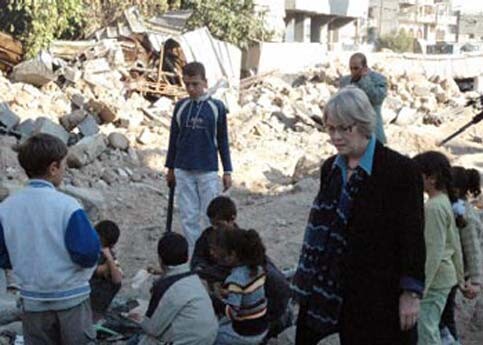 Gaza —
UNRWA
's Commissioner-General Karen AbuZayd expressed shock and dismay at the killing of yet more Palestine refugees, many of them women and children, in the northern Gaza town of Beit Hanoun this morning.
A barrage of tank shells hit civilian homes in Beit Hanoun early Wednesday morning, causing 19 fatalities and leaving more than 60 people injured. The Al-Athamneh family lost 17 members including four women, five children and two infants, one of them two years old, the other 9 months old. The Al-Athamneh family are Palestine refugees under UNRWA's mandate.
"This morning's tragedy is yet more evidence, if any were needed, that this futile cycle of inhuman violence must end," Karen AbuZayd said.
Ms. AbuZayd visited the centre of Beit Hanoun yesterday, shortly after Israeli forces left the area. She witnessed first hand the despair and fury of people trying to come to terms with death and destruction on a scale not seen in Gaza for many years. Israeli military ground forces had withdrawn from Beit Hanoun on Tuesday after a six-day siege in which 50 had been killed.
Since the year 2000, Israeli military operations have caused extensive destruction throughout the Beit Hanoun area. Preliminary assessments indicate that during the recent siege, dozens of houses were destroyed and hundreds more damaged, in addition to serious damage to the 850 year old Um al-Nasser Mosque in the centre of Beit Hanoun.
Military operations also caused extensive damage to UNRWA schools and health centers in Beit Hanoun.
Related Links