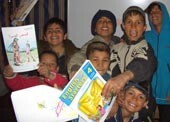 Some 90 Palestinian refugee children whose families have been stranded over the last nine months at al-Tanf border crossing point between Iraq and Syria, living in a makeshift refugee camp, started attending an
UNRWA
tented school on 3 February.
At this school, UNRWA will provide general education for refugee children at elementary and preparatory levels as prescribed by the Syrian Ministry of Education. Managed by the UNRWA education programme, with eight teachers from the refugee community in al-Tanf serving as staff, the school will help cater for the refugees' educational needs. The school is opened in collaboration with UNICEF, who provided the educational material, and UNHCR, who provided the four tents needed for the school. Eight volunteer teachers attended a training course on teaching methodology in Damascus from 16-24 January. These volunteer teachers also joined a group of Agency teachers in peer coaching sessions in their specialisations in order to strengthen their teaching skills.
Around 354 Palestinians who fled targeted harassment and violence in Baghdad are now stranded at al-Tanf in the no man's land between the Syrian and Iraqi borders. All of them fled Baghdad under difficult conditions and have encountered serious human rights abuses. The group feels it's position on the border is insecure and tensions are rising.
"International support is needed to find a solution for Palestinians from Iraq. They are facing a harsh winter in the desert. We hope the opening of these schools will provide some structure and stability in these children's lives" said Panos Moumtzis, Director of UNRWA Affairs, Syria.
UNRWA is a humanitarian and human development Agency providing education, health care, social services, micro-credit and emergency relief to over 4 million registered refugees living in the Gaza Strip, West Bank, Jordan, Lebanon and the Syrian Arab Republic. In Syria, the Agency provides assistance to over 430,000.
Related Links
Palestinians Stranded on Iraq Border, Al-Awda (27 December 2006)