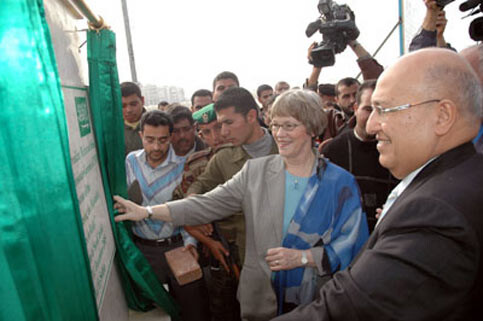 The United Nations Relief and Works Agency for Palestine Refugees (
UNRWA
) today laid the cornerstone for the "Saudi Project to Rehouse Homeless Refugee Families", funded through a generous contribution of $20 million from the Kingdom of Saudi Arabia.
This grant, administered by the Saudi Fund for Development through UNRWA, will cover the construction of new shelters for over 800 homeless refugee families, three schools, a health centre, a mosque, a community centre, a market area and all related infrastructure works. The project will help alleviate some of the hardship being felt in the Gaza Strip by providing several hundred thousand days of temporary employment for labourers, construction workers and tradesmen in an area where unemployment levels are alarmingly high. The grant has come at a crucial time, when UNRWA is developing a special package to improve Palestine refugee living conditions in the wake of the recent Israeli Disengagement. Work on the project will begin immediately.
UNRWA's statistics indicate that close to 30,000 persons – 3,300 families – have lost their homes in the Gaza Strip as a result of IDF military operations during the second Intifada. This includes over 16,000 persons in Rafah, or ten percent of the city's population. Refugee shelters account for around 85 percent of all homes destroyed. Fortunately, there has been a halt in house demolitions in Gaza since the beginning of 2005.
In the Gaza Strip, UNRWA has already completed building 925 new homes for 996 homeless refugee families. Preparatory work, including design and tendering, for the construction of several hundred additional housing units is currently underway; the Agency is confident that funds for all remaining rehousing needs will be covered soon.
Karen Koning AbuZayd, UNRWA Commissioner General expressed her profound gratitude for the generous and continued support from the Kingdom of Saudi Arabia for Palestine refugees through UNRWA. She also extended her appreciation to the Palestinian Authority for making available the land required for the project. In particular, Ms. AbuZayd thanked Mr. Freih Abu Meddain, Chairman of the Palestinian Land Authority, for his continued support for UNRWA and Palestine refugees in Gaza and his efforts to secure the necessary land for this and other projects.
Ms. AbuZayd affirmed the importance of the housing project, which she described as "testament to the international community's commitment to uphold Palestine refugees' rights to decent living conditions until a durable solution is found to their plight."
For information only Not an official record
For more information: UNRWA, PIO Jamal Hamad Office: +972 08 6777213 Mobile : 0599 416877