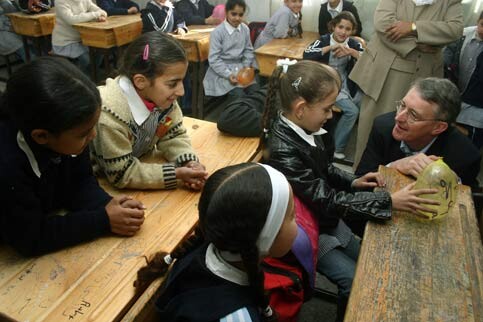 Amman - Living conditions amongst Palestinians in Gaza and the West Bank have slumped to levels unseen since 1967. Every aspect of life has been affected. The crisis that began in September 2000 has deepened dramatically during 2006, as a result of the international isolation of the Palestinian Authority (
PA
), the conditions of siege imposed on Gaza and the ongoing fragmentation of the West Bank. The majority of Palestinians are now dependent on food and cash handouts. Violence, poverty and despair are overtaking hopes for recovery and prospects for development.
Refugees, who before 2006 endured high poverty rates and desperate socio-economic conditions, have been particularly affected, due to their disproportionate dependence on PA salaries and concentration in Gaza.
UNRWA - the biggest humanitarian actor in the occupied Palestinian territory (oPt) - bears a major burden of the impact of the crisis. To meet the most basic needs of Palestine refugees - over 40 percent of the population in the oPt - UNRWA is appealing for $246m in emergency funding in 2007. Interventions will provide social safety net support to increasing numbers of needy refugees, in the form of food aid, job creation and emergency cash assistance, and respond to considerably increased demand on health services. The Agency will also address the impact of conflict and non-conflict related violence on refugee communities.
"Unbearable economic pressure has been applied to a people under occupation. Those who have clearly paid the greatest price are the vulnerable - the poor, the sick, the elderly, the children", said UNRWA's Deputy Commissioner-General Filippo Grandi as the Agency launched its Emergency Appeal for 2007 in Amman on Tuesday 12 December.
For more information contact:
Jerusalem: Johan Eriksson: +972-542402632
Amman: Matar Saqer: +962-795605553
Gaza: Adnan Abu-Hasna: +972-599-428061
Related Links