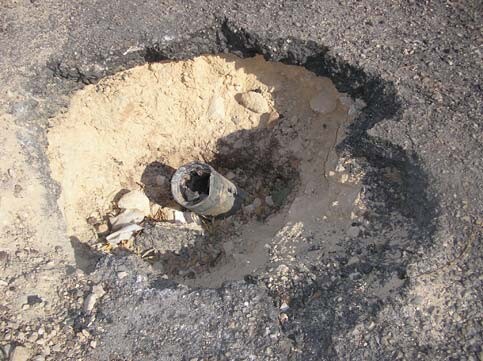 DUBAI
, 5 Nov 2006 (
IRIN
) - Israeli bomb disposal units are combing the north of the country for unexploded Hezbollah rockets left over from the recent conflict in an operation that will continue for months, Israeli police say.
Hezbollah, a Lebanese political party with an armed wing, fired nearly 4,000 rockets - including more than 100 containing cluster bombs - into the densely populated Galilee region in Israel's far north as well as cities further south such as Haifa, killing 43 civilians.
While the risks to residents of southern Lebanon from an estimated one million unexploded cluster bombs fired by Israel are well-documented, Israeli officials say the world has largely ignored the problems caused by unexploded Hezbollah rockets in their country.
"There's an unexploded ordnance problem in Israel and no one wants to talk about it," said Mark Regev, spokesman for Israel's Ministry of Foreign Affairs.
However, no one has been killed or injured by unexploded rockets, Israeli police spokesman Mickey Rosenfeld told IRIN.
"Until now we have not had any casualties, but this can be a life-threatening situation. People who are walking around the different areas where rockets fell could be at risk," Rosenfeld said.
Many of the Hezbollah rockets were packed with thousands of lethal 5mm ball bearings that fired out at high velocity upon impact across a distance of 200 metres, according to doctors who attended to the dead and wounded during the war.
The rockets were aimed at centres of population, but many fell in fields and woodlands that are commonly frequented by agricultural workers and tourists.
In addition to various types of unexploded rockets to locate and dispose of, Rosenfeld said bomb disposal teams had been working until 1 October to clear 113 rockets, containing more than 4,000 cluster bomblets, that Hezbollah had fired into Israel.
In one cluster bomb attack on the village of Mrar, north of Tiberias, a woman was killed and six others injured.
"The use of cluster munitions is never justified in civilian-populated areas because they are inaccurate and unreliable," said Steve Goose, director of the arms division of US-based NGO Human Rights Watch.
The northern town of Kiryat Shmona weathered the heaviest barrage of rockets, with Hezbollah launching 911 rockets at the town and achieving 375 direct hits.
The rockets did not claim any lives, but they caused damage to some 2,000 homes. Bomb disposal squads have now removed all but one rocket, which became lodged in a field near a residential area of the town.
"One rocket did not go off but we know its exact whereabouts. It is very deep in the ground and it has had its detonator removed so it will not be going off any time in the future," Susan Peretz, spokeswoman for Kiryat Shmona Municipality, said.
She added that residents felt safe to go about their daily lives and were concentrating on rebuilding the town. "We don't use the damage from the war for propaganda purposes - we are too busy getting back to normal," she said.
This item comes to you via IRIN, a UN humanitarian news and information service, but may not necessarily reflect the views of the United Nations or its agencies. All IRIN material may be reposted or reprinted free-of-charge; refer to the copyright page for conditions of use. IRIN is a project of the UN Office for the Coordination of Humanitarian Affairs.
Related Links
Where childhood games are dangerous, Report,

ICRC

(4 November 2006)
98 Percent of Cluster Bomb Victims are Civilians, Anne De Ron (2 November 2006)
"Popcorn" bombs: The casualties continue, Imad Mortada writing from south Lebanon, Live from Lebanon (30 October 2006)