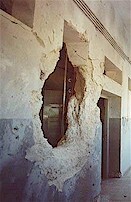 Although the media does report on the Israeli imposed internal closures of the West Bank towns, the effects of this closure on Palestinian education are under-reported. Palestinian educational institutions, educational activities, teachers and students in the West Bank and Gaza have been subject to a series of repressive measures imposed by Israel since the beginning of the current uprising.

Most of the measures are not new. Between 28 September 2000 and 7 March 2001, 41 Palestinian schools have been closed or unable to operate, affecting 20,000 Palestinian students.

Additionally, in Hebron, four schools turned into military barracks for more than 35 days. More than 30 schools were shelled and fired upon by Israeli soldiers (US$400,000 damage in eight weeks). During the second week of November 2000, Israeli forces shelled one college and four schools in Tulkarem. In one school, the top floor was significantly damaged and there were holes approximately 1-2 meters in diameter in the walls from the missiles (pictured right).

The occupation of school premises, as in Hebron, and the destruction of school property, as in Tulkarem, are clear violations of international humanitarian law. Article 56 of the Hague Regulations addendum to the Hague Regulations of 1907 prohibits:
"all seizure of, destruction or willful damge [of] institutions dedicated to [..] education."
This provides the minimum standards which must be accomodated irrespective of the circumstances. Therefore, security needs do not excuse the breach of this provision.
During the first two months of the Second Intifada, 45 Palestinian students were killed, mostly on their way home from schools. UNRWA schools in Gaza reported 1,800 lost school days up til November 15th.
The indiscriminate use of rubber-coated metal bullets and high velocity bullets against school children cannot be justified on the basis of the rule that the amount of force used should be in proportion to the incidents taking place.
Similarly, live ammunition - lethal force - cannot be used to repel force which is non-life threatening such as the throwing of stones. Israel has attempted to explain the high number of child deaths and injury by cynically and falsely claiming that Palestinian gunmen fire on them from within crowds of children, and Israeli troops sometimes accidently hit children when returning fire "in self defence". Another version of this myth has Palestinian parents "sending their children to die."
On 7 March 2001, Israel sealed all access roads and routes to Birzeit University preventing 5,000 students attending the university to to start their new semester on March 17th, 2001. The long-term closure of schools and universities violates international humanitarian law. The right to education is well established in international law. This right is articulated in the Fourth Geneva Convention, the International Covenant on Economic, Social and Cultural Rights, and the Universal Declaration of Human Rights, as well as in regional human rights treaties in force throughout Europe, the Americas and Africa.
The security rationale put forward by Israeli authorities to justify school closure is supported by neither facts nor by international law. The Israeli government's actions force the conclusion that it is education itself that is targetted and that it is intended as another means of collectively punishing Palestinians living under occupation.
The freedom of education is a key part of any societial well being, as well as a convenient microscope through which to examine Israeli "security" justifications. By under-reporting Israeli measures against education — and indeed the health sector — journalists miss out on a useful microcosm to communicate the harshness of the conflict for civilians to their audiences.
Related Links:
Violations of the right to education: see Birzeit University's Human Rights Action Project and Academic Freedom First! websites.

Israel's closure policy: read "Civilians Under Siege: Restrictions on Freedom of Movement as Collective Punishment,"

B'T

selem, January 2001