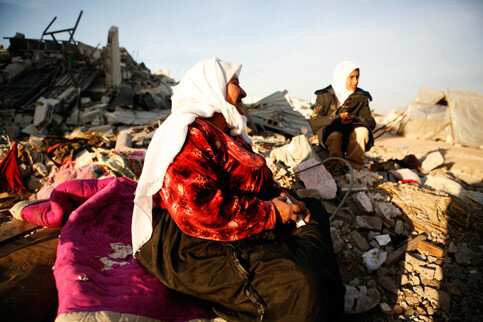 GAZA CITY (IPS) - Ghalia Hussein's husband refused to evacuate their Rafah home near the Israeli border amid heavy bombardment during the recent 22-day siege. Struck by a missile at the top of their stairs, he bled to death while ambulances attempted to reach him. He left Ghalia three children, a destroyed home, and no income to speak of. "I had to flee with the children. There was nothing we could do," Ghalia said from the United Nations school in Rafah where she took refuge during the conflict. "Now, I have nothing. How will we survive?"
Making up half of the coastal enclave's 1.5 million people, Gaza's women — and their children — bore the brunt of Israel's deadly operation codenamed "Cast Lead." They are the post-war period's most vulnerable population, says the UN.
According to Gaza's health ministry, 114 women were killed and nearly 1,000 wounded in the three-week Israeli assault. And countless women like Ghalia are now economically and psychologically wounded by the war. In all more than 1,300 people died in the assault, more than 5,300 are injured.
Having lost husbands and sons in the fighting, and living with an unemployment rate of 49 percent, women in the Gaza Strip will begin to rely increasingly on humanitarian assistance, the UN says.
Women faced relentless hardship and tragedy throughout the war, taking on the responsibilities of male relatives who had died, looking for food for their families while under assault, and digging for their children in the rubble.
Earlier this month, the UN Committee on the Elimination of Discrimination Against Women declared that "the human rights of women in Gaza, in particular to peace and security, free movement, livelihood and health, have been seriously violated during this military engagement."
Women and children were hit hardest by food shortages, while women encountered the greatest difficulty attempting to reach Gaza's besieged hospitals, according to the World Health Organization (WHO).
"It's been days since my daughter has had her insulin, but it was too dangerous to leave our home," said Abu Haithem in the emergency room of the al-Naser hospital in Khan Younis on 16 January, just before the ceasefire. "Then a missile hit the house next to us and we had to run."
Abu Haithem was forced to leave her seven other children with a stranger in her village outside of Khan Younis to finally bring her 14-year-old diabetic daughter to the hospital. Her husband had died in the missile attack on her neighbor.
Pregnant women and their unborn and newborn children were one of the most underreported casualties of the war, says the United Nations Population Fund (UNFPA).
According to an assessment made by the UN agency, the intense nature of the Israeli bombardment — that saw virtual non-stop air-borne assaults, sea-based attacks and a ground invasion in the strip's north over a 22-day period — led to a high number of unnecessary miscarriages and premature labor brought on by shock and trauma.
In a normal month, 4,000 babies are born in the Gaza Strip, says UNFPA's assistant representative in Gaza, Ziad Yiash. But there were 5,000 births in January, and a 51 percent increase in miscarriages.
"We realized that a lot of women delivered earlier because of the psychological impact," says Yiash.
Fatima al-Zaid, 34, gave birth to a baby girl at her home in Khan Younis during the offensive. She was able to reach hospital the next day, and her daughter lived.
"My husband wanted to name her 'warrior,'" Fatima said. "But we decided to name her Amal." Amal means hope.
Many other women gave birth at their homes and at local shelters under the care of female family members, Yiash says. Locals would use the mosque loudspeaker to request medical assistance for pregnant women.
Some died en route to hospitals, particularly in Gaza's north.
But even when Gaza's pregnant women managed to reach hospitals safely, they found that many maternity wards had been converted to emergency surgical units for the dying and injured.
The UNFPA says women were sent home as early as 30 minutes after giving birth. Power outages throughout Gaza put premature babies relying on incubators and respiratory machines at risk — and some died as a result.
The consequences of the assault go beyond physical wounds.
"One woman told me that during the war she slept on top of her children," says Yiash. "She didn't want to live while they died — she wanted them all to die together."
According to the WHO, Gaza's widows and female-headed households are in most need of psychological care in the aftermath of the offensive.
Women that have been severely wounded or handicapped are afraid their injuries will weaken their traditionally productive role in the family.
"In such situations, the brunt of the war and re-organization of the social fabric is left to women," says Islah Jad, a Palestinian women's rights advocate and professor at Birzeit University in the West Bank.
"Again, Palestinian women will be busy making ends meet with the rising level of poverty and unemployment."
Jad and other female activists in the Occupied Palestinian Territories fear the broader women's rights movement in Gaza may have been set back years by the war, siphoning their time and energy towards more immediate humanitarian and family needs.
"All the dreams about law reform, strategic gender needs and mainstreaming gender," Jad says. "All that is now on the shelves for years to come."
All rights reserved, IPS - Inter Press Service (2009). Total or partial publication, retransmission or sale forbidden.
Related Links