Ayed Morar, or Abu Ahmed as he is known to all, sits in jail tonight and I wonder if he is thinking of Martin Luther King, Jr.

Unlike Dr. King, Abu Ahmed will not be leaving jail anytime soon, and is he unable to protest his imprisonment by exemplifying the moral injustice done to him and his people, for the world's powers have maintained a deaf ear to the plight of the Palestinian people.

Like Dr. King, however, Abu Ahmed is in jail for organizing and participating in nonviolent direct action against unjust, discriminatory and violent policies targeting his people on the basis of their ethnicity. Dr. King ultimately left his Birmingham jail cell, and went on to lead this country towards racial integration and healing. But Abu Ahmed, when he is released from prison — likely after at least ten days of "administrative detention", or possibly as much as three months, without charge — will still be locked up.

Abu Ahmed is from Budrus, a village in the West Bank that sits relatively near the 1967 border with Israel. Budrus has long been a peaceful farming village, almost wholly dependent on the olive trees and other fruits and vegetables grown in its fertile fields.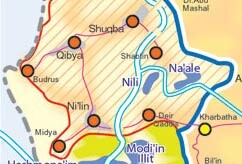 Late last year, however, the Israeli government interfered in the life of the village in an unprecedented way, with the initial work on construction of a wall blocking the villagers' access to their fields, and cutting them off from any source of livelihood.

In December 2003, Abu Ahmed and others in the village started to organize and called on the International Solidarity Movement — a grassroots Palestinian and international movement promoting nonviolent direct action methods of resistance (in the spirit of Dr. King) — to join them in protesting the wall.

For days hundreds of Palestinians marched against the wall, joined by international and Israeli civilians. Then the Israeli army struck back. On December 26th an Israeli civilian, Gil Na'amati, was shot by Israeli soldiers during another protest, and on December 30th a Swedish parliamentarian was arrested with eight other foreigners.

Later on the 30th, Israeli army jeeps rolled into the village and arrested dozens of Palestinians, including most of the organizers. Nonetheless, Abu Ahmed and his fellow villagers continued, and on the night he was arrested, January 14th, he was planning the next day's demonstration.

The wall has made Budrus a virtual prison, as it has many other villages and towns in the West Bank. Gaza already is a virtual open-air prison, and Israeli "unilateral steps" are well underway to do the same to the West Bank. And yet more and more Palestinians, joined by the International Solidarity Movement and other international and Israel peace activists, are joining in the nonviolent struggle against Israeli occupation.

Like Dr. King, the Freedom Riders, SNCC and others in the Civil Rights Movement, these Palestinians and their friends are standing up to injustice and violence through action. Like Andrew Goodman, James Chaney and Michael Schwerner, the lives of peace activists Rachel Corrie, Tom Hurndall, Isaac Saada and Shaden Abu Hijleh have also been taken too soon. And like those earlier activists, Abu Ahmed and others are seeking a fundamental paradigm shift in overturning decades of injustice in the name of peace.

On this day, when we as Americans reflect on the life of a man who dedicated himself to the causes of equality, freedom and justice, we must also consider what Dr. King would do. Would he sit idly by while fences and walls were constructed on 125th Street in New York City to block off Harlem from the rest of Manhattan? Would he ignore the razing of hundreds of homes in Compton, making thousands homeless?

Of course Dr. King would act. Dr. King knew that the spirit within all men and women for freedom and justice could not be bound, lynched, segregated, isolated, imprisoned or relocated.

It was that spirit that we commemorate today; that spirit that was unbound by the walls of the Birmingham jail; and that spirit that cannot be crushed by the wall that Israel is building in the West Bank. Abu Ahmed, like Dr. King, will also one day be free at last.

Adam Shapiro is an organizer with the International Solidarity Movement.