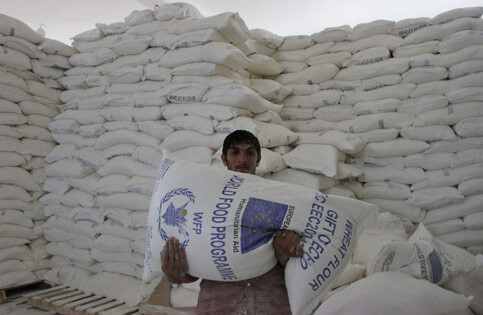 JERUSALEM

, 21 June 2007 (

IRIN

) - The Gaza Strip will face a general food shortage within two-four weeks if the main commercial Karni Crossing is not reopened, the

UN

has warned.

"For a crisis to be avoided, commercial and humanitarian food stocks must be replenished regularly and reliably," a report on the humanitarian situation in the Gaza strip issued by the UN Office for the Coordination of Humanitarian Affairs (OCHA) on 20 June said.

Aid workers say most food supplies in Gaza arrive through Karni Crossing.

"The key factor to prevent a deepening of the crisis is the resumption of daily operations at Karni," said Allegra Pacheco of OCHA in Jerusalem.

Aid agencies now use alternate routes to transport supplies, but these are not sufficient, they say.

"Kerem Shalom Crossing can handle about 20 trucks daily, while Karni was averaging 200, even when it was not at full capacity," said one aid worker.

Food reserves

UNRWA, the UN Agency for Palestinian Refugees, said its wheat reserves could last 10 days and the World Food Programme's (WFP) reserves will be exhausted in seven days. The two agencies provide aid to 1.1 million people in the Gaza Strip, which is home to some 1.5 million Palestinians.

Currently, 104 UNRWA food containers held up at Israeli ports await transit through Karni.

The Gaza Strip has been effectively cut off for the past two weeks. Only limited aid can arrive and a small number of patients were able to enter Israel.

The WFP sent over 300 metric tonnes of aid into Gaza this week and a Jordanian donation of 21 trucks with food supplies is scheduled to arrive on 21 June. In addition, the International Committee of the Red Cross (ICRC), World Health Organization (WHO) and the UN Children's Agency (UNICEF) have sent in medical supplies.

Medical treatment

The ICRC said it also coordinated the transfer of 12 patients into Israel over the past few days, but many more require assistance.

"Although transfers have started, there are many more [patients] waiting," said Eileen Daly, an ICRC medical coordinator.

Daly said many chronic care patients, such as those with cancer or renal diseases who used to be treated regularly in Israel, are still unable to enter Israel for their treatment.

"It has been a week since the fighting ended, and only a few individuals were allowed out for treatment," she said.

According to WHO, every month about 400 Gazans travel outside the strip for medical treatment, mostly to Egypt and Israel.

The ICRC announced it would send a surgical delegation to Gaza to help the Palestinian hospitals cope with more than 500 people wounded during last week's internecine violence that ended with Hamas seizing control over the strip.

Food prices soar

Meanwhile, for Gaza's poor, the situation continues to worsen, as food prices soar. The WFP reports a 40 percent increase in the price of wheat flour over the last week.

"Particularly in Gaza City, rice and flour are very expensive," said Kirstie Campbell from the WFP.

According to World Bank figures, 87 percent of Gazans live below a poverty line put at US $2.41 a day.

"In Gaza, the average household is seven people. How do you feed a wife and five children on less than 18 dollars a week?" asked Kevin Kennedy, the UN humanitarian coordinator for the occupied Palestinian territories.

This item comes to you via IRIN, a UN humanitarian news and information service, but may not necessarily reflect the views of the United Nations or its agencies. All IRIN material may be reposted or reprinted free-of-charge; refer to the copyright page for conditions of use. IRIN is a project of the UN Office for the Coordination of Humanitarian Affairs.