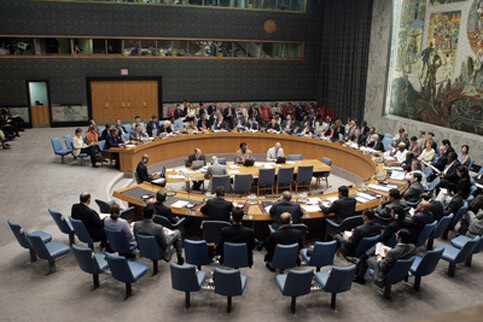 As a team of senior United Nations official meets with the parties on the ground in an effort to end the explosion of violence in Israel and Lebanon, Security Council members are actively searching for a lasting solution to crisis, according to its July President, Ambassador Jean-Marc de la Sablière of France.
"What is important for the Council is to work on a contribution for a sustainable solution," Ambassador de la Sablière told reporters following closed consultations of the 15-member body that included briefings by Under-Secretary-General for Political Affairs Ibrahim Gambari and Assistant Secretary-General for Peacekeeping Operations Jane Holl Lute.
The Council President stressed that work towards such a lasting solution was much more important than any resolution, press statement or other declaration that could be produced quickly.
He explained that, while the Security Council was not "orienting" the Secretariat team, which was operating under the auspices of the good offices of Secretary-General Kofi Annan, it was in constant communication with them and was very actively seized with the crisis.
"There have been many thoughts and discussions going on and we have to take stock of all these ideas and work on a contribution of the Council towards a sustainable solution," Ambassador de la Sablière replied to a question about a proposed multi-national force and other possible long-term measures.
Also addressing reporters after the meeting, Under-Secretary-General Gambari said he told the Council that the situation had deteriorated to the point of "open war."
He gave an overview of diplomatic developments in the crisis and reiterated Mr. Annan's call for a cessation of hostilities, stressing the toll the attacks from both sides were taking on civilians.
"I made it clear," he said of his briefing to the Council, "that the deliberate and indiscriminate targeting of civilian areas in northern Israel by Hizbollah, including Haifa, is unacceptable and must be stopped. At the same time, Israel's targeting of civilian infrastructure must be ended."
Related Links