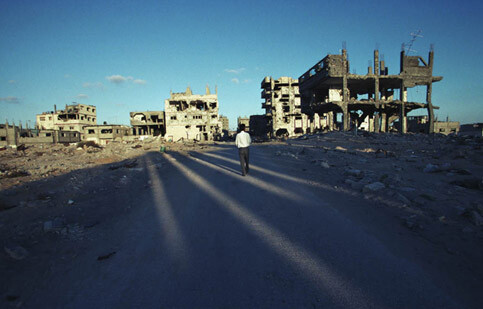 Following a two-day offensive by Israeli forces into the Khan Younis refugee camp in the Gaza Strip, the main United Nations agency helping Palestinian refugees has opened one of its schools to provide temporary accommodation to 600 families displaced by the fighting.
The UN Relief and Works Agency for Palestine Refugees (UNRWA) immediately served the families hot meals and water in addition to providing mattresses, blankets and mats.
Meanwhile as Christmas approaches in Bethlehem, two UN bodies have published a report on the devastating impact that Israeli policies have had on the little hilltop town, where according to the New Testament, Jesus Christ was born 2,000 years ago.
Once a bustling cultural and spiritual centre hosting tourists and pilgrims from around the world, Bethlehem has become an isolated town, with boarded up shops and abandoned development projects, according to the report - "Costs of Conflict: The Changing Face of Bethlehem" - released by the UN Office for the Coordination of Humanitarian Affairs (OCHA) and the UN Office of the Special Coordinator for the Middle East Peace Process (UNSCO).
"The age-old link between Jerusalem and Bethlehem is nearly severed as a result of Israeli policies including settlements, a host of physical barriers and roads restricted to Israelis," it says of the Israeli restrictions imposed after the outbreak of the Palestinian intifada uprising four years ago.
"Without a political settlement that can remove the host of physical obstacles, including the barrier, and the influence of Israeli settlements, the future for Bethlehem residents looks bleak."
It adds that restricting access to Jerusalem's and Bethlehem's holy sites risks aggravating religious divisions in an area that has historic and religious importance for Christians, Muslims and Jews alike as well compounding the economic crisis, since tourism has the potential to bring in outside sources of income.
Related Links
Costs of conflict: The changing face of Bethlehem

OCHA

(20 December 2004)