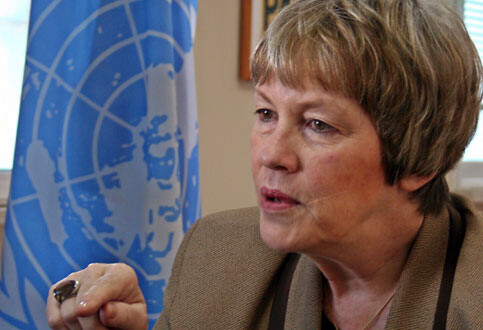 The more than 800,000 vulnerable Palestinians of Gaza were trapped in a nightmare, owing to a combination of financial sanctions against Hamas, a ten-week siege of Gaza, daily targeted killings of suspected militants and Israeli incursions into densely populated neighbourhoods, the Commissioner-General of the United Nations Relief and Works Agency for Palestine Refugees in the Near East (
UNRWA
), Karen AbuZayd, said today at a headquarters press conference.
Strangulation of commerce and trade had ruined the economy, brought the institutions of Government to a near meltdown, and badly shaken the society, she said. Those pressure tactics had not resulted in a desire for compromise on the part of the Government or the people, but rather, had created mass despair, anger, and a sense of hopelessness and abandonment.
She said that all of that was probably familiar from United Nations officials who had previously spoken to correspondents, but, she wished to validate, from personal experience, the unprecedented scale of the suffering of innocent people and the need to bring that to an end, as soon as possible. Gaza's 1.4 million residents deserved protection from the international community.
Encouraged by the growing recognition among several Governments of the need for a change of direction, she said that present policies, however, did not appear to be working as intended. The Temporary International Mechanism agreed by the Quartet in May had been designed as a stop-gap measure, and not a substitute for the normal workings of the Government and local economy. That had helped, but, it had not made an appreciable difference in the appallingly low standard of living.
What the United Nations called "access issues", or barriers to the movement of people and goods, including by humanitarian agencies, were at the heart of the impasse, she explained. If Gazan business could not import or export, they would be forced to fold or move elsewhere, as they were already doing, such as to Jordan and Egypt. The result was that, when one day normality returned, there would be even fewer employers for even more people looking for work. What was desirable immediately was full implementation of the Access and Movement Agreement, which several actors worked so hard to get both sides to sign last November.
She said that UNRWA was ready with a major development programme to rehabilitate the overcrowded and dilapidated refugee camps, and reconstruct houses and school buildings once the conditions were right. The organization would rather be building its new vocational training centre in southern Gaza, where youth employment was dangerously high, than handing out ever more emergency rations. As unrealistic as it might appear, at times, amid all the gloom, however, renewed hope must be given - humanitarian and political - that there was indeed light at the end of the tunnel.
Asked about any initiatives to mitigate the plight of pregnant women denied access to medical facilities owing to the blockades, the Commissioner-General said she thought that that information had come from the United Nations Population Fund (UNFPA), including last week at the Stockholm Conference. The matter received much publicity at the height of its occurrence, which was mainly during the Intifada when blockades were working in a different way. That situation had improved over time. Some arrangements were made by Catherine Bertini a couple of years ago, so no one would have to wait more than a half hour. There had not been a great many women affected by that problem, but it was an issue, of course.
Replying to a question about whether she sought protection from an international force, she said that, from the beginning of the most recent Intifada, she had been saying it would be great to have an international presence of any sort - civilian, military, and so forth - and she thought people had begun to talk about that. The experience of the European Union monitors on the Rafah border was a sound example. That allowed people to move and it had been very exciting for people who had been under occupation for more than 37 years to finally get out of their tiny little country for the first time. So, something like that could work elsewhere to improve movements of both goods and people at those various crossings that had been closed for more than 50 per cent of the time this year, or three times as often as during the worst parts of the Intifada.
She added to a follow-up question that there would be no need to dig the tunnels, if they were allowed to move backwards and forwards across the border.
As to whether UNRWA was doing anything about the Israeli corporal who was being held hostage and whether it was encouraging the Hamas Government to help break the impasse, she said the Agency had nothing to do with the latter political issue. It would like to see the Israeli released on humanitarian grounds, and that seemed obvious, if one wanted the situation to improve. But, that was the business of other parts of the United Nations system, and not of UNRWA.
She felt that the United Nations should encourage Hamas, however, and engage with them. That movement has essentially been more or less underground, with little contact with the rest of the world. It needed to hear from other people, but UNRWA had been discouraged from doing that and she did not meet with the Hamas officials, other than the refugee minister. So, what could be done, if they had been boycotted? That was why she liked the new messages coming out from the European ministers - that Hamas might have to be talked to and engaged.
In terms of whether the population UNRWA served would like its elected Government to have any rapprochement with the Israelis so that the scenario could be put to an end, she said, "Some would, some wouldn't. Some are more militant than the leaders." There were also people who just wanted to live normal lives; people wanted to work and get paid for the work they were doing. The thing they cared about most was taking care of their families, and they could not do that now.
Asked if the Palestinians recognized that the calls for the destruction of Israel were creating the problem they faced on a day-to-day basis, she said that, yes, she thought they recognized that.
Supplying clarification on the blockades, including the naval blockade, she said there had always been some restrictions on the fishermen in terms of how far they could go out, but, now they were confined to about 500 metres from the coast. That was a bigger problem for fishermen now than during the Intifada. The passage for most commercial goods had been closed for 50 per cent of the time. The last food distribution had to be delayed because there were no protein sources - there was no milk or beans, only flour and oil, so, they had to wait until some things trickled in. The problem was there were no exports. So, even when the passages were open, they were open for imports only.
She said that the crossing for building materials was completely closed again because the Israelis were looking for tunnels for security reasons. That meant that the projects that UNRWA hoped to do to reconstruct housing and so forth, which would have also provided people with jobs, could not get under way because there was no cement. The ground was ready, but the Agency could not get the things in. In short, there were times when everything got through and times when nothing got through. Humanitarian goods coming through humanitarian agencies generally got through.
Updating correspondents on the Gaza power plant, she said that the Organization of the Petroleum Exporting Countries would pay to repair it. Optimistically, that would take approximately 18 months. The plant supplied some 50 per cent of the electricity for Gaza. The area was small and most of the residents lived in high-rise buildings, so, the need for electricity was great, including for pumping water. Half of Gaza, at least, was running on back-up generators. The generators were breaking down and fuel was not getting in. There were big public health and sanitation problems. The Egyptians were working closely with the Palestinian engineers to evolve some substitute systems to provide everyone with 6 to 12 hours of electricity per day. That was being coordinated with the same number of hours of water supplied to them. There were big problems of untreated sewage running into the sea.
Hospitals had a first option to use the generators and the fuel, but everything was breaking down, including for UNRWA, which had better facilities and supplies, she replied to a follow-up question.
The Kerem Shalom crossing was open, she responded to another question. But, to use it, the user had to "palletize" its goods, or offload them from a truck and put them on a pallet. The agency brought in 100,000 tons of goods each year, and it could not switch to a palletization process without great expense. The Israelis helped by allowing UNRWA to use Sofa crossing when they were not having an anti-terrorist operation there. There were ongoing discussions about moving goods in and out over Rafah, but that would take some time. One of the fears of the Gazans in the past had been the possibility of diverting their entire economy to Egypt.
She added that there had been a good first harvest, but ever since the siege, materials such as fertilizers and materials for the sophisticated irrigation systems were not getting in. Now, that there were no exports, everything had just withered on the vine or rotted on the streets of Gaza.
Asked how it happened that half the 1.4 million people were dependent on a single power source, she said that, apart from the power plant, Gaza used to get everything - all its water, its electricity - from Israel. So, in order to become somewhat independent, with the help of donors, the power plant was built.
Related Links