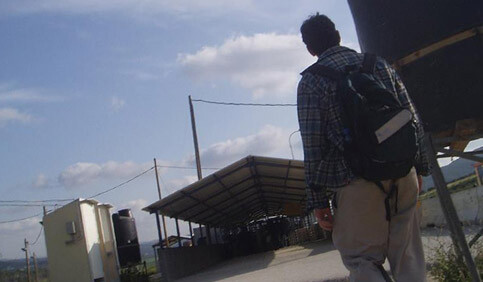 WEST

BANK

CLOSURE

AND

ACCESS

-

APRIL

2005

This report reviews the status of the closures as of 12 April 2005 and compares them with the situation in November 2004.

The West Bank closure system comprises over 600 physical barriers placed by the Israeli Defense Forces (IDF) on roads to control and restrict Palestinian vehicular traffic, which the Israeli Government states is designed to protect Israeli citizens from Palestinian attacks.

The closures are the primary cause of poverty and the humanitarian crisis in the West Bank and Gaza and have restricted Palestinian access to health and education services, employment, markets and social and religious networks. The types of barriers include full-time and partially manned checkpoints, roadblocks (consisting of rows of 1-metre concrete blocks), metal gates, earth mounds, earth walls (a long series of earth mounds) and trenches. OCHA field staff collects the exact location of each barrier with a Global Positioning System (GPS). The information is then integrated into a Geographic Information System (GIS) and used to map each checkpoint or obstacle.

Key changes:

As of 12 April 2005, 605 closure barriers were recorded in the West Bank compared to 680 in November 2004. The 605 figure indicates a net decline of 75 closure barriers (in certain governorates the IDF installed additional closure barriers).

The bulk of the 75 net decrease occurred in selected areas: 34 were removed from the Bethlehem Governorate, 16 barriers from the Hebron Governorate and 12 from the Jenin Governorate.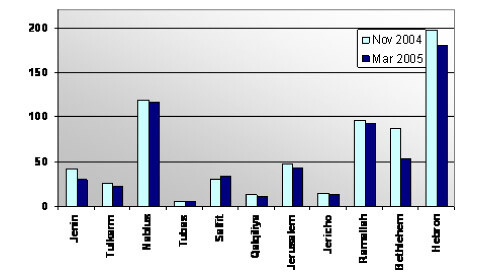 Most of the closure barriers removed were earth mounds - 92 - which mostly benefited movement between individual Palestinian villages.
Movement between governorates improved with the easing of two checkpoints: the Shave Shomeron checkpoint between Jenin, Nablus and Qalqiliya; and at the Ein ad Duyuk checkpoint, between Jericho and Ramallah, which was relocated following the handover of security of Jericho City to the Palestinian Authority.
Movement in the northern West Bank has continued to improve.
Four IDF manned checkpoints were removed: two in Nablus, one in Bethlehem and one in Hebron.
An increase of flying checkpoints (random stop and searches) has been observed at locations where earth mounds were removed.
UN movement into the closed areas between the Barrier and the Green Line has been restricted. Entry into Jerusalem has also become increasingly problematic with UN vehicles experiencing a significant increase in delays and denials.
In areas where the changes in closures occurred, the removal of closure barriers is consistent with an observation that Palestinian vehicular traffic is being shifted away from routes used by Israeli settlers and from the Barrier (or its planned route).
To download the full report click here.
Related Links
BY

TOPIC

: West Bank closures ( April 2005 - November 2004)